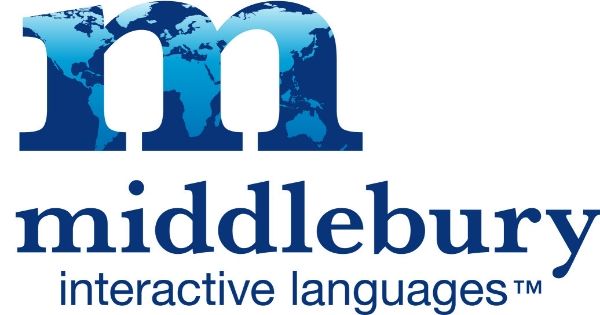 I don't know about you, but I think learning foreign languages is a great thing for children. They absorb it so quickly. As adults it is more of a struggle to learn and remember. I was so excited when a chance came that allowed my kids to learn German through Middlebury Interactive Languages. We were given access to a full course(one semester or six months) of the German Courses.
The course we received that would help the kids learn German is Elementary German 1: Grades 3-5. By the time the course ends over 600 vocabulary words have been learned in an immersive multi-media experience. This is an online course. There are two choices for the course. You can choose the without teacher course for $119 or the with teacher course for an additional $175 making the total course $294. This course is geared for older elementary students or grades 3-5,equivalent to ages 9-12.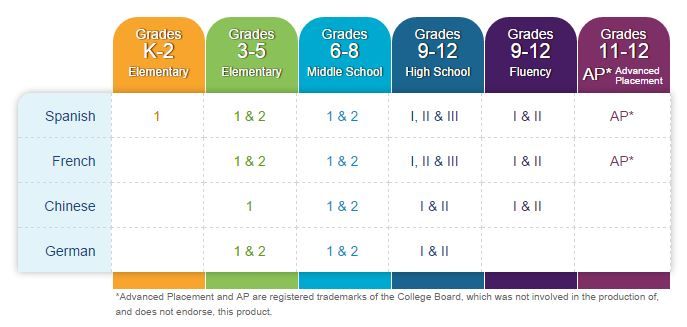 It is recommended for this age of course that students use the program 2-3 days per week for a total of 45 lessons. This is what we were attempting to do. We wanted to use the course on Mondays, Wednesdays, and Fridays so that we could use it on an evenly spaced routine. I feel that helps retain more if you're not leaving large gaps in between that you're not using and hearing a language. Most weeks we were able to keep to this schedule though there were a few weeks when life and extra activities got in the way. We used Saturday as our makeup day and would do our missed coursework on that day.
My kids were so excited to be learning a new language. They have done a semester of Spanish before as well as some work in French. I really want them to learn German though as it is a language that was spoken by my husbands family and a language that I have always loved. I took a semester of it in college and have wanted to learn more since then. I was hoping that I could make sure I haven't lost my knowledge by helping my kids with the program!
This is a very cute program that makes learning fun. I have always though that teaching kids a foreign language was going to require a lot of rote memorization and drilling, but this online program provides cute pictures and ways of helping them work on their language without feeling they're being drilled. Through this they do learn and memorize their vocabulary words as well as learn to site read the words. They associate the word on the screen with the sounds they are speaking and it has then become a site word. Every time they see it they know what it says and can read it even if they don't know any of the other words in the sentence.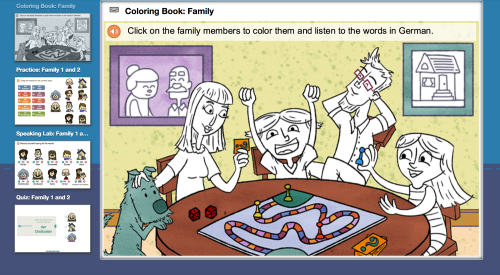 This is a self paced course. You can do one lesson a week(but you won't finish during the semester) or you can do 7 lessons a week. You have access to your course for the entire semester. While they do offer a full course of languages from K-12, not all languages are available for the younger grades. German is not available for the K-2 age group. Our course for grades 3-5 provides the kids with an introduction to basic expressions, words, and phrases. As I mentioned above, they will have learned over 600 vocabulary words by the end of the semester which to me is a huge thing! That's a great start to learning any language.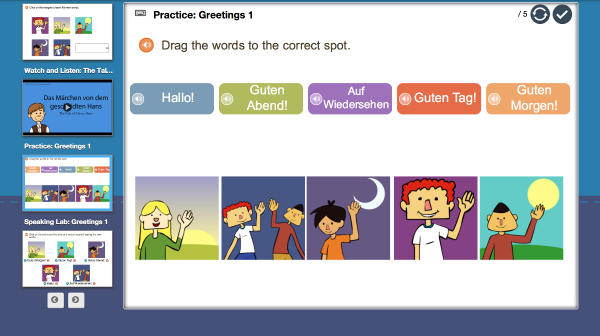 We have really enjoyed our work so far in our German course. My kids are loving the learning of German and normally beg to do extra work on our days. We have allowed them to do work by reviewing things we have learned instead of a new lesson. I don't want to get done with the course and then have nothing else to do for half the semester. My kids have already informed me that they want to do the next German course which is the Course 2 for grades 3-5.
Our first lesson for German had us singing the German equivalent of Head, Shoulders, Knees, and Toes. The kids loved it! I had previewed the lesson and knew what was coming so we sang the English version in our normal morning song section. It was pretty funny for me to watch my kids rolling around the German words and then realizing that they actually knew what that word meant! A great way to make a child feel like they've accomplished something immediately.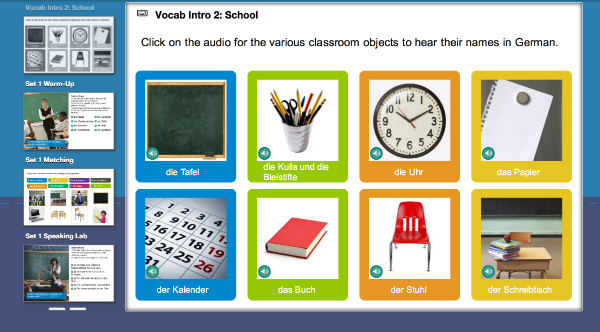 You can find Middlebury Interactive Languages on social media through Facebook, Twitter, Pinterest, and Google +. Through listening and making sure the pronunciation is correct your child can communicate in an everyday setting knowing they can at least follow the key points.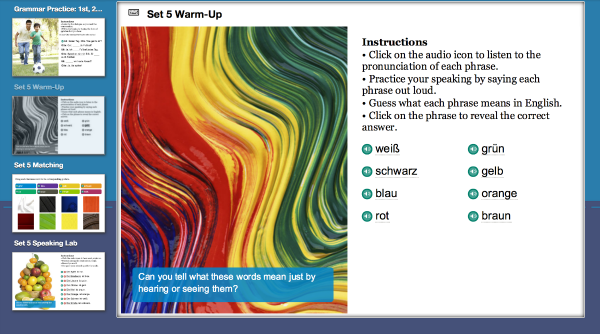 Interested in learning more about Middlebury Interactive Languages? Do you want a program to help kids learn German? Or maybe you're interested in another language. There are a variety of languages through Middlebury Interactive Languages for a variety of ages(K-12) as well. You can find out more about the courses and ages through going to the Main TOS Crew Blog Post and reading what other reviewers thought of their courses. We were allowed a choice in what we used so there are going to be different reasons for courses and feelings on what was liked or disliked.