Our 2014 year of reviews with the TOS Crew is coming to a close soon but we're so excited to share this review of IXL with you! We got a chance to use both the online learning version of Math and online learning of Language Arts for five of our kiddos. We received a year subscription to both which is very awesome!
IXL is NOT an online course that covers everything your child needs to know for that subject and you'll never have to visit it again. It's a supplemental course to be used WITH your regular curriculum. It is however, a great supplemental program to help your child hone their math and language art skills. You can find the area they struggle in and get them some extra practice. Oh and then you've got that it works more like a game or play for kids so they don't really remember that they are actually learning.
The Math portion of IXL goes from preK all the way up to 12th grade covering geometry and algebra as well as pre-calculus. The language arts course starts with second grade but does go up to 8th grade, though it will soon go all the way to 10th grade as they are working on adding the next two grades. This is definitely an online learning program that would be beneficial for a long time.
Interested? Want to know the prices? Well I can help you out there! For a family membership, you start at just $9.95 per month or $79 per year for one subject. Want to add a child? No problem! It is just an additional $2 per month of $20 per year. Check out this page for more information on pricing. There are definite savings to using this program with more than one child and using both programs versus just one or the other. To show that, one child for one year with math only is $79, but that same child for one year for math and language arts is going to be $129. Make that one year for both online learning programs and it's only $149.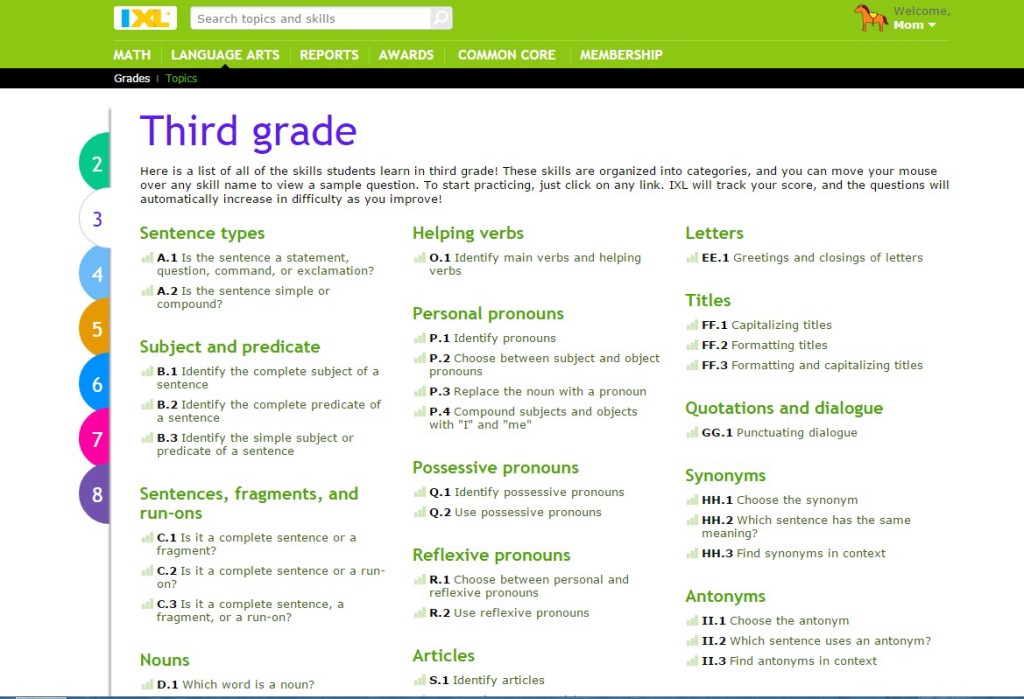 Okay, so now I've told you about the program a bit, what ages it's for, and\ the pricing. Let's talk about my family and how we used it, what we liked/disliked and what you can expect.
Starting with the parent. You log in. You have access to all reports and students. I can see what my oldest did and what my youngest did. I can see how well they did. I really love the fact that I can turn off the timer. My kids don't like to be timed. Seeing that timer counting is distracting to most of them and not helping them do their best. Because this is supplemental, I do not mind them doing it quickly or slowly as long as they get it done and get in the extra concept practice they need.
We're talking likes here so some things my kids liked are next. All of my kids liked that they knew immediately if they did the question right or wrong. Being able to redo and redo until they got the section right was another plus. I have one little boy who has to have everything perfect before he'll move on. He could do that here without feeling like he had failed. This is great! It makes it something he wants to do!
I had five kids using this program. The recommended is to use this at least three days per week. To be fully honest, not all five of those kids used the program three days per week. With only two computers in the house there wasn't time for that. But they all did use the program. Some kids used it five days a week and some maybe used it one day this week and three the next. It was more based on who was needing extra help in the areas covered by IXL.
My youngest using the program is 6. He is in kindergarten in our school, but the first thing he wanted to do on IXL math was patterns. He did patterns at the first grade level and ACED it! Seriously. Got them all right. They even gave him a challenge section. Some of the patterns he asked me for help with because he wasn't sure what the shapes they were showing him were. That's fine. I was okay with talking to him about the shapes. But, there is another way he could have known what the given pattern was. There is a little microphone button that allows you to hear the pattern spoken to you. This is automatically on all the lower grades and you, as the parent, can okay for it to be on the higher levels as well.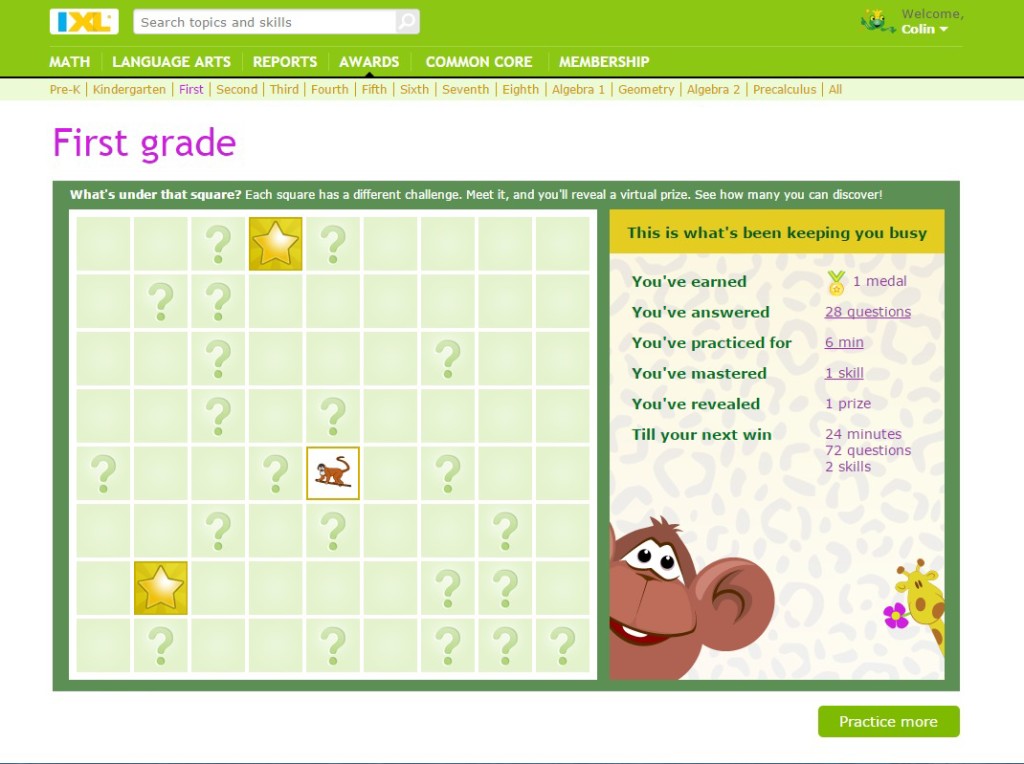 There are rewards and incentives with this program as well. Above you see how Colin mastered a skill. With that skill mastery he got to unlock a spot on the chart. He got a monkey. For every skill mastered he gets another prize. It tells him what he has to do to unlock the next medal as well.
Find IXL on social media. They are active on facebook, twitter, and google +. For us, IXL is a wonderful resource. It's a great online learning tool for helping us practice on things we aren't quite getting or are not doing at our best level. I know that I can find a specific section by grade and choose for that child what they need to work on. Thy can then work on it and get that skill mastered. This offers me freedom. I have the freedom to help a child who needs to do some reading with a parent listening. I have the freedom to work on counting with a four year old.
This program is a great fit for our family. My only wish is that we had more computers. Or tablets/iPad devices as they also offer an app that can be used on iPads or newer Kindle Fires. We don't have any of those. I only just recently got an iPhone and it's an older design. We're still behind the times of what most families are technologically. Here's hoping eventually we can get a Kindle Fire or iPad and that will add an extra device for my kids to use this program on. I don't normally like screen time in any form for kids. We don't do television except the occasional movie. We don't do games on the computers or any other devices. But we do do school. And this program. We do this program. In the next few years I am going to have to figure out what it would cost to have 9 kids using it.
Interested in learning more about IXL? Remember the math is fore PreK all the way up to grade 12. I only use the first few years so you're going to want to check out other reviews to see about the higher levels. The same is true of the Language Arts course as well. If your kids are older you're going to want to check some other reviews as well. So pop on over to the Main TOS Crew Review page to see what everyone else thinks of this online learning resource.