Are you struggling with prayer? Not sure how to pray? Do you sit down, fold your hands, and then have no clue where to start? Have a perfect prayer in your head that gets jumbled coming out of your mouth?
These are all problems that people face today. But did you know people faced them back in the days of Jesus too? The one thing that the disciples consistently asked Jesus to show them, was how to pray. I am taking a quote from Max Lucado's new book Before Amen when I say that prayer was the only tutorial that the disciples asked for.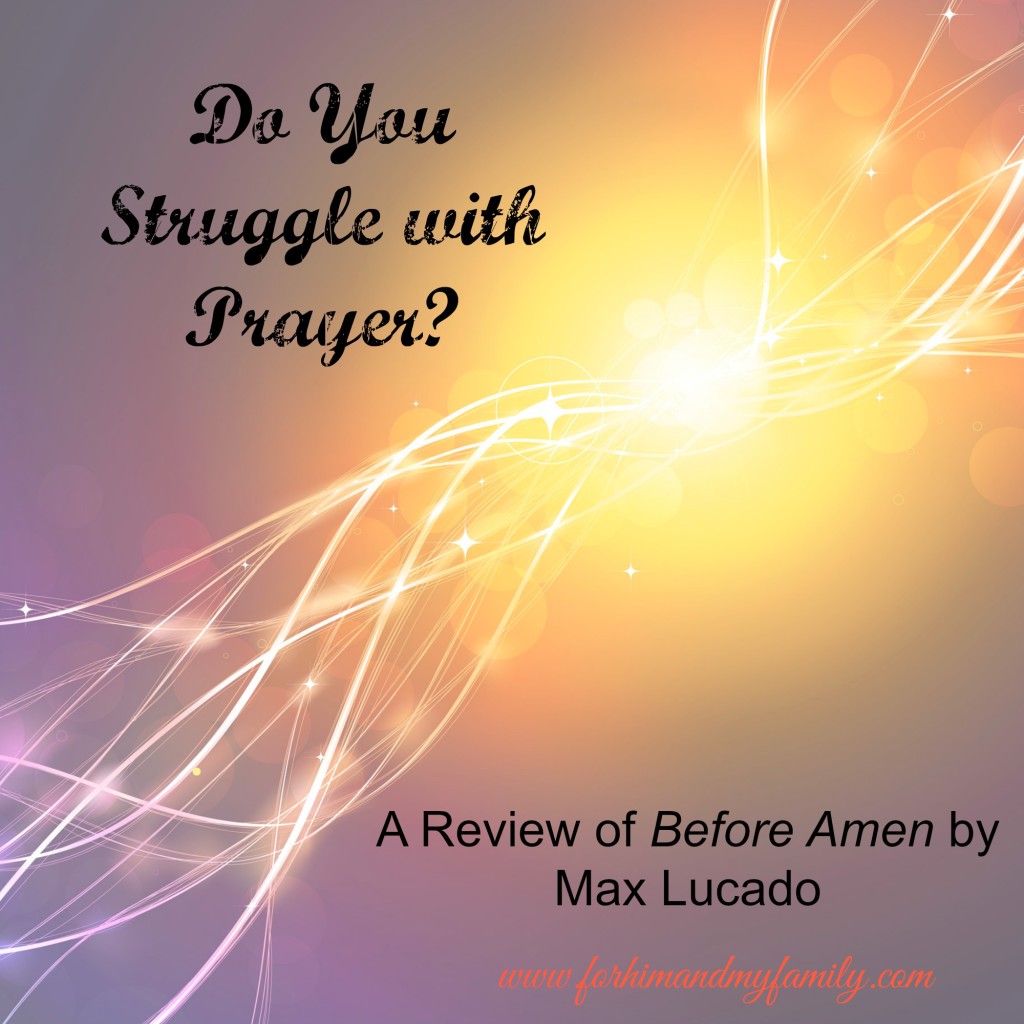 I recently received a copy of Before Amen
by Max Lucado to review from Family Christian. They have also named this book as their 2015 Book of the Year which is a great honor.
First let's start with why I wanted to review this book.
I like Max Lucado. I've read many of his books and really have enjoyed them. They've imparted knowledge and guidance upon me. My children also love his children's books and the movies that he has done for children. I have yet to see a bad anything come from him.
The cover intrigued me. I think we can see a lot of the personality of a book through the cover. Face it. People look at the cover before they read the description on the back. This is a cover that draws you in and makes you want to pick up the book!
The subject matter. It's about prayer. Prayer is one of those things that I think everyone questions whether they are doing it right. It's something we try to teach our children while some still have a hard time doing it for themselves.
I don't know about you, but I think we all struggle with prayer to some extent. Have you ever not known what to pray? Not known the right words or how you should start? This book is for you.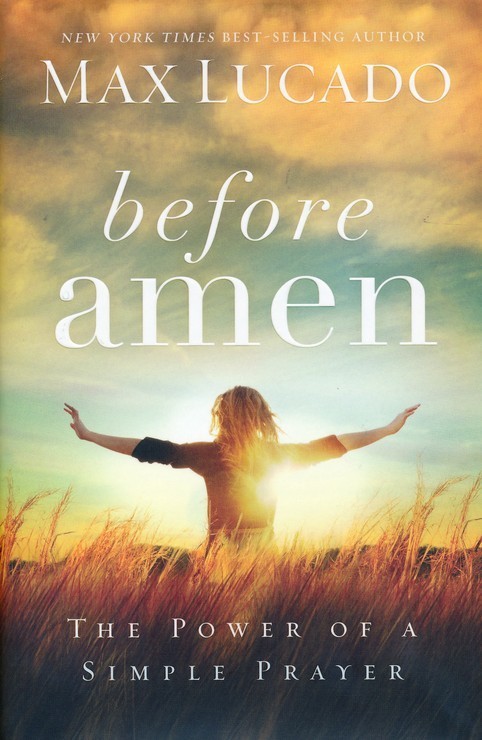 I have to confess before going further on with my review that I could have posted anytime between January 1 and January 31. But here I am posting on the 30th because I wasn't sure what I wanted to say. There were so many ideas floating around in my brain. So much about the book that I wanted to tell you. Yet it boiled down to me about being the parent and I knew that I needed to post this today because today is my oldest daughter's birthday. She is 10. I have a lot of emotions and feelings surrounding her growing up, but I also am so proud of her.
I'm proud of the way she can carry on conversations with grownups. I'm proud that she knows she can come to me with ANYTHING. I am also proud that she is a Christian and has accepted Christ as her Lord and savior. But you know something else? I am so proud of HER because she can pray. That girl can PRAY!! Anytime. Anywhere. Over Anything.
We used to tease my daughter because every time she prayed for snow it would snow. She'd ask God for snow so she could play in it and build a snowman. And the next morning she'd wake up to a winter wonderland. Okay, so maybe it wasn't always the next morning, but she learned at an early age that God answers prayer. And she has never been afraid to ask God for what she wants or to pray to ask him to help other people.
Often in the Bible we are told to come to Jesus as a little child, to humble ourselves like a child. Basically to be a child. I think we can learn a thing or two from children on prayer too. Max Lucado says something about this in his book as well. He talks of how children talk to their fathers here on Earth. The way they talk to them. It's not formal, no pomp or ceremony to stand on. It's just full of love and eagerness and a want to spend time with them. But mostly, they know they are loved. Now granted, not all children know the love of an earthly father but they can all know a Heavenly Father's love.
When we pray we should pray to God like we are talking to our father. He is after all our Father. No need to resort to old English or talk to him in Ancient Greek. You don't have to read the Bible in Hebrew or Latin. You don't have to bow your head a certain way or at a certain time. You just have to want to have a conversation with God.
This is where Before Amen
comes in. Inside this book you are introduced to what Max Lucado calls a Pocket Prayer. A short little format for prayer that you can follow. It's short. It's simple. And it has success. After reading the book I knew that this was a great little template for prayer and that wanted to make sure my children knew this format as well. So I have written it on a piece of printer paper and taped it to the wall in our school room. I plan to do a better job and make it a bit nicer, but the words will still be the same.
Father,
You are good
I need help, heal me and forgive me.
They need help.
Thank you.
In Jesus' Name, Amen
That has to be one of the shortest prayers ever. But it's to the point. Father you are good, not just good but great, the epitome of what is good. See you can expand, but you don't need to expand. It already says it all in those few words of Father you are good.
I need help, heal me and forgive me. This is where you can list where you need help, what you need healed from, and what you need forgiven for. He already knows, but sometimes the telling is for us. Sometimes we just need to say the words and feel the weight lifted off our shoulders.
They need help. Have a friend going through a rough time? Lift them up. Have a random person in front of you at the grocery store who seems to be carrying the weight of the world on their shoulders? Then simply pray Father, you are good, this person needs your help, please help them. Thank you, in Jesus' name, amen. So simple yet so powerful.
We have the power to pray. We have the privilege to be able to pray. We also have the wonderful liberty to pray anywhere at anytime without our life being in jeopardy. That is just so amazing. What are you doing with this power you have? What are you doing with this gift you have been given?
To me prayer is truly a gift. A gift that we were given by God. Our gift lets us talk to Him just like anyone else. That is how I find that I best pray. I pray to my Father in my head as I bake, as I wash my babies, as I wrap that gift for my little girl growing up way too fast. I have always struggled with praying aloud though. Will others judge what I say? Am I doing it right? Will they laugh at me?
So once again I ask, do you struggle with prayer? Do you need that confidence to pray? Well this prayer that Max Lucado calls a Pocket Prayer is for you. It's for everyone. Remember to take it out of your pocket often. Remember that it is there and that there is POWER in it. Yes I meant to capitalize that word. I want you to take away something from my review. I want you to see that prayer is power. Not a superpower, but a power that you hold. You hold the power to help someone. In the book a story is told of a man who died of cardiac arrest. He was dead. There was no question as to whether he was dead or not, his heart was no longer beating. But the man with him held his head and prayed for him. They did CPR and prayed for him. Everyone around PRAYED for him. And guess what? His heart began to beat again. He later said that lightning bolts came through heaven and those were the prayers, and when they lit up the sky he was sent back down to earth. That is the POWER of prayer.
Who will you pray for today? Who needs to be lifted up? Don't worry about the words all you have to say is instead of they need help, Father she needs help or he needs help. Just place their name in there. If you're not comfortable adding more to your prayer, don't. It's such a wonderful place to start.