Okay guys! I don't know about you but I want to start 2015 out right! And that means I want to make sure I'm not listening to stuff that is going to have a negative affect on me. That's where Family Christian come in! They are offering 9 WOW Brick sets for Giveaway! That's right a WOW Brick Giveaway!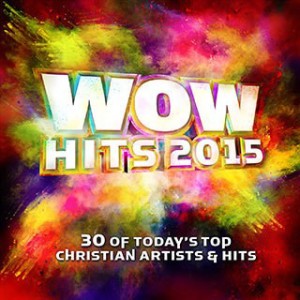 Whats a WOW brick? Well I'm glad you asked! WOW Hits 2015 is the CD. It's a great collection of some of the top Christian artists and their record breaking hits. But that's not what makes it a brick. It is a brick because Family Christian is going to send you this cd AND a cd of each of the artists on the CD!!! Wow is right! Got your attention now don't I?
Want to hear more? Well you can buy the CD here through Family Christian(and my affiliate link) or you can enter to win one of the 9 sets that they're giving away!! I say enter to win! Giveaway will end at midnight on January 15th (1-15-15) so make sure to come back and do the daily entries as well as share away! If you're not a winner come back and go through to purchase the cd. You'll love it. It's a great compilation of some of the biggest Christian hits.
It's pretty simple. Just enter below and you're in!
Use the entry form above and get entered! I don't know about you but I'd love to win one! Here's more information about what's on the CD!
It's two discs full of amazing music. Here is what you'll be hearing! And don't forget the BIG BONUS from Family Christian of a CD from each artist! This is going to be an amazing giveaway. Open to US Residents age 18 and older only.
Disc One:
We Believe – newsboys
The Only Name (Yours Will Be) – Big Daddy Weave
Oceans (Where Feet May Fail) [Album Edit] – United
Thrive – Casting Crowns
Do Something (Radio Version) – Matthew West
Back To You – Mandisa
Keep Making Me – Sidewalk Prophets
I Am – Crowder
Waterfall – Chris Tomlin
All The People Said Amen – Matt Maher
Shake – MercyMe
You Won't Let Go – Michael W. Smith
My Heart Is Yours (Radio Version) – Passion (featuring Kristian Stanfill)
Glorious Unfolding (Radio Edit) – Steven Curtis Chapman
Forever (Radio Version) – Kari Jobe
BONUS: I Will Follow – Jon Guerra
BONUS: Beautiful – Dan Bremnes
Disc Two:
This Is Amazing Grace – Phil Wickham
Fix My Eyes – for KING & COUNTRY
Speak Life – tobyMac
Beautiful Day – Jamie Grace
Multiplied – NEEDTOBREATHE
More Of You – Colton Dixon
Write Your Story – Francesca Battistelli
No Man Is An Island – Tenth Avenue North
Press On – Building 429 (featuring Blanca Callahan)
Come Alive – Jeremy Camp
Alive (Radio Version) – Young & Free
Love Alone Is Worth The Fight – Switchfoot
Don't Deserve You – Plumb
Your Love Is Like A River – Third Day
He Is With Us – Love & The Outcome
BONUS: Satisfied – About A Mile