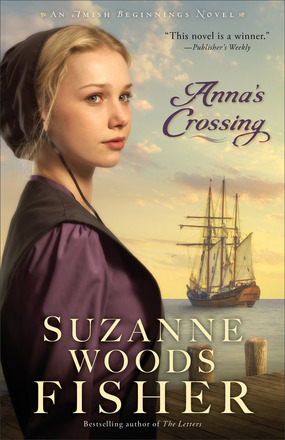 Suzanne Woods Fisher does it again in Anna's Crossing. She brings us our beloved Amish people and tells their story. She makes them come alive! They become our best friends and our worst enemies all at once!
Anna did not want to leave her home land. She didn't want to get on that boat. She certainly didn't want to feel anything for the ship's carpenter. It was almost as if she knew him. As if he knew her and they were connected somehow. When he, Bairn, realizes who she is and how they are connected, will he tell her? Will he embrace his Peculiar side?
In this time the Amish were called Peculiars by those who are on the ship with them but not of their religion. They are not well liked. They are thought to bring bad luck even. We are getting a close look at a new era from Suzanne Woods Fisher and I for one loved it.
I loved the story line and loved the way they came together. I loved meeting Bairn and seeing him interact with the young boy he finds reminds him of himself. I love Anna and her quiet strength and determination. She carries with her a single rose bush that she is determined to keep alive. A bush that her love gave her before he went to cross the ocean never to return. She thought he had died. But had he? Or is he coming back into her life now but as a different person and a man to boot? Such a wonderful book full of surprises and twists. I highly recommend it. Anna's Crossing is full of excitement and things shall never be the same again.
About the Book Anna's Crossing:
On a hot day in 1737 in Rotterdam, Anna König reluctantly sets foot on the Charming Nancy, a merchant ship that will carry her and her fellow Amish believers across the Atlantic to start a new life. As the only one in her community who can speak English, she feels compelled to go. But Anna is determined to complete this journey and return home–assuming she survives. She's heard horrific tales of ocean crossings and worse ones of what lay ahead in the New World. But fearfulness is something Anna has never known.
Ship's carpenter Bairn resents the somber people–dubbed Peculiars by the deckhands–who fill the lower deck of the Charming Nancy. All Bairn wants to do is to put his lonely past behind him, but that irksome and lovely lass Anna and her people keep intruding on him.
Delays, storms, illness, and diminishing provisions test the mettle and patience of everyone on board. When Anna is caught in a life-threatening situation, Bairn makes a discovery that shakes his entire foundation. But has the revelation come too late?
Bestselling author Suzanne Woods Fisher invites you back to the beginning of Amish life in America with this fascinating glimpse into the first ocean crossing–and the lives of two intrepid people who braved it.