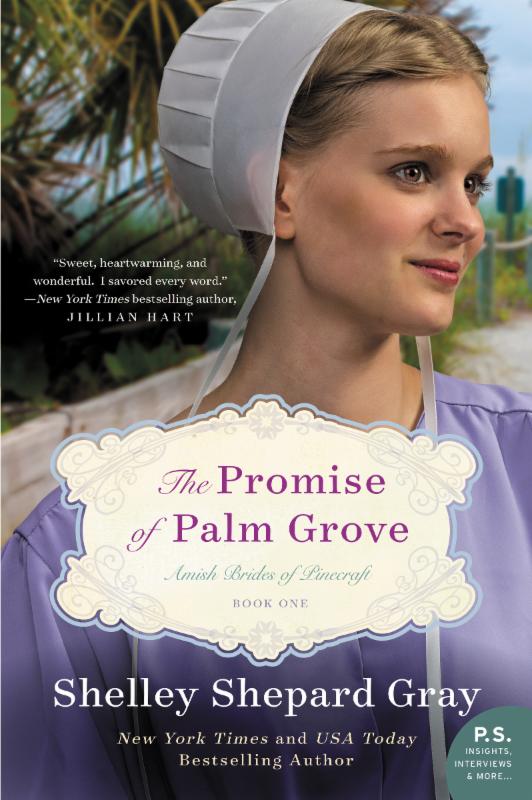 About

the

book:
The Promise of Palm Grove (Avon Inspire, January 2015)
Leona must decide: Does she follow the path set out before her? Or take a chance with only the promise of what could be to guide her?
A young Amish woman finds herself torn between the man she's pledged to wed and the man her heart desires in this heartwarming story of chance, duty, and choice in the face of love—the first volume in the beloved New York Times bestselling author's new Amish Brides of Pinecraft series.
Amish bride-to-be Leona is thrilled to be in Florida, on a mini-vacation in the pretty town of Pinecraft. Her girlfriends think she's happy because she's away from the stress of wedding planning. They have no idea that Leona's real joy is in being away from her fiancé.
Edmund is a good man, and will make a decent husband . . . just not for Leona. The more time she spends with him and his overbearing ways, the less she wants to be his wife. Her cousins are sure Edmund is the right man for her—and their certainty makes Leona begin to doubt herself. But when a chance encounter with a wayward cat brings her face-to-face with a handsome, fun-loving Amish man named Zachary Kauffman, Leona's faced with two vastly different futures.
About the author:
Shelley Shepard Gray is a two-time New York Times bestseller, a two-time USA Today bestseller, a finalist for the American Christian Fiction Writers prestigious Carol Award, and a two-time Holt Medallion winner. She lives in Southern Ohio, where she writes full-time, bakes too much, and can often be found walking her dachshunds on her town's bike trail.
My thoughts on The Promise of Palm Grove:
I love Amish fiction. It has a special spot in my heart. I also went into this book knowing that I love the writings of Shelley Shepard Gray. I've read many of her novels and really enjoy her style. You feel drawn in and a part of the book. You feel that your best friend is now the main character.
Our main character Leona is quite the likeable girl. But she's engaged to quite the unlikely fellow. He's brass and rude and overbearing. She loves to travel and have fun in life while he does not. They're very ill matched. When she goes off on a pre wedding trip to Palm Grove with two girlfriends and meets a man who immediately captures her interest she must make a choice to either break things off with her fiance or stay away from the handsome stranger. My vote immediately went to the handsome stranger!
But Leona isn't the only character of interest. Our handsome stranger, Zachary, has a younger sister with quite the disease. Her bones break very easily but she is the sweetest thing ever. And she has the typical struggles you would expect. Including having siblings that think they must watch over her all the time. She longs for some independence and looks without pity. She and Leona get along splendidly!
I really enjoyed this book and recommend it to you to read as well! It's a great little romance with some other fun thrown in as well.