Welcome to the Higher Grounds Cafe where you will find Cupcakes Coffee and Care!!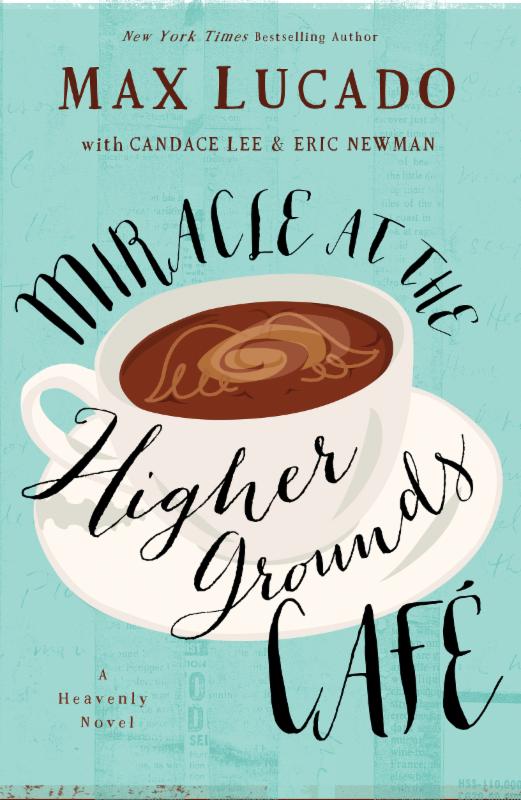 My thoughts on Miracle at the Higher Grounds Cafe:
Okay so I love coffee and cupcakes. The fact that this takes place in and around a Cafe with coffee made it a must read. Well and the fact that it was written by Max Lucado. We love Max Lucado around our house. I fell in love with the book and the characters and found myself seeing myself in a lot of this. I mean, how often does someone else see something that we're too busy or too worries or too stressed or too whatever to notice about our own selves and our own life. Chelsea is like that. She's not "seeing" what is really going on around her. It takes a wake up call before she can see what she truly has to be thankful for and realize just how much God really is looking out for her.
I feel like we're all like that at some times. Sometimes it takes a day out with friends or a day in being sick or maybe even just waking up one morning to find out wow we've been looking at life all wrong. We all have times that we go through that. Where we don't see all that God is offering and giving us. Where we don't really see all the blessings in our life for seeing all the bad that is happening. Sometimes we just need to take a grateful day. Take the time to really look and find all we're grateful for and all that God is giving us.
Great book. Go grab a cup of coffee and a copy of the book and settle in for a great read. Oh and maybe make sure someone else is watching the kids so you can have some uninterrupted reading and hot coffee time. I don't know about you, but I hate to stop reading when I'm really enjoying a book. I also hate cold coffee. And cupcakes that someone else eats. So get ready for your daily dose of cupcakes coffee and care and crack open this great book.
Go to the
Family Christian Site
for a great synopsis on the book or to purchase your own copy. If you