This week, the




Christian Fiction Blog Alliance




is introducing


Double Cross
Tyndale House Publishers, Inc. (April 1, 2015)
by
Diann Mills
ABOUT THE AUTHOR:
DiAnn Mills is a bestselling
author who believes her readers
should expect an adventure. She combines unforgettable characters with
unpredictable plots to create action-packed, suspense-filled novels.
Her titles have appeared on the CBA and ECPA bestseller lists; won two
Christy Awards; and been finalists for the RITA, Daphne Du Maurier,
Inspirational Readers' Choice, and Carol award contests. Library
Journal presented her with a Best Books 2014: Genre Fiction
award in the Christian Fiction category for Firewall.
DiAnn is a founding board member of the American Christian Fiction
Writers; the 2015 president of the Romance Writers of America's Faith,
Hope, & Love chapter; a member of Advanced Writers and Speakers
Association, and International Thriller Writers. She speaks to various
groups and teaches writing workshops around the country. She and her
husband live in sunny Houston, Texas. DiAnn is very active online and
would love to connect with readers on any of the social media platforms
listed at her website.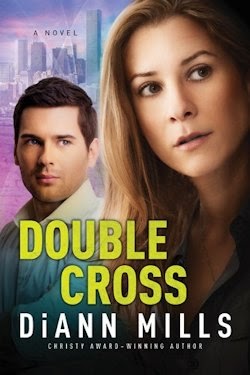 ABOUT THE BOOK
FBI Agent Laurel Evertson's investigation into a scam targeting the elderly takes an unexpected twist when key evidence leads her to Morton Wilmington, a felon she arrested five years ago on her first undercover assignment. That case has haunted her since, and though she's vowed to forget Wilmington—and what she sacrificed to put him away—he is now her best lead.
Houston Police Officer Daniel Hilton fears his grandparents may be the scammer's next targets, and he'll do anything to protect his family—even force interagency cooperation. But he's quickly drawn to Laurel's empathy and zeal and agrees to follow her lead . . . even if it means teaming up with a felon.
As the unlikely trio uncovers evidence suggesting the scam is more extensive and deadly than they imagined, both Laurel and Daniel find themselves in the crosshairs of a killer. Together they must decide if they can trust Wilmington's claims of redemption, or if he's leading them straight into a double cross.
If you would like to read the first chapter of Double Cross, go HERE.
My thoughts:
I have read books by DiAnn Mills before and have never come away unmoved. She writes with passion and makes you a part of her book. She also creates a web of suspense and intrigue that you can't get away from until the book has come to a close.
This book is the same. It's full of suspense and murder and twists and turns. Who are the real bad guys? Who can you trust? Can we be the ones who judge whether someone really has or has not accepted Christ personally?
All of the above is touched on in this book. FBI agent Laurel has fallen in love with a police officer Daniel. He is trying to protect his aging grandparents, one of whom suffers from Alzheimers and is the victim of elderly scam involving fake life insurance policies. But even though they're developing feelings for each other Laurel has an important assignment to try to catch these scammers.
Can Laurel pretend to be in love with a man she put behind bars years ago who she despises while really loving Daniel? Can she keep them both safe?
Loved this book! Definitely think everyone should pick up a copy and read it!