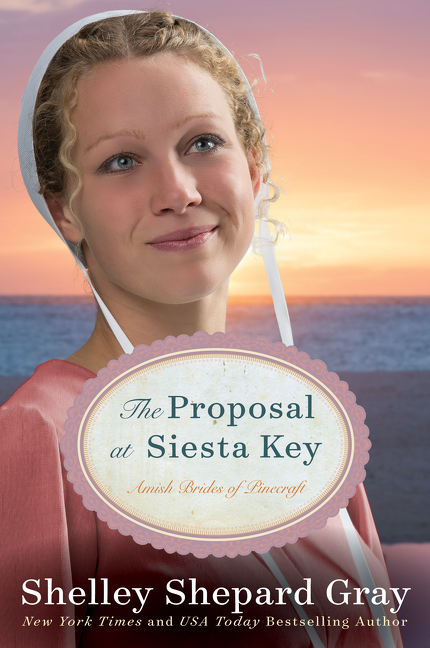 About the book:
The

Proposal

at

Siesta

Key
(Avon Inspire, May 2015)
A young Amish woman, yearning for freedom, crosses paths with a handsome Mennonite celebrity in a deeply moving tale of friendship and self-discovery—the second installment in the unforgettable New York Times bestselling author's new Amish Brides of Pinecraft series.
Penny Troyer rarely disobeys her parents. In the years since her sister's tragic death, they've wanted nothing more than to keep her safe…even if it means never leaving the house.
But tonight, she's bending the rules because Michael Knoxx, the most famous member of The Knoxx Family Singers, a traveling Mennonite Evangelical family —is scheduled to speak. Penny has heard of Michael—how he lost part of his leg in a terrible accident and uses the experience to inspire others—and knows she must meet him. So, for the first time ever, Penny stands up to her parents and goes out on her own.
Though he speaks about living life to the fullest, Michael knows he needs to take his own advice. Life on the road is grueling and Michael wants to slow down, to rest…to perhaps meet someone who sees him as a man, not just a celebrity. So when a twist of fate allows him the chance to stay a little longer in Pinecraft, Michael knows God is showing him a new path, especially when he discovers how much he and Penny Troyer have in common.
But new friendships can't stop time. Soon, Michael's time in Pinecraft will be over and he'll be back on the road. Her time with Michael has brought her happiness, but will she be able to follow her heart? Or will she be faced with the one thing she's sure she'll never have the courage to do?
Purchase a copy: http://amzn.to/1AvyvUr
About the author:
Shelley Shepard Gray is a two-time New York Times bestseller, a two-time USA Today bestseller, a finalist for the American Christian Fiction Writers prestigious Carol Award, and a two-time Holt Medallion winner. She lives in Southern Ohio, where she writes full-time, bakes too much, and can often be found walking her dachshunds on her town's bike trail.
My thoughts:
I really enjoyed the first book in this series and knew without even opening the book that I'd love this one, just like I know I'm going to love the third as well. Shelley Shepard Gray is a wonderful and talented writer who can draw you into being a part of her story. You become tied to it. You must keep reading.
I read this book in less than a day. I read while I was making breakfast and when the baby was napping and after the kids were asleep. I was in love with the characters and had to see how it all worked out in the end.
Some moments that made me giggle definitely included when Eric's girlfriend ran out of the Inn. The way she vividly described the scene made me laugh! I cried learning why Penny was so sheltered and secluded and I cringed learning how Michael lost part of his leg. All of the characters have something that they must overcome and come to terms with. Including the Inn's owner(or manager?)'s niece who shows up unexpectedly.
You're going to love these characters as much as I do. Trust me when I say this.
I'm not sure how much of the story to tell you, but both Penny and Michael have to stand up to their family with what they want to happen in their lives whatever that may mean. It's a great learning experience for them both and hopefully the reader will take away a lesson or two as well.
I did have to wonder whether Michael remains Mennonite or goes back to his Amish roots.