A Son's Vow
A Litfuse Book Review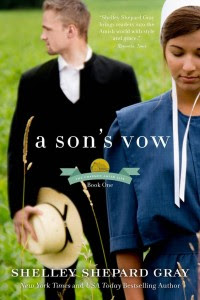 About the book:


A

Son

's

Vow
(Avon Inspire, January 2016)
Three months ago, everything changed for Darla Kurtz and her family.
Darla's father was responsible for a terrible fire at Charm's lumber mill which killed five Amish men. And though he, too, lost his life, the town of Charm hasn't looked at her family the same since. Even Lukas Kinsinger—with whom Darla used to have a close friendship.
Now her brother's anger at the town is spilling over onto Darla, and she has the bruises to prove it. The accident already cost five lives, but if something doesn't change soon, Darla fears it will cost her—and her family—even more.
Lukas Kinsinger wants to mourn the loss of his father, but he can hardly find the time to breathe. Suddenly the head of his father's lumber mill and responsible for taking care of his three siblings, he's feeling the pressure. He has also never felt more alone—especially with the new tension between he and Darla. But when he learns of her troubles at home, Lukas knows he can't simply stand by and watch. Someone has to help her before another tragedy occurs.
As Lukas and Darla attempt to repair their families, they discover something deeper than friendship growing between them. But will Lukas and Darla's love be accepted after so much loss? Or will the pain of the past overcome any chance of future happiness?
Shelley Shepard Gray's first book in her Charmed Amish Life series is set in the quaint Amish village of Charm, Ohio, and tells the stories of the Kinsinger siblings who are each struggling to find both forgiveness and love in the face of tragedy.
About the author:
Shelley Shepard Gray is a New York Times and USA Today bestselling author, a finalist for the American Christian Fiction Writers prestigious Carol Award, and a two-time HOLT Medallion winner. She lives in southern Ohio, where she writes full-time, bakes too much, and can often be found walking her dachshunds on her town's bike trail.
My thoughts:
I love Shelley Shephard Gray. She's probably one of my favorite Amish fiction authors. Her new book, A Son's Vow, continues her tradition of bringing the Amish and their lives to life.
Meet Darla. Darla lives a life that is different from what she's previously known. Her father died in a fire that most say he caused along with several other men. Her mother ran away. Her brother has turned angry and abusive. One of the main targets of his anger is her lifelong best friend and possible suitor Lukas Kinsinger. His father also died in the fire, but it's his mill that the fire happened in.
Blame is thrown around but most people have settled down to their own lives and their quiet Amish way. Not true for Darla's brother and Lukas' brother. They still have some anger and resentment. If only Darla could get her brother to talk to the elders and come to terms with his anger and grief. Instead, he takes that anger out on her and it only gets worse when Lukas wants to rekindle their friendship and start seeing her as more than a friend.
Can Darla give up true love to keep some peace at home? Or will Lukas learn the truth and protect her? Can they get her brother the help he needs before his anger turns to others?
Wonderful book. Easy read and definitely captures your attention. You're going to love A Son's Vow! And bonus it's the first in a new series!