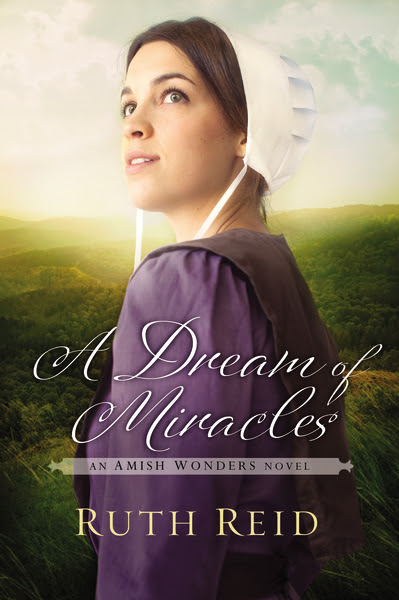 About the book:


A

Dream

of

Miracles
(Thomas Nelson, April 2016)
Amish widow Mattie vows never to love again . . . until a suspicious outsider with a shadowy past comes crashing into her fragile world.
Mattie Diener can barely keep it together. A young Amish widow and mother of two young children, she faces the lingering heartbreak of lost love, her son's mysterious illness, and a torrent of accusations that threaten to undo her.
Bo Lambright is a fast-rising social services investigator whose high-society mother won't rest until she finds his Mrs. Right. Despite Bo's worldly success, the raw acheof a shadowy past and a series of unsettling dreams have left him reeling.
When Mattie and Bo cross paths, all signs point to disaster. Yet as they face a crucible oftrials and tragedies together, longings begin to stir that seem destined only to end in more heartbreak. Is a miracle possible—not only of healing but of forbidden love? What secrets lie in Bo's dreams? And will Mattie find the courage to face her uncertain future . . . or will she simply run away?
About the author:
Ruth Reid
is a CBA and ECPA bestselling author
of
the Heaven on Earth series. She's a full-time pharmacist who lives in Florida with her husband and three children. When attending Ferris State University School
of
Pharmacy in Big Rapids, Michigan, she lived on the outskirts
of
an Amish community and had several occasions to visit the Amish farms. Her interest grew into love as she saw the beauty in living a simple life.
My thoughts:
I'm a huge fan of Amish fiction as many may know. I didn't recognize the name of this author though when the opportunity to review her book came out. Oh but the description sounded appealing! So I signed up to give it a read. I'm so glad I did! I really enjoyed this book and found it a fast read.
Who would have ever thought that a Child worker grew up Amish? Or that illnesses might present themselves in very unique ways on a rare percent of the population?
As a parent I am very glad that Mattie had someone to stand up for her and help her through something so traumatic. To be accused of child abuse! To be jailed! Especially when that woman is Amish and probably had never seen the inside of a jail before! And all because someone had an ulterior motive. I'll let you find out the rest for yourself, but really this is a great read and I'd love to find out what happens next to these characters!