Elementary German
Homeschool Review Crew
One of the many many languages I have always wanted to learn is German. I want my kids to learn several languages as well. Recently through the Homeschool Review Crew we got access to an elementary German course from Middlebury Interactive Languages. Their German Courses are available for grades 3-12. We received online access to their Elementary German program for grades 3-5.

While this course is for Grades 3-5, I find that my younger children can also learn from it. We love to listen and practice this together as a family during our homeschool mornings. Even my three year old is picking up short phrases and words. It's so fun to see the kids interacting and using German words during our days!
The program itself is fun and engaging. It uses fun stories and videos to teach language. It's a bit of immersion since they tell a story fully in German to start the lessons. But the stories are ones that everyone will know so you can get the gist and make your own inference as to what the words mean.
My thoughts
I love that at the beginning of the course you have access to a list of all the stories that are going to be used. This list allowed me time to make sure that I had the English versions in our house. I'm a bit of a nerd and love to add more literature into our homeschool day so I made sure that we were reading the same books in English and in German at the same time. Fun for me and the kids!
Also, when you go back to the section mentioned above, you can click on a button that allows you to see all of the German phrases they'll show on the screens and the English next to it. I LOVE this!!! It's printed and in a binder for my use with the kids. This way I can write some of our phrases on a blackboard or whiteboard throughout the house for practice away from the computer.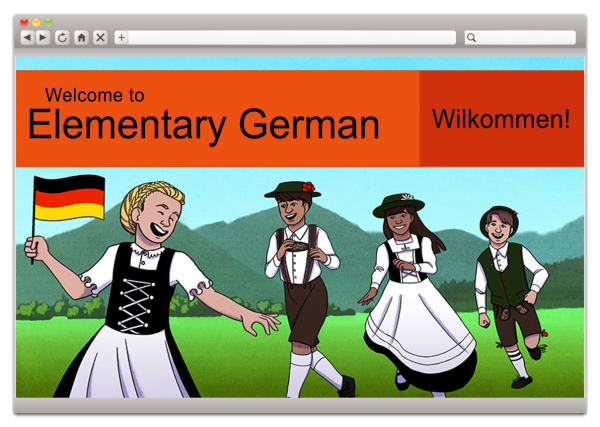 Another fun feature I took advantage of was the list of vocabulary for all 15 units at the beginning. I printed those guys off too! I have a chalkboard sticker on my refrigerator door. Yeap vocabulary words in German get written on there! It also let me plan ahead. If I knew say we'd be learning fruit words one week I can make sure I have the fruit in question in my refrigerator so we can eat an apple while we learn the word for apple. I'm fun like that!!
About the Program
Lesson 1 is all about family. We learn the names for brother, sister, cousin, etc all while listening to the German version of Rumpelstiltskin. It's such a cute and fun way to learn the words! Be prepared for your kids to run around calling each other brother and sister in German. It'll happen. Ask me how I know.
We're working through the program doing one unit per week currently. Though there have been a few weeks we did two units because my kids really got the words learned quickly. It's self paced though. All the lessons are available when you're ready for them and you can go back and do them again if you need to.
I highly recommend using Middlebury Interactive Languages Elementary German program. Again, while it says grades 3-4 I personally am using it with some kids who are in Kindergarten, first, and second as well as a few preschoolers in addition to those grades and they are doing really well learning the words.
Learn More
If you'd like to see more about the other languages that are offered from Middlebury Interactive Languages make sure to check out the Main Post on the Homeschool Review Crew blog. You'll also find other levels of German and more reviews about Elementary German as well. Middlebury Interactive Languages can also be found on social media through their Facebook, Twitter, and Pinterest.