Large Family Freezer Cooking
Homeschool Review Crew

Recently through the Homeschool Review Crew we received a Premium Annual Membership to MyFreezEasy to help with our large family freezer cooking. Our MyFreezEasy.com Freezer Meal Plan Membership gave us access to many meal plans including specialty ones like the gluten free that we need!
With our membership we are able to have access to meal plans. Most meal plans include five recipes. Our membership allows us to customize meal plans as well. This is great for me since we also have some tried and true favorites that I like to freeze and have on hand for meals. A huge selling point for us on this program is that each recipe includes modifications for making them gluten and dairy free. Since we have two little girls who can't have dairy this is great for me. It means that when I'm doing our large family freezer cooking I don't have to do that all on my own.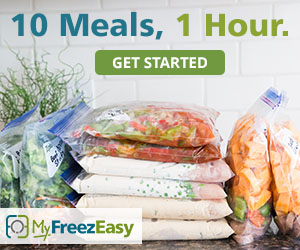 Meal Plans
There are different meal plans to choose from including Traditional meals, Gluten Free meals, Clean Eats Meals, Chicken Only Meals, Ground Beef Meals, and Slow Cooker Meals. Also different months may bring different plans, for instance in October there is a Pork only meals as well. I primarily browsed and used the Gluten Free meals, Clean Eats Meals, and Slow Cooker Meals. I could also see us using the Ground Beef meals in the future as we buy half a cow and get quite a bit of ground beef to use in casseroles and such.
Large family freezer cooking can seem daunting. Now, you can't just pop onto a meal plan and follow it to the letter and get a meal for your large family with this plan. You are going to have to do some multiplication as well but it's not that difficult if you're used to making meals for a large family.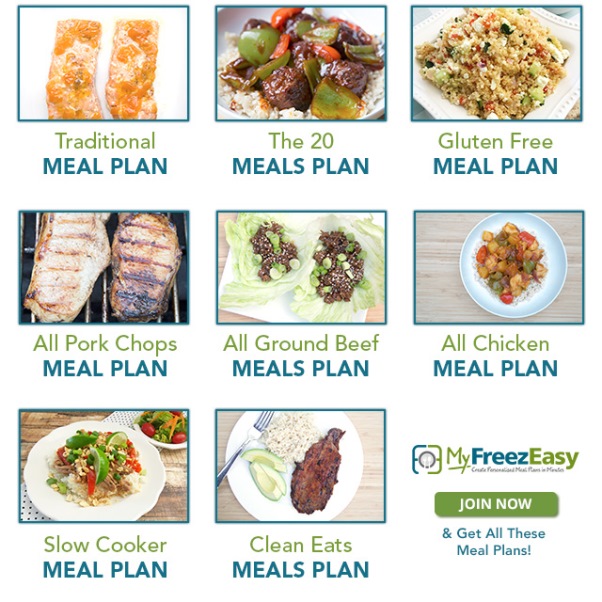 What We Used
For the month of October some of the Clean Eats meals are really good! We made the Paleo Chicken Taco Salad and it didn't even make it to the freezer. By the time I was done with the prep I'd decided it was supper because I wanted to eat it ASAP!! I did go back and make some to freeze as well. This recipe is written to serve 4 so I multiplied it by 3 to get to 12 servings which is enough for our family of 11 eaters. Baby doesn't count yet since he's still only 4 months old!
A recipe from the Clean Eats meals that went straight to my freezer and is going to be coming out on Wednesdays to go into the slow cooker is Slow Cooker Italian Chicken and Vegetables. It was super simple to make and easily put in the freezer. The directions show you how to make two meals of four servings each so I just multiplied again by three so I could make two meals of 12 servings each.
I'm greatly enjoying this program and think most families can benefit from it. It's so nice to have meals in the freezer ready to go. Simply take one out the night before you need it and tada you've got supper ready to go the next day. The only planning involved is getting it out of the freezer! I love that this program also provides the labels that you need for the dishes as well so it's easy to tell what you have in the freezer and how to prepare it.
Learn More
If you'd like to find out more about large family freezer cooking of the MyFreezEasy membership please go to the main Homeschool Review Crew blog and check out all the linked up blog posts. You can also find MyFreezEasy online on facebook, instagram, and pinterest.