Join me for an Amish Style Christmas
Join me in an Amish Style Christmas through two great new Amish fiction books. You're going to love them as much as I do!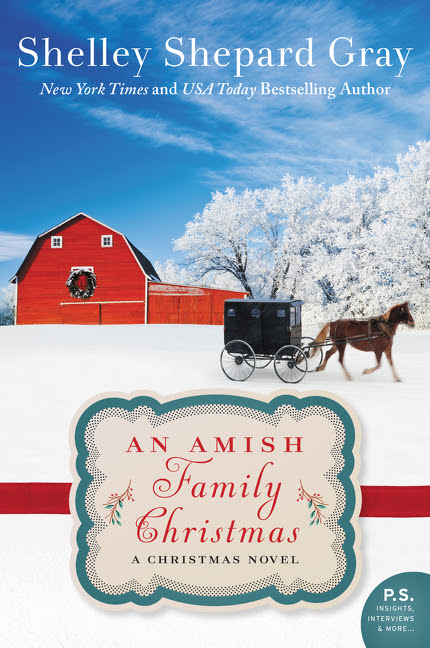 About the book:
An Amish Family Christmas
(Avon Inspire, October 2016)
In Shelley Shepard Gray's fourth book in her Charmed Amish Life series, an unlikely Amish romance reveals that Christmas is a time for family, miracles—and love.
Ever since his father died in a tragic fire, Levi Kinsinger has felt adrift. Newly returned to Charm, Ohio, Levi is trying to fit into his old life, only to discover he seems to have outgrown it.
But when Julia, his young widowed neighbor, asks for his help with a Christmas project, Levi finds a sense of purpose for the first time in months. She and her daughter are new to Charm and could use a friend, a job Levi takes personally. Soon enough, friendship grows into attraction, but Levi can't help having doubts. There's something about Julia that doesn't ring quite true . . .
Like Levi, Julia Kemps has survived her fair share of hardships—but only by hiding the truth of her past. Being an unmarried mother in an Amish community was unthinkable. Feeling hopeless, Julia did the only thing she could do: she moved to a new town and pretended to be a widow. But meeting Levi, she's hopeful for the first time. Little by little, she begins to imagine telling him her darkest secret, and eventually . . . perhaps even sharing her life with him.
Christmas is a time for family, and as the holiday draws closer, Julia and Levi will have to face their pasts together . . . in order to find the healing, support and love they so desperately desire.
About the author:
Shelley Shepard Gray is a New York Times and USA Today bestselling author, a finalist for the American Christian Fiction Writers prestigious Carol Award, and a two-time HOLT Medallion winner. She lives in southern Ohio, where she writes full-time, bakes too much, and can often be found walking her dachshunds on her town's bike trail.
My thoughts:
I have loved this series(book three below) and love this family. I really enjoyed this book and taking a step into an Amish family Christmas. The sense of family that follows this group of young people around and their love and care for each other are real. Well to me at least! They are my friends and I love how this author weaves her stories with just the right amount of mystery and suspense. Her characters are real with real problems that they have to overcome. In overcoming their problems they grow and become even more lovable. Definitely recommend this book and the entire series.
And the second book that is part of this set! It's actually book 3 in the series and I did read it before An Amish Family Christmas but it seemed a bit more appropriate to place it in the second slot as we gear up for the holidays.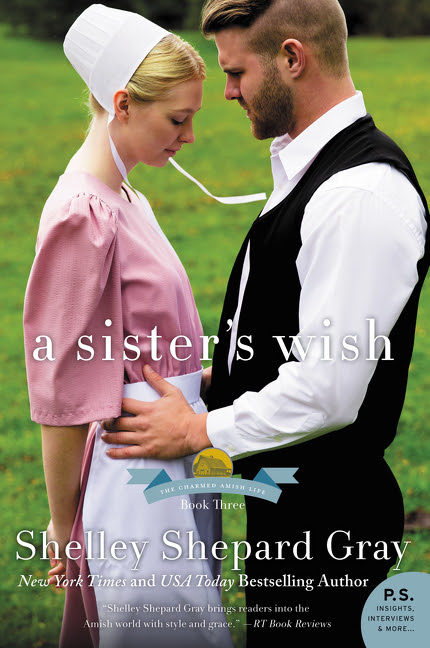 About the book:


A

Sister

's

Wish
(Avon Inspire, September 2016)
In Shelley Shepard Gray's third book in her Charmed Amish Life series, a respectable young woman finds herself falling for an Amish man from the wrong side of the tracks.
Amelia Kinsinger is the perfect Amish woman—at least according to her neighbors. And while Amelia takes pride in her role as homemaker, she's also harboring a secret: She's been in love with bad boy Simon Hochstetler for as long as she can remember. Too bad he's about as far from "perfect" as an Amish man could get . . . but that's exactly why she's so drawn to him.
Life hasn't been kind to Simon. He ran away from an abusive home at fifteen and things went downhill from there. Eventually, Simon landed in prison. But the experience changed him. Now back in Charm as a grown man, he's determined to make a new life for himself and not think too much about his wild past . . . unless it pertains to Amelia.
He's loved Amelia for years. To him, she represents everything good and kind in the world. When he realizes that she returns his affections, he starts calling on her in secret, even though her older brother Lukas—who just happens to be Simon's best friend—has made it perfectly clear that Amelia deserves better. Simon disagrees and believes he's the only one who can truly make her happy.
But when Amelia gets hurt, it sets off a chain of events that forces them to consider their future together—and face their past mistakes. There's a chance for love . . . but only if Simon dares to trust Amelia with the secrets of his past.
My thoughts:
This third book in the Charmed Amish Life series is just as good as the other two(and the Christmas book). I have loved getting to know the family and their ins and outs of fears and insecurities. Poor Amelia feels she's been smothered and babied and protected long enough. It's time for her to make decisions on her own. But will her older brother ever let her? Will the man she loves let her decide that he is worthy of her love?
Great read! I loved this one and how quickly it read. I fell in love with the characters all over again. They are like family and as such I wanted to knock a few of their heads a time or two but all in all I love how it turned out and hope we're not bidding them farewell for good.