Rescued Hearts
Litfuse Review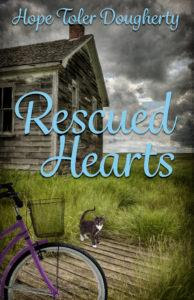 Take a peek inside Rescued Hearts.
Children's clothing designer Mary Wade Kimball's soft spot for animals leads to a hostage situation when she spots a briar- entangled kitten in front of an abandoned house. Beaten, bound, and gagged by the two thugs inside, Mary Wade loses hope for escape when a third villain returns with supplies.
Discovering the kidnapped woman ratchets the complications for undercover agent Brett Davis. Weighing the difference of ruining his three months' investigation against the woman's safety, Brett forsakes his mission and helps her escape, the bent-on-revenge brutes following behind.
When Mary Wade's safety is threatened once more, Brett rescues her again. This time, her personal safety isn't the only thing in jeopardy. Her heart is endangered as well.
About the author:
Hope Toler Dougherty holds a Master's degree in English and taught at East Carolina University as well as York Technical College. A member of ACFW, RWA and SinC, she writes for Almost an Author. Before writing novels, she published non-fiction articles on topics ranging from gardening with children to writing apprehension. She cheers for the Pittsburgh Steelers, ACC basketball, and Army West Point Football. Hope and her husband, Kevin, live in North Carolina and chat with their two daughters and twin sons through ooVoo.
My thoughts:
I love a good mystery. Suspense keeps me intriqued. I found both in Rescued Hearts and couldn't put it down. Do you ever get a book like that? I find I've had a lot lately!
Confession #1: I'm a total cat lover and have rescued my fair share. I would have rescued the cat too.
Confession #2: The blonde bimbo impression. I've done it. She did amazing. Much better than I could have.
Confession #3: I love Brett's family! Can they adopt me? I mean the matchmaking is on point.
Confession #4: I'd never make the first phone call so another reason Mary Wade and I would get along amazingly.
No clue what I'm talking about? NO idea what a gorgeous cabin in the woods has to do with anything? Check out this book from your library or purchase it at the store and you'll know. You also are going to want to make sure you have uninterrupted reading time. Because it's that good. There are lots of secrets kept in this book. Lots of notions that get challenged and hearts that have to be cracked open piece by piece. It moves at a fast pace but not so fast that you're missing important clues. Definitely a good read in my opinion.