A Christian Comic Book
Homeschool Review Crew
As part of the Homeschool Review Crew we recently received a new Christian Comic Book to review. My oldest son was particularly interested in this one! Captain Absolutely was out of the box and in his hands before I even realized that it had arrived! Thanks to Focus On The Family for keeping him occupied reading for a few hours.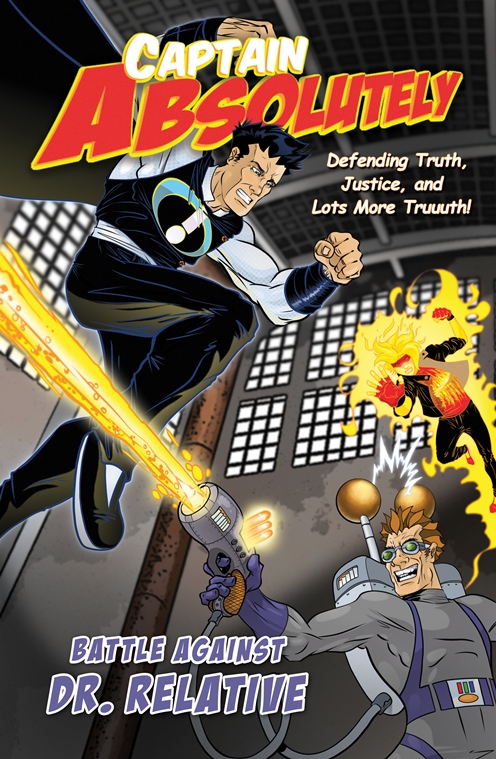 Yes I did say a few hours. He literally read this book super fast. It's written like a comic book with lots of great graphics and just enough suspense and fun to keep my 10 year old intrigued from cover to cover. Who wouldn't be mesmerized by a librarian named Josiah King who while hiding amongst a room full of Bibles actually opens and starts reading one. Due to some radioactive fumes(aren't they always the culprit) and the fact that he's reading the Bible, he is turned into the hero Captain Absolutely.
About the Book
Do you remember ever listening to or reading Adventures in Odyssey? I remember listening to the audio shows and watching the cartoons for Adventures in Odyssey as a child. Captain Absolutely, the star of this Christian comic book, is a character from that show.
We received a paperback copy of this book. The bright colors and vivid graphics caught my eye as I was sneaking looks over my sons shoulder. As soon as he finished reading the book it went off to my oldest daughter and then on down the line. Currently I think child seven is reading the book and she's the last independent reader I have. Once she's done I might actually get a chance to read it!
Captain Absolutely: Battle Against Dr Relative is written by Wooten Z. Bassett and illustrated by Dennis Edwards. This character is a spin off of the Adventures in Odyssey series. The series was written over a span of 5 years while it was appearing as a comic strip within the Clubhouse Magazine from Focus On The Family. Only 105 pages long it will entertain your child as Dr Relative is dealt with by our hero who is defending truth, justice, and lots more truth.
This book is listed as a kids juvenile fiction and is currently retailing for $9.99.
Our Thoughts
I was not super interested in this book to review. Got to admit it. Science fiction and superheroes has just never been my thing. Give me a historical fiction novel or a good biography and I'm hooked. But sci fi and futuristic stuff, it's over my head and just does not engage me. My son on the other hand thinks this is amazing and could not wait to receive it to review.
Once the book arrived he grabbed it and found a comfy spot. Within a few hours of sitting down he'd read the book straight through! Even though I'm not a fan of this genre I do love the message behind this book. It's teaching children how to stand firm in their beliefs no matter what the rest of the world might be saying and doing.

Learn More
Want to learn more? Check out the Main Blog Post for the review team. All of the reviews of this Christian Comic Book are linked up there so you can pick and choose some to read and see what everyone has to say. You can also find Captain Absolutely and Focus On The Family on Facebook, Pinterest, Twitter, Instagram, Google +, and YouTube.