The Mark of the King
by Jocelyn Green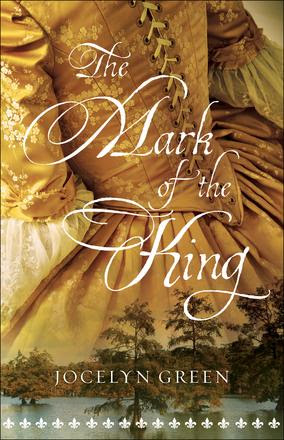 About the book The Mark of The King:


The Mark of the King
(Bethany House, January 2017)
Sweeping historical fiction set at the edge of the continent
After being imprisoned and branded for the death of her client, twenty-five-year-old midwife Julianne Chevalier trades her life sentence for exile to the fledgling 1720s French colony of Louisiana, where she hopes to be reunited with her brother, serving there as a soldier. To make the journey, though, women must be married, and Julianne is forced to wed a fellow convict.
When they arrive in New Orleans, there is no news of Benjamin, Julianne's brother, and searching for answers proves dangerous. What is behind the mystery, and does military officer Marc-Paul Girard know more than he is letting on?
With her dreams of a new life shattered, Julianne must find her way in this dangerous, rugged land, despite never being able to escape the king's mark on her shoulder that brands her a criminal beyond redemption.
About the author of The Mark of the King:
Jocelyn Green inspires faith and courage as the award-winning author of ten books to date, including Wedded to War, a Christy Award finalist in 2013; Widow of Gettysburg;Yankee in Atlanta; and The 5 Love Languages Military Edition, which she coauthored with bestselling author Dr. Gary Chapman. A former military wife herself, her passion for military families informs all of her writing as well as her numerous speaking opportunities. Jocelyn graduated from Taylor University with a BA in English and now lives with her husband and two children in Iowa.
My thoughts:
I have read the works of Jocelyn Green that center around the Civil War and LOVED them. So I knew that I loved her writing. When this book arrived I knew that I wanted to read it and read it quickly. I was not disappointed. This book is amazing.
Travel back in time. I'd never even heard of this! Forced marriages so you could get out of jail and go colonize a new world. I personally don't think I'd have chosen hardened criminals for this but I'm guessing the king just wanted people over there.
Anyway back to the book! Julianne is an intriguing character that you can't help but be drawn towards. She has great strength and makes the most of her lot in life. Being a gifted midwife she can't practice since she's imprisoned for killing a mother. Well, she really didn't kill her but you'll have to read the book to find out! Then she marries a man she doesn't know, travels across the ocean, and sleeps in the mud and rain. Such fun! But it gets better! Her brother is supposed to be in this new land. The brother she raised and loved and nurtured like a mother would. Will she ever find him?
And what about this husband? Can he be a good man or is he bound by his criminal past? Will she be able to hide the mark on her or will the world find out and make her an outcast again?
Oh guys! This is suspenseful and full of good plot twists and characters. I love the little girl she gets to mother and the complexities of her character. I love her relationship with Marc-Paul and lets not even get into her brother.
Definitely one I'm keeping on my shelf to reread! Well after it comes back from making the rounds of all my avid reader friends.