The Secret Bridge
Homeschool Review Crew
I love to read! I'm sure you have noticed that by all the book reviews I post on here. Recently I received a copy of The Secret Bridge from Lamplighter Publishing through the Homeschool Review Crew. Find out what I thought of it below!

About the Book
This book is gorgeous for one. I know looks shouldn't matter but this book cover is so pretty. It's definitely one I'd pick up and look at in a book store. After looking through the website all the books from Lamplighter Publishing are this way. Their goal is to create "Christlike character one story at a time."
The Secret Bridge is written by Amy le Feuvre in 1899. It's 272 pages long and even for that length it's a quick read. I'm not sure that I would allow young children to read this book. Maybe an age limit of 11-12 or so, but that would have to do with their mental capacity and not just their physical age.
A note. Any profanity or questionable content in the original works is removed or phased out of the copies that Lamplighter Publishing offers for sale. This is one of the ways that they ensure they are promoting their values and not taking people away from God but rather drawing you closer. The company was started in 1994 by Mark Hamby and now offers over one hundred and thirty titles.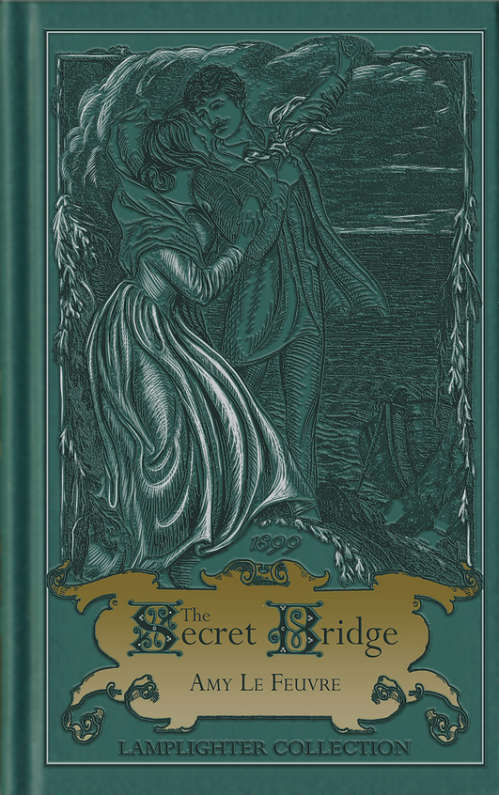 My Thoughts
I loved the book cover. The book also did not disappoint. We get to travel back in time and meet a great character. Bridget Channing. Her father dies leaving her penniless and alone in Ceylon. Can she survive? What will happen to her? She sales to England and on the voyage she attracts the attention of Godfrey Bullingham. Determined to make her own way and not rely on pity or charity Bridget wants nothing to do with him.
Once in England Bridget finds out that the uncle she was to stay with has also passed away and she is now without a place to stay. What should Bridget do? Godfrey offers her marriage and with no other options she accepts.
Now Bridget must find out what she is to do. How does she go on? She's quiet and shy and due to this she hasn't many friends. She self professes as not believing in Christ. But she shocks even herself when she turns to Christ and learning how she should act and behave as a new bride. Her example? Why the Bible of course!
Throughout the book we're challenged to grow closer to Christ. To await him as a bride awaits the bridegroom. I think our young girls can get great character training and enjoy deep thoughts while reading and processing The Secret Bridge. While reading it I found myself thinking and digesting little morsels and thinking in ways I might never have thought before.
Find out More
Find out what other reviewers thought of The Secret Bridge. All reviews are linked up on the Main Blog for the Homeschool Review Crew. So many different readers are sure to take away many different take aways. You can also find Lamplighter Publishing on Facebook, Twitter, and Google +.