Do you want your children to follow a Charlotte Mason approach? Having a hard time finding a Charlotte Mason copywork that works for you? Recently with the TOS Crew we received a Lifetime Membership to Homeschool Copywork. This to me is so awesome!
I've had a hard time finding good copywork for my children. We follow more of a Charlotte Mason approach and I didn't just want them copying silly phrases. I wanted them copying and reading and memorizing things that had meaning.
If you're like me you're going to love this Charlotte Mason copywork. With our lifetime membership we get access to upper and lower elementary copywork for a lifetime as well as a junior and high school level. I can go in and print off whatever I want whenever I want. There are also some extra resources that we have access to.
Homeschool Copywork offers two membership levels. You can get a full membership which is for only a year or a lifetime membership(which is what we received) which is good for the lifetime of the site.
We have a great variety of Charlotte Mason copywork that we get to choose from to use. There are also different writing styles and manuscript versus cursive that you can print out and use. I like to print them out and put them in a folder with brads or in a binder so that each copywork book is together. As far as the variety, you can choose scriptures(we love the KJV ones she has) or artist studies, or nature studies, hymns, quotes of composers, and so much more!
The object of the Charlotte Mason copywork is not to just copy the words. But to read and memorize the words. To fully understand their meaning and to do your absolute best while writing that phrase. You don't need to write the whole copybook in one day. That defeats the purpose. Each page and each study should be done slowly and with great care.
We've used several of the coypwork books as I do have several children. I had my two five-year old girls start with the ABC copywork. Just short little phrases like A is for and B is for. It helps to familiarize them with their letters and how they're formed. It also includes an area where they can trace the words. Oh and a good-sized picture of whatever animal is being referenced so they can color it too. I really like this because at this young age we are definitely still working on coloring inside the lines and doing our absolute best. One of my five-year olds is more advanced and did a better job on her copywork. The other will have to do it again probably at some point.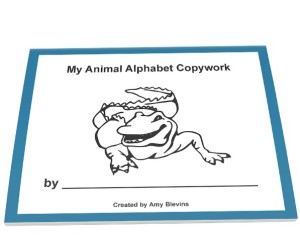 My favorite Charlotte Mason copywork for my older kids is the Character Building Copybook. I printed off the entire book to start with. Then I chose the writing styles that I wanted each child to use. If more than one child was using the same writing style I printed off an additional cover and then copied the pages they would need. Most of the time we printed in black and white as with 8 of my 9 kids using the copybooks it is definitely a lot of ink. I highly recommend making sure all your cartridges are full before starting printing! I did however go full color on the cover page. You want it to be enticing!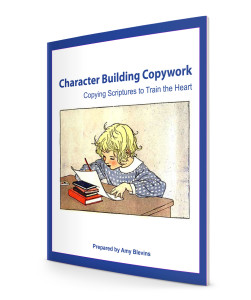 The description for the Character Building Copywork is copying scriptures to train the heart. That's definitely something I think my children are still needing to work on at their young ages. It's done in KJV which is the version we like to exclusively use for memorization. And each page does have a smaller picture to color as well. This is from the Early Elementary section but also included in the Upper Elementary section. I used it with anyone who could read as I wanted them to be able to read and understand what they were being asked to copy and memorize.
I do want to mention that not all the scriptural copybooks are done in the KJV. They also do use the ESV for several of them. Another we used was the Armor of God. It's a great one for boys but done in the ESV instead of the KJV. So we made sure to look in our Bibles while we were doing that one so that we could see what the difference was. It was easier for the kids to memorize what was on the pages for this but I did want them to be familiar with where it was in the Bible and how it read in the KJV.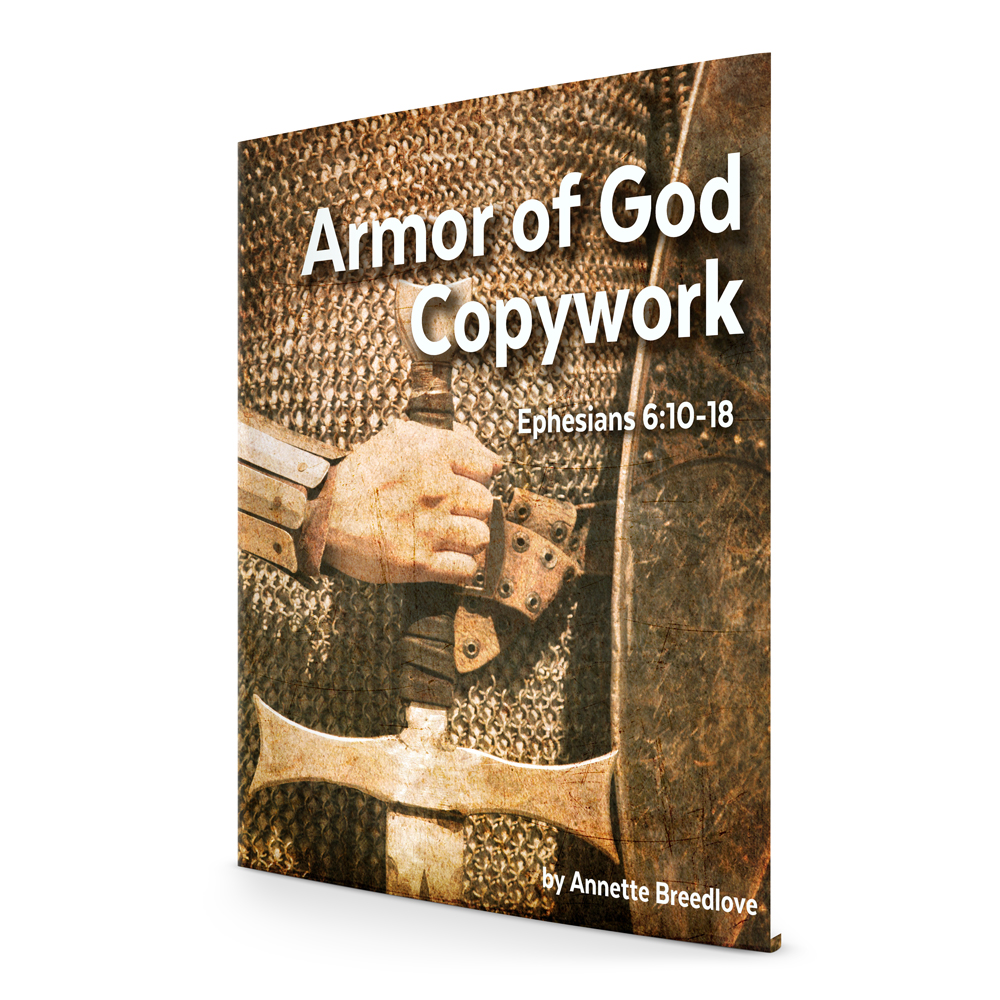 Amy Blevins is the creator of this site and does a wonderful job with the Charlotte Mason copywork. I'm excited to see what new things she'll add over the year and years to the site. There are some great copybooks that I also can't wait to get my older children working on. Quotes from famous authors who happen to be favorites of mine to start with! My oldest daughter can't wait to do the some of the author quotes as she loves to read while my boys are all in awe over the Dragons one!
Want to see what other reviewers thought and what Charlotte Mason copywork pieces they chose to use? Head on over to the Main TOS Blog and read all the reviews. I did not use much of the upper elementary level so make sure you check out some of those. My main focus was as you've seen on the lower elementary in particular the K-1st level. You can also find more about Homeschool Copywork on facebook, twitter, instagram, Pinterest, and Google +.