As we gear up to start a new year I find myself looking for a new devotional book to use with the kids. It's sometimes hard to find a good one at a price you can afford. I find that deciding on a devotional is always much harder than I anticipated.
There are so many to choose from! And so many factors to consider. For me I have to make sure it's something that will work for a wide age range. When you have nine kids ages nine and under you want to make sure you can keep the most of them occupied at the same time.
Another factor that affects my deciding on a devotional is how many days it covers. I want one that covers the whole year. A 365 day devotional book, not a monthly or weekly one. A great way to make sure that we keep on task and do it daily is if we're going to be very thrown off if we skip a day! This does it for me! Keeps me on my toes and keeps us on schedule with our devotionals.
When I was browsing the Family Christian online store the other day I found two that were reaching out to me! Now I just have to choose between the two of them.
The first is a little devotional book titled God and Me by Penny Boshoff. It's published by Thomas Nelson Publishers who happens to be a favorite of ours. So I knew I'd need to check it out! It also fits my criteria of being a 365 day devotional so that we can start on January 1st and end on December 31st next year. Now the age factor is harder to fit with devotionals. This one is for children ages 5 and up. I have three littles under that age range. But I think from what I have read of the devotional that it will still be a great fit for our family. As I'm reading about the devotional and searching online I found that people were recommending in their reviews that it is really geared towards ages 3-7. So my older few may not be highly entertained, but they will still learn from it just like the younger ones. Win win situation in my book!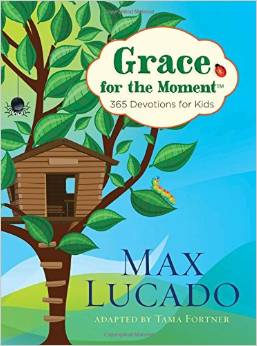 The second devotional that I found is Grace for the Moment: 365 Devotions for kids which is written by Max Lucado and adapted to children by Tama Fortner. This is another devotional that covers a whole years worth of time but that is undated so that you can easily start on December 1st and end on November 30th if you want to. We love the works of Max Lucado in our house and know that this is going to be good quality. On the website is says ages 6 and up, but in a review they recommend for grades 2nd through 5th. This would mean that it would appeal more towards my older children and less to the younger ones. As I dug deeper other places suggest ages 6-10 for this devotional. Again I only have three that are under the 6 year marker so it would still cover the same amount.
So there you have it. I found two devotionals. Now comes the hard part. The actual deciding on a devotional part. I of course couldn't make this decision on my own. I went to my husband and had him check out the two that I was looking at. He liked them both too! Then he asked me about price. Because you know, we're a single income family and we do have to do some price checking at times. This is the part that you want to pay attention to!
Right now Family Christian is having a sale where select Children's Bibles and Devotionals are 50% off! These are both on that list! Would you believe me if I said that God and Me is only $9.99 during the sale? What about that Grace for the Moment is only $7.99? Those are some awesome prices! The sale is running December 5th through December 24th so you can a few weeks to get those purchases in and even time to get them here by Christmas(which is my plan!).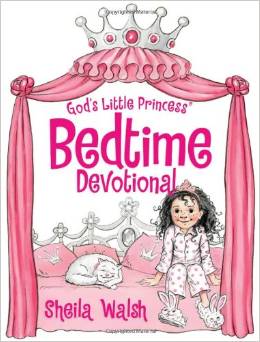 My oldest caught saw me looking online at the devotionals and put in her vote for one. She wanted the God's Little Princess Bedtime Devotional book. Gigi is such a precocious little girl and a creation of Sheila Walsh and Tama Fortner. We have a few Gigi books in our house and one video. This is on sale as well. It's only $7.49. There really is a little something for every child in the sale.
So now that you know about the great sale and the great deals you can find make sure you head over to Family Christian. In the meantime I'm going to keep counting down the days until our new devotional arrives and I can safely wrap it up and hide it away for a Christmas present for our family. You ask which I chose? We finally decided on Grace for the Moment because we do want something that will work for all ages and it tends to be easier in our house to get something geared towards the older children and then find ways to make it work for the younger ones. Who knows, maybe I'll end up getting the other one before the sale is over and we'll do two!
This post does contain affiliate links. If you use those links to make a purchase I will receive a small commission. This is also a sponsored post, meaning I am being compensated for the post in a monetary way. However, all thoughts and opinions are my own. I have not been coerced or told what to write. This content of this post is solely owned by me.