Energy Balls Recipe
Yesterday I was baking in the kitchen. I love to bake. I also love fast nutritious foods that I can grab and go. These energy balls fit the bill! Personally, I had never measured the ingredients I use in this energy balls recipe so yesterday I did! Just for you guys. They're a bit different than what I would normally make as I was out of dates. Raisins to the rescue!!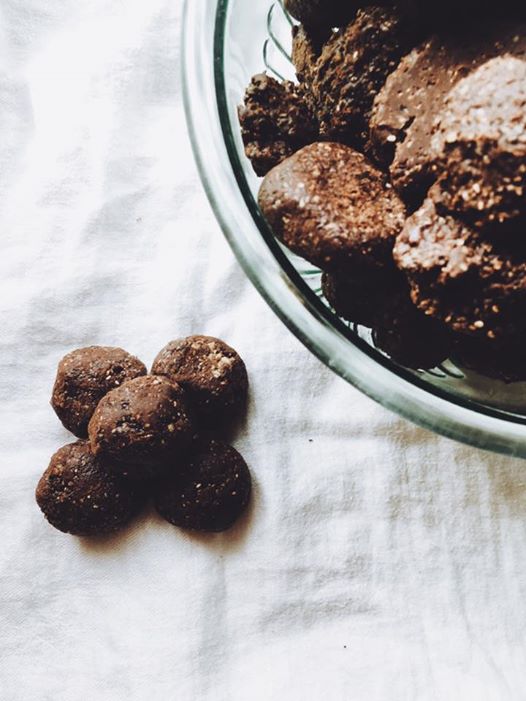 This energy balls recipe is pretty amazing and I hope you'll love it as much as I do. It's fully customizable too. So feel free to switch out ingredients and use what you have on hand. That's what I do!
This recipe features orange essential oil in it. I love to play with oils and this oil can be changed for another. I've used peppermint before as well as lemon and lavender. Totally up to you.
Ingredients:
1 cup pecans
1 cup walnuts
1 cup raisins
1 cup sunflower seeds
1/2 cup chia seeds
1/4 cup coconut oil
1/2 cup peanut flour
1/2 cup cocoa powder
20 drops orange oil
Instructions:
In a food processor combine the pecans and walnuts and pulse until they are finely ground.
Add the sunflower and chia seeds and again pulse until finely ground.
Place the raisins in the food processor and pulse again.
Now add in the peanut flour, cocoa powder, and coconut oil plus the orange oil. I like to add the orange oil to my coconut oil before adding.
Pulse until the mixture begins to form a giant ball in your food processor.
Remove to a separate bowl.
Make mixture into 1 inch balls by rolling in hands.
Place on cookie sheet on wax paper.
Refrigerate until hard.
I store mine in a glass jar in the refrigerator so I can just grab one or two and eat them on the go. Can also be made into bars.