Bringing Henty Back
Homeschool Review Crew
I've long been a fan of the G. A. Henty Books and love that the Heirloom Audio Productions is bringing Henty back in the form of audio dramas. Their latest release is in our home and already well loved! We've been listening to Captain Bayley's Heir and can't get enough!!
We received a physical CD in the mail. With our CD we also received online access to the digital components. This is a study guide and Live The Adventure site. You can receive access to all these fun digital bonuses by being a member of the Live the Adventure club. The CD can still be purchased without a membership but the bonuses won't be accessible. Along with the study guide and discussion starter you will also find online quizzes and even a way to listen to the audio from your account.
The online version of the audio drama also comes with a script that you can read and follow along with. This is very neat and would be amazing if you have a child who learns best by reading or more than one learning style. An ebook copy of the original book can also be downloaded and read from the Live The Adventure Club. Other extra include the soundtrack, cast poster, inspirational poster, and desktop wallpaper. Lots of great items to be had from their online account!
Being out in the middle of nowhere(at least away from big cities) is amazing at times. Other times it's not the best. Like when you have an hour trip to get to a big grocery store or dance etc etc. That's our story! We love audio dramas for this reason. They make our journey shorter or at least seem that way. When that CD starts playing we all become engrossed in the story and boom here we are and no one wants to turn it off!
About the Story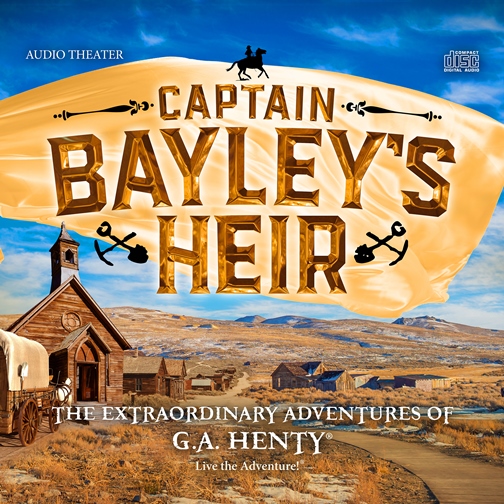 G. A. Henty wrote Captain Bayley's Heir in 1889. I love that old books can still be relevant today and I love that Heirloom Audio Productions is bringing Henty back for a new generation to enjoy in a new form. While I still try to find the books in hard format so we can read them as well having them on a CD to listen to is amazing.
This story follows Frank as he leaves England to come to America during the gold rush. Not only does he sail across the Atlantic Ocean but he also crosses the continent of America to get to California for the gold rush. His story is woven through great writing on G A Henty's part but also by great voice acting from the cast. They're amazing and really make you feel like you're there with Frank as he faces great challenges. There are also "flashback" type scenes where you get to go and see what is happening in England while he is away.
I love the voice of Brian Blessed as Henty. He adds so much depth to the story just with his voice. It's amazing. As he narrates the story and helps bring the characters to life we learn lessons that we won't soon forget.
I love the story line. How many of us can say we've never been accused of doing something wrong? Poor Frank can't. He was accused of stealing money. Rather than face the accusations and humiliation, because yes we can all agree this would be so utterly humiliating, he runs off to America. That alone is a great place to talk with my kids about what to do when someone accuses us falsely of something.
Frank is foolish to run off and not tell his Uncle or friends where he is off to. I used this as a chatting point with my children of how worried I would be if they ever did this and how people would definitely be sad and distraught. We talked about how Uncle(Captain Bayley) must have felt and how Alice probably felt betrayed.
Frank is a kind hearted boy who is very willing to help others. Even though he makes mistakes he tries his best to do what is right and just. After helping a fellow Englishman and his son Frank sends them with a message for his Uncle and Alice. Although it takes them a long time to receive the message they are overjoyed and off quickly to find Frank. They of course arrive just in the nick of time as Frank was wounded in a fight(yes there is violence).
Plot twist! Captain Bayley has an heir. Of course you knew that right from the title? His heir is his daughter who married a man he didn't approve of and all contact was lost. Realizing that he was wrong to forbid her having her love and that he wants to make amends Captain Bayley sets off to find her with the help of Alice. This is why it took so long for them to get Frank's message. It's too late for Captain Bayley to make amends with his daughter as she has passed away but she had a son who he can now connect with.
Happy endings all around. Well. Not fairy tale happy but real life stuff happens and life is messy type endings.
Our Thoughts
As always we loved the cast! One reason of course is that my whole family are suckers for a good accent! We love them! When my cousins come over from England my kids are all talking like little British kiddos for about a month after they leave. It's easy to pick up. So of course we love hearing the accents on the audio dramas as Heirloom Audio Productions is bringing Henty back into circulation.
I have always loved the Henty books and am so glad that Heirloom Audio Productions is bringing Henty back for my children to enjoy. Not all of children love reading old classics like I do. The material is a little harder to get into than modern day fiction. I understand this but really want them to know and love the classics. So we use them as read alouds. But there is something so much more magical about listening to them on an audio drama versus mom reading them.
I highly recommend this audio drama as well as all of the others from Heirloom Audio Productions. Other audio dramas that we've reviewed and that you should check out are The Dragon and the Raven, With Lee in Virginia, The Cat of Bubastes, and Beric the Briton.
Learn More
Make sure to click over to the Main Homeschool Review Crew blog and read the linked up blog posts. You can also find Heirloom Audio Productions and all their audio dramas bringing Henty back on facebook, twitter, instagram, and google +.