Fashion for Today
Blogging Through the ABC's -Letter F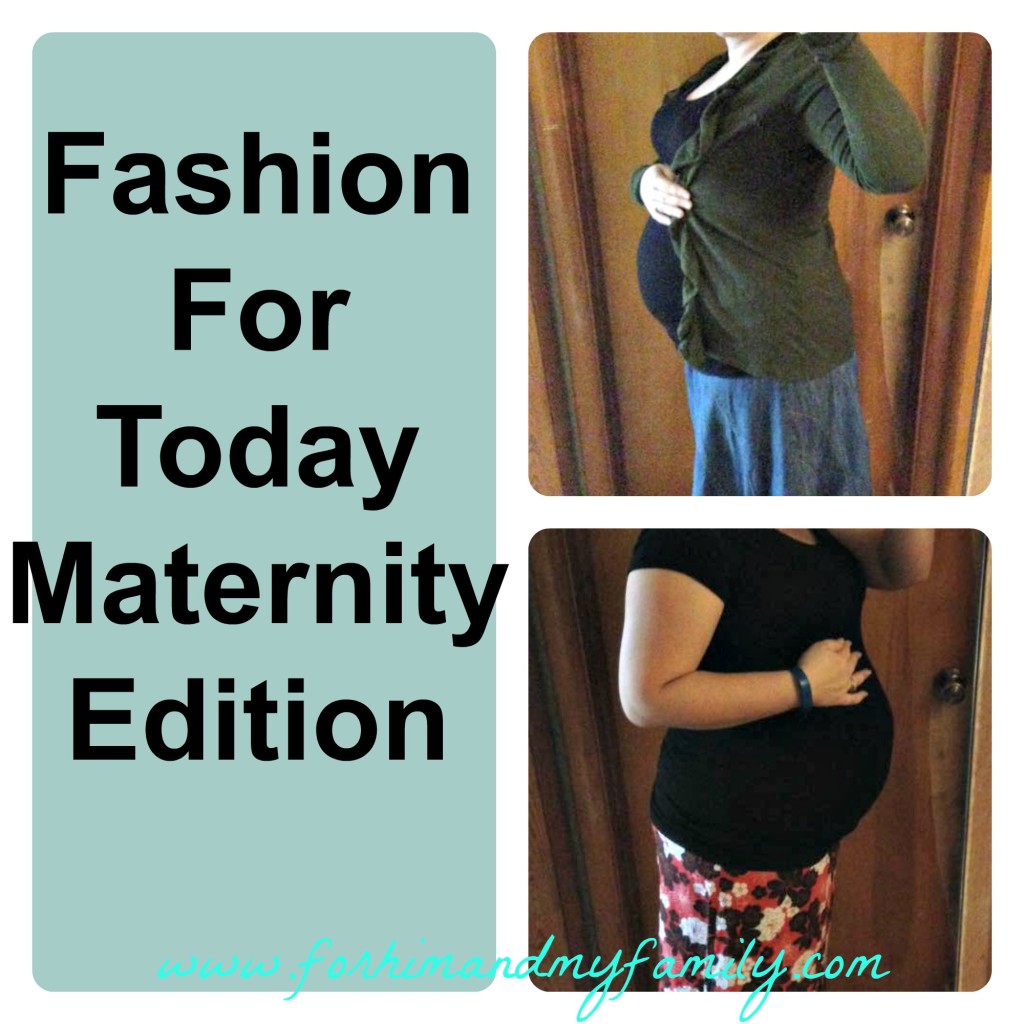 My fashion tends to stay the same. The fashion for today focuses on maternity though. Since I'm pregnant my fashion has to have a few tweaks so that I can remain modest and yet comfortable through the months of pregnancy.
Fashion for today for me is different than it is for many people. I like to wear skirts and dresses. I never realized how hard it was to find skirts and dresses that were modest and yet also maternity until recently. When you do find them, they're normally pretty expensive.
I recently decided to give stitch fix a go. They now offer maternity boxes which is just what I needed! I got my first box the other day. I had left notes for the stylist to tell them about my style but I'd forgotten to say what colors I enjoy and what colors definitely don't look good on me as well as styles, etc.
For those who might not know, Stitch Fix hand chooses via a stylist five pieces for you and your wardrobe and they mail them to you. You get a few days to look them over and then send back what you don't like. If you like it, you keep it. There is a $20 styling fee but that is taken off the price of any of the articles you choose.
My box contained an infinity scarf in a lumberjack type shirt flannel print. I'm not a huge scarf wearer and definitely did not keep this one. Red and black lumberjack print is not my thing. I have red hair. Just did not go together well.
Next I pulled out a pretty blue dress. It was a gorgeous color but had ruching on the side that did not line up with where my natural waist is and just didn't look very nice on me. It was lined and a nice knee length so it could have been worn with or without leggings. A nice dress was on my list of things that I wanted but sadly I had to send it back.
The next piece I didn't even try on. It was a cardigan. I love cardigans! This one was an open drape front which is fine with me but it was tiny black and white checks. For some reason this style of print just did not appeal to me so back in the box it went.
Fourth item I pulled out was a blue and pink print loose type maternity top with a pocket. It was a bit see through and the pink was a coral that made me looked washed out.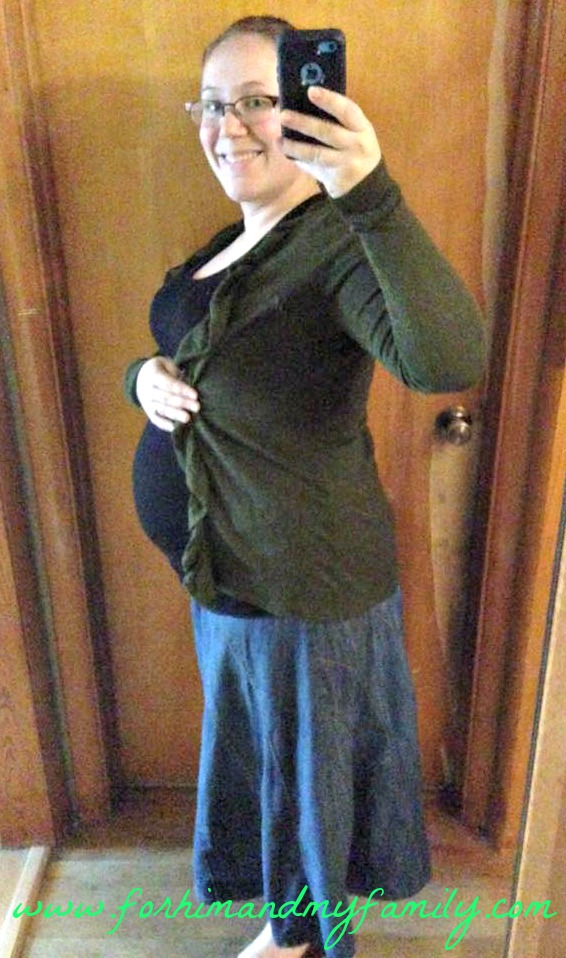 At this point I was beginning to despair a bit. And then I pulled out my keeper item. A nice black t shirt with ruching on the side. It can be longer or shorter depending on the ruching and I was in love. It easily dresses up a skirt for church or works with a denim skirt for everyday! Also a cardigan looks super cute over it.
I do apologize that I'm having to take the photos inside and with my phone in a mirror, but it's cold outside. And I don't have anyone else handy to take photos unless you want just the belly which is what my kids focus on!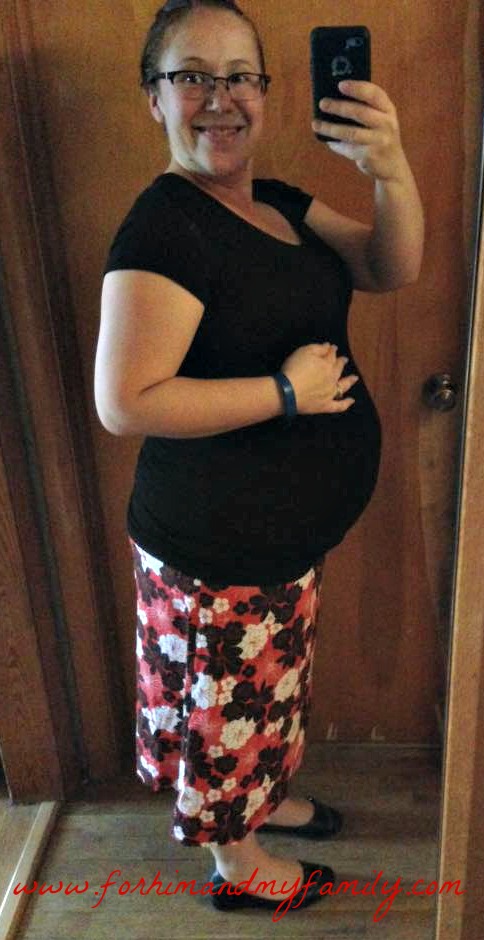 So all in all my first stitch fix and my fashion for today brought me a new top to style several ways. I learned that I needed to add more information to my stitch fix profile and notes and can't wait to try again.
Some of their items are pricey while others are reasonable. Others might find all their prices reasonable, but as a frugal mom of 9 soon to be 10 I would have a hard time spending almost $100 on a dress. I mentioned this in my review as well. They have you review all the items in your box and give them feedback so they can better style you next time. I think this is going to be a great service for me and am looking forward to hopefully getting a few new spring pieces next month.
Did I mention that you get a prepaid envelope to send the pieces you don't like back in? That really sealed it for me. I can just toss that in my mail box and I don't have to go to the post office with all the kids. It's easy! I really don't like clothes shopping either so if I can get the stylist to understand what I do and don't like then this is going to be awesome I do believe! Have you tried stitch fix before? What was your experience like?
So my fashion for today remains the same. Maxi type skirts or denim skirts that are maternity with t shirt type tops and cardigans. I'm hoping to branch that out and change it up a bit but for now it looks to be staying the same.
Let me mention that both the skirts I'm wearing in these photos are from Deborah and Co. They're both awesome maternity skirts as well and so so so comfy. If you've never tried their clothing line you should check it out!