If you followed along last year my word of the year for 2014 was Praise. This year I have chosen a new word. A word that I want to use on all areas of my life. My 2015 word of the year is going to be Focus.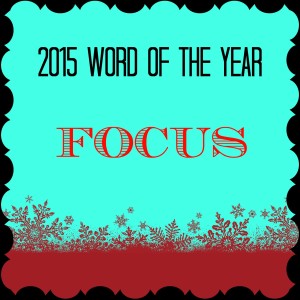 I want to focus more on all the aspects of my life. Focus on my walk with God. Focus on my husband and kids. Focus on my health. Focus on what I'm doing. Focus on the schoolwork with the kids. Focus on how I'm spending our money. I think you get the point by now.
Do you want to FOCUS with me this year? Make your 2015 word of the year Focus as well and start focusing on what is important in your life. Don't let the trivials get to you. Don't focus on what won't matter tomorrow. Focus on what is important. Focus on the good things. Let this be your year to let go of the struggles, let go of the worries, and focus on all the good and positive. Focus on what you need to be doing for the day and let the rest take care of itself for a while!
Some things that motivated me to make my 2015 word of the year focus are that I really want to lose weight this year and be healthier. My health is important. I've come to realize that I have to take care of myself in order to better care for my family. Whether that is wearing makeup to feel more confident or showering daily or simply exercising for a few minutes a day, this is something I need! I need to FOCUS on me. And more than just that I need to FOCUS on my relationship with God and a personal quiet time. Too often life gets busy and kids wake up way too early and the alone time with God is forgotten.
What are you working on for this year? Do you have a word or a goal for 2015?
I'd love to hear!