Recently members of the TOS homeschool review crew(including us) got to use a new homeschool online language learning site. By language we're talking foreign languages.
Mango Languages
is an online site that allows the learner to have access to learning any language of their choosing from Biblical Hebrew to Arabic to German to what they call Irish(Gaelic). The
Mango Homeschool Edition
is what we were given access to. We received a full years access for up to 5 family members.
The program is suitable for most ages, though it is recommended that they be age 6 or over to start the course. Being able to read is definitely a plus, but even those that cannot yet read can still get something from the curriculum. My three year olds learned along with us just by sitting and listening. I was shocked when they'd talk in one of the languages we were studying because I thought they were in their own world coloring or "reading" books while their siblings studied and instead they were really paying enough attention that they could say the word correctly and use it correctly.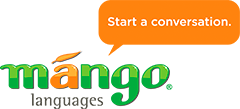 The subscription that we received is for a full year of the program for 5 members of the household. If paying monthly it is $58 or it is $325 for a year. You can purchase individually for one person or for any number up to 5. After 5 it will be a special rate and you will have to contact to find out what the group rate will be for the number you have. If you want just one person it is $18 for one month or $125 for a year subscription.
The homeschool edition of Mango Languages is still fairly new and has a few kinks that are being worked out. We are very happy with what we have been able to use. I personally, am super pleased with the number of languages that are offered. Some languages only have one section of study under them while others have several.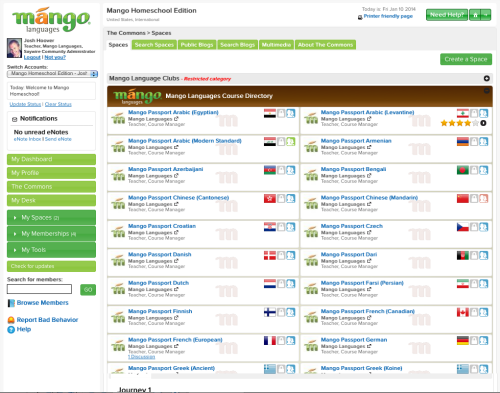 Our main language that all of our family members who were reviewing used was German. I took one semester of German in college and really enjoyed it. I also believe that my children should become fluent in several languages and German is one that I have wanted us to work on. We have done some in the past with a video series directed to children so they knew a few words for certain colors and play things that children would need to know, but this went more in depth and provided more of the "what a tourist should know" feel to it I think. It was preparing you to go somewhere where you would need to be able to communicate in German.
The German course has three journeys. Each journey is like a new section or semester if you will. In Journey 1 you learn how to:
greetings, gratitude, and goodbye
inquiring about someone's nationality
asking what language they speak
names and introductions
getting around
shopping and payment
drinks and dining
numbers and currency
getting help
asking for clarification
As you can see, those are all things that would be exceedingly helpful if you found yourself in Germany and needed to be able to communicate for yourself with the local population.
Everything is online for the homeschool online language program. You go online, you listen, you speak, you are questioned and you answer. But, you can also have access to some study guide type files that are available in pdf that you can print off to help you practice away from the computer. Not all languages will have these files though. German is one of the languages that does. It has a course guide for each of the three journeys so you have something that you can print off and look over when you can't be on the computer studying.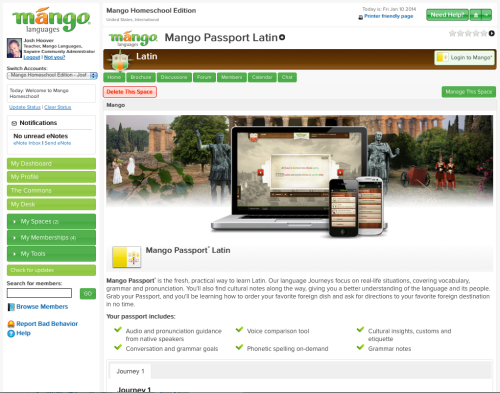 When you sign up for a language you are given a passport(the kids loved this idea). On the home page of this passport you can see how many native speakers of the language there are, where they are located, and also some things that you will learn along the way. These are things that will help you such as a voice comparison tool, phonetic spelling on demand(this is pretty neat and pops up when you hover your mouse over things), etc. We really enjoyed the phonetic spelling when we were working on some Biblical Hebrew as their characters are so very foreign to us.
I've told you some about the program and some of the things we enjoyed with it. We are using this program on a daily basis. I believe that with any language program the more you use it the more you will learn. The more you are able to immerse yourself in it whether it's just listening to someone speak in the language while you are coloring(like my littles) or actually focusing on it, the more you hear it the easier it will become. We did have a week where we took completely off from all school due to a fire in our attic and we had to redo some of our lessons because my children had forgotten. The more time you go without speaking or hearing a language, the more of that language you will lose. I know they say it comes back to you, and it will, but only when you are totally immersing again. Don't forget though that not all of the languages are created equally. Some only have one journey while others have three or more. And if you're just wanting some fun. . . . they even have pirate!
We plan to continue using the curriculum for the rest of our year and I can see us repurchasing another year subscription as this is a wonderful resource for us. We have access to over 50 languages and can do it on our time whenever we have time. If you're skeptical you can choose a language and try the first lesson for free. If you're not a homeschooler, don't worry! They also have other programs that you can use including a library version, personal, and K-12. Choose what works for you and enjoy.
If you'd like to see what other TOS crew members though head on over to the Main Crew Blog and click on the graphic at the bottom to view more reviews. We all reviewed the same homeschool online language program but were allowed to choose our own languages so if you're not interested in German check out what everyone else studied!