Recently as part of the Good Cook program I received a gorgeous new pan to try out! I'm in love and have several more recipes coming to you soon!
The pan is the Spring Bark Mold. This pan is unique to me as it is a silicone pan that can also be placed in the oven.
I also got the super cute hop into spring spatula(super cute). Make sure to check out the entire Sweet Creations spring Cookware Tools and use code SpringFling for 25% off.
Now for my recipe! This is super simple, rich, and delicious! You really can use any two flavors(or even three!) of chips in this. Feel free to mix and match. I was craving some peanut butter and chocolate so that's what I used. My husband says next time I need chocolate with a caramel layer though.
These really are super simple to make. My two oldest girls helped me with these and could easily have done them on their own! They're also a quick something to take with you to a party and the designs are adorable and just make them perfect for Easter or a spring get together.
I am in love with the new pan. It is extremely simple to get your chocolate out of the mold as it is flexible. I can't wait to try another recipe that will involve putting it in the oven and seeing how that works. I do believe you will be seeing this pan quite a bit in the near future!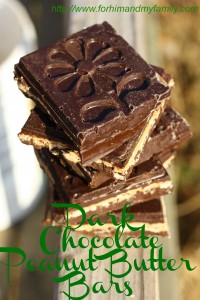 Dark Chocolate Peanut Butter Bars
2014-04-05 20:54:27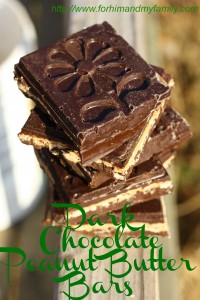 Quick and simple cure for the Reese's lover!
Ingredients
2 packages or 4 cups of dark chocolate chips (separated)
1 package or 2 cups of peanut butter chips
Instructions
Take one package or 2 cups of dark chocolate chips and melt on the stove.
Pour this into the spring bark mold.
Use your spatula to evenly spread this in your spring bark mold pan.
Put this in the refrigerator to chill.
Place the package of peanut butter chips in a pan and melt on the stove.
This is then poured onto the chocolate layer.
Spread evenly.
Place back in the refrigerator to chill.
Melt the last package or 2 cups of dark chocolate chips on the stove.
Pour over the other two layers.
Spread evenly.
Chill again.
Remove from the refrigerator and slice into squares.
Notes
Keep in the refrigerator when not enjoying as they do melt quickly.
For Him and My Family http://forhimandmyfamily.com/
Shared on Modest Mondays, Mama Moment Mondays, Gluten Free Fridays, Favorite Anything Series, Clever Chick Blog Hop, Real Food Recipe Round Up, Inspire Me Monday, Nomday Monday, The Homemaking Party,