As you all know(or will know now) my whole family is gluten free. Well, the family in my house which includes 9 kids, 2 adults, and 2 grain free dogs, plus a cat but she doesn't eat gluten free. We also have several family members who are dairy free. I was thrilled to get to review some of the gluten free line from Tastefully Simple. I received a mix for beer bread and a mix for Cinnamon Apple Cake Mix. Happy girl here!
Because I have 9 kids and we're homeschooling and living on a farm sometimes I wish that I could create a line of food called Gluten Free Made Simple. Now I realize I don't need to because that is just what Tastefully Simple has done!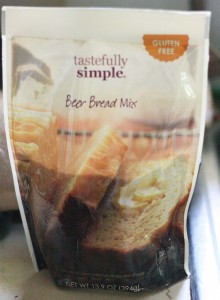 Beer bread is a fond memory for me. My mom made it a lot growing up, which as a child I found funny as neither of my parents drank at all. Of course, you don't have to use beer to make this bread. We don't drink either. I used a can of Black Cherry Zevia in my bread. It gave it a sweet taste. Fruity and bubbly in your mouth. Maybe not, but it was divine. I loved the subtle fruity flavor that it had from the soda. I used the mix as the directions stated except for using the soda instead of the beer. Because of that, it did not have a yeasty flavor at all. I had wondered how it would taste. It was so good! Definitely on my to buy list in the future. We ate this sliced with butter or without depending on allergies, to go along with some homemade veggie soup. Perfect!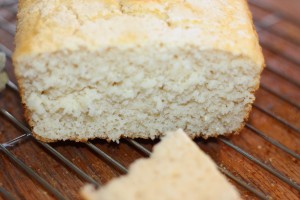 The other mix we tried was the Cinnamon Apple Cake Mix. So I totally screwed with this one to make it my own! All you have to add to it are eggs and apples. Well, I didn't have any apples to add so I added some applesauce, a pinch of poppyseeds, some raisins, a dash of cinnamon, nutmeg, allspice, and cloves. I made it in an 8×8 glass pan as well. I topped with fresh coconut whipped cream and enjoyed. So so so good. Definitely going to have to make this one again. Besides being gluten free it is also kosher.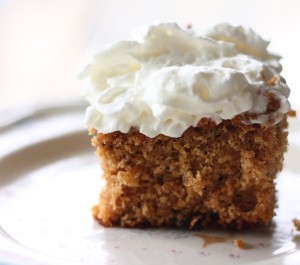 I was sent these two mixes by a Tastefully Simple consultant. You can order through her Website or check out and follow her Facebook Page for more information about her and her business.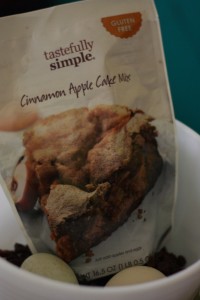 Tastefully Simple's gluten free line includes six different mixes. Besides the above two that I received they also have a vanilla bean pound cake, fudgy brownie(MUST TRY–love chocolate), coconut lime cake, and a gluten free pizza crust plus sauce mix.
I personally want to try everything else in their line and just wish their sauces were gluten free too. I'd love to try the sweet mesquite on chicken but it contains wheat. Too bad for me so someone else needs to try it and tell me what it tastes like!