I so cannot believe that it is fall already! I love Autumn for the changing colors and the cooler weather, but not for the shorter amounts of daylight. If you follow my blog you know I'm participating in a blog hop all about wearing skirts! So let's talk about falling into autumn in skirts!
What can I say, I love a good denim skirt. I probably wear denim skirts 90% of the time. Not lying. That's how much I love them! The skirt above is one that I purchased from Deborah and Co. It is sadly no longer available. It was the Nantucket I believe. They still have the denim rainbow skirt though which is awesome! And the maternity version of that was my absolute favorite maternity skirt. For the top I'm wearing a grey tank top topped with a grey short-sleeved tee-shirt. Over that I have an adorable loose knit sweater. I love sweaters in fall! Honestly, I'd wear a sweater everyday if I wasn't afraid I'd stain it up or tear it up with some of my normal daily activities. And then there are the shoes. Remember I'm a shoe girl. These are another pair of Chelsea Crew shoes that I got on sale off Zulily. Really, Zulily is my go to place for shoes. They have awesome sales and I can always find my size! That's a biggie for me because I have small feet. Think tiny. Let me give you a for instance, my 9-year-old daughter has recently started wearing my shoes. . .. and they fit her. Yeah I'm fairly small here. See below for a better picture of my footwear.
Gorgeous huh?!
Okay so let's see another outfit and another denim skirt! This is an of the rose ruffle skirt from Love My Jean Skirt. Love this detail! This is a skirt I'll wear for running errands or being out and about, I've even worn it to church with a dressier top.
My pictured top is one that I got at a thrift store for $1. Just a nice half button up, 3/4 sleeve polished cotton type shirt. Love the blue hue. I'm a blues and greens type of girl though I am trying to branch out a little and try out a few girly colors.
For instance, I wore my hair down the other day! I know it's shocking. I tend to put it up so much that when fall started to pop up I wanted to try a few new styles. In the below picture you see my hair slightly wavey(this is it's natural I air dried it look) with a size small flexi clip in. You can check out all kinds of flexi's and other gorgeous hair accessories on my Lilla Rose website.
I am in love with Lilla Rose for hair accessories. They are all I use anymore. Great for my hair, no snagging, stays in no matter what I'm doing, looks gorgeous, and makes me appear put together even if I just twisted it up. Yes please!
Something else I'm doing more of lately is my nails. And I'm even doing them in girly colors!
The above picture is my latest Jamicure. Jamicure is a manicure done by me at home using Jamberry Nails. They are awesome! Super easy to do and last up to 2 weeks. I normally change mine around a week though because I like change and get bored with the colors I have. The ones shown are Gala which is a new autumn design. I was surprised with how much I LOVED this coloring! You should definitely try out Jamberry Nails if you haven't ever! They are so easy and make such a great statement.
Let's talk a bit of makeup now too. I don't normally wear a lot of makeup. But I have been wearing more lately as part of my lets not be frumpy persona. I'm on a quest to make myself feel better about myself and I feel better when I know that I have taken time to make myself look nicer and put together. I'm less likely to be flustered or grumpy. So you might ask what I wear for makeup. I have been wearing L'Bri makeup. I use the compact foundation, brown mascara, blue eyes quad eyeshadow, plum eye liner, and brown mascara. Some days I top with a slight blush and lipgloss. I have been trying out a few of the lipsticks as well. The entire line of L'Bri makeup and skin care are all natural and contain aloe vera as their #1 ingredient. Very moisturizing and feel wonderful on your skin.
The above photo was as I waited on my Azure Coop to arrive last month. I got all "dolled up" including some jewelry. Those are just some cheaper pieces from Walmart but they made me feel beautiful and I got several comments on them. I have on a plain jane skirt. It was knee length and just a straight skirt. I have on a tank top that is white with a blue light weight sweater over the top. It had three quarter sleeves. I'm not normally a fan of 3/4 sleeves but do wear them just as fall is beginning as we're apt to have some warmer days still.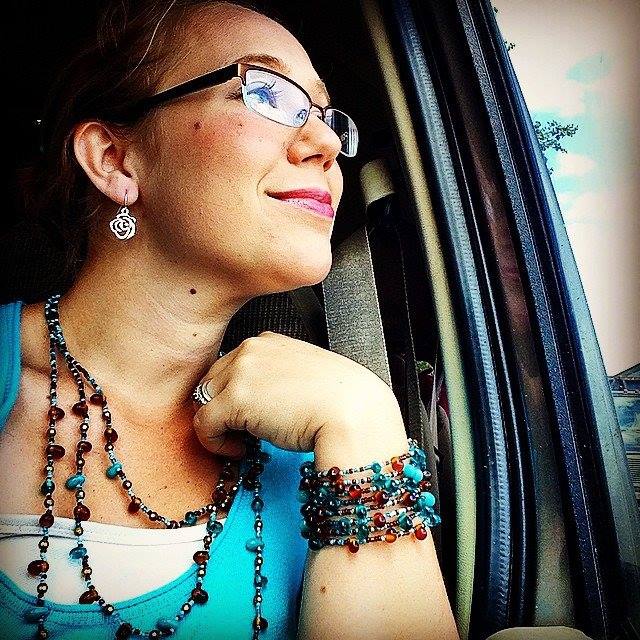 Again I'm wearing my L'Bri makeup and a Lilla Rose flexi clip with my hair all up in a twist. For a twist I use size large. My makeup is once again L'Bri and totally wonderful! Any questions? What are your favorite skirts to wear in fall? Do you say autumn or fall? I use both interchangeably for myself. Please let me know what you think! Oh and check out the other blogs on the linky below! Some awesome posts about skirts going on here!