Are you a Veggie Tales fan? My kids are for sure! They were super excited with our latest review from Family Christian! We got to review the newest Veggie Tales Beauty and the Beet
! Talk about a great movie and a bunch of excited kids!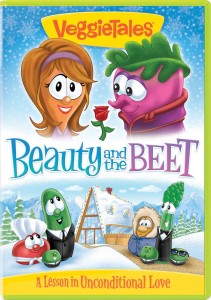 First let me tell you about some great deals you can get with Family Christian right now! These are limited so pay attention to the dates given! From December 12-14 you can order your copy of Beauty and the Beet for $7.49 as part of the Doorbusters Event! Pretty awesome price! I'd go for that one! If you miss that though you can purchase from December 15-24 for $9.99. Still a great price! After the 24th and into the new year it'll be standard regular price.
Okay, so now that the formalities are out of the way lets talk some more about the movie and how much we enjoyed it. You know, I'm going to say that "we" a lot. Because it's not just my kids that like the Veggie Tales movies, I do too! I think they're adorable and carry a message. It may not always be a specific Bible verse that we can target, but it's a great principle or life lesson that kids should know. And who doesn't want to learn it through cute and adorable vegetables! Well and maybe a fruit or two. I always was taught that tomatoes were a fruit.
Beauty and the Beet features someone new to the world of Veggie Tales. Kellie Pickler lends her voice to Mirabelle( the Belle of the classic Beauty and the Beast story tale) and so of course there are some Country Western type songs being sung throughout!
In our story we follow the Veggie Tones, a family band featuring Mirabelle. All the children in the family are in the band somehow and dad is the manager. When they go through the mountains in bad weather to try to get to a new gig they get stranded at a run down resort where Mr Beet is the manager. They can't pay to stay so they work it off by cleaning, waiting tables, and singing. Mirabelle even gives the Beast err Beet singing lessons! But can she help to make him kind and feeling again?
The movie is approximately 56 minutes long so almost an hour of delightful sillyness with a great message.
There are some bonus features on the disc as well. You get behind the scenes with Kellie Pickler on playing the sweetest sweet potato, a very veggie jukebox, in the kitchen with Bob, Show You Love sing along, Deck the Halls sing along, downloadable activities, and my favorite—- Offering Unconditional Love: Family Discussion Guide. I'm a sucker for these discussion guides. I love them! They normally contain a great message and a great way to help our kids understand and retain that message.
I have nine children ages 9 and under. They all sit and watch this. They love it! I think it truly is a great lesson in unconditional love for children.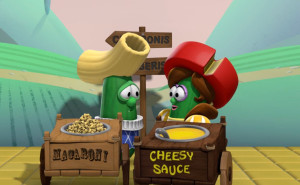 The new Silly Song with Larry is also cute and definitely silly as always. It's called Mac and Cheese and is all about how Larry's ancestor invented Mac and Cheese and how he did it!
Okay so if you don't want to see a few spoilers then please feel free to stop reading here. Really you can stop now. I'm going to talk about a few of my favorite parts as a mom.
Spoilers ahead.
Stop reading and go watch the movie.
Watched the movie now?
Okay so here goes!
In the movie we have a reporter. A critic of resorts. She gives them a one star rating because she came as someone who had no money to stay and they turned her away. She hears good things starting to be said about the resort after the Veggie Tones come and goes back for a second review. She is pleasantly surprised. But the Veggie Tones aren't there to entertain as they're trying to get to their next gig. The Veggie Tones decide to go back and help Mr Beet only to be involved in an avalanche. True kindness wins out. The kindness that Mirabelle had shown to Mr Beet, and really not just her but the whole family, has paid off and he is now a nice man who risks his own life to save them.
Great movie. We loved it. You will too. Make sure to go purchase your copy.