Have you ever wondered how to get your kids more interested in the Bible? Wanted something that teaches them truth? Well we've found that in What's in the Bible. What's in the Bible is a great video series by Phil Vischer(one of the Veggie Tales creators). Recently we received a copy of Volume 10 from Family Christian to review. Volume 10 Jesus is the Good News
!
Sounds like good news to us! We have watched some of the What's in the Bible movies and really couldn't wait to watch this one. They're catchy, they're cute, and they pack a punch with the kids. My kids LOVE them!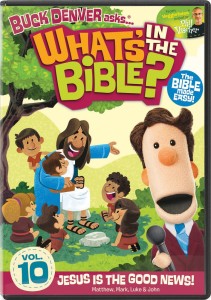 Buck Denver is the news reporter who hosts this series. He's a great guy! Unless he has too much coffee, then you've got problems! Maybe he's a bit like me. . . . . Anyway! This dvd takes us into the New Testament and learning all about the Good News that Jesus brought. Basically as the title says, that Jesus is the Good News. We visit Matthew, Mark, Luke, and John in this dvd.
The whole dvd is 60 minutes in length. There are two episodes within the same dvd. They cover things such as Jesus calming the storm, and feeding the 5000. We learn of Jesus dying but then we hear the "Good News" that Jesus wasn't in the tomb when the stone was rolled away. You get the whole salvation story all rolled up in a cute little show with catchy tunes and puppets!
My kids really have enjoyed this dvd. We've shared it with friends who have enjoyed it as well. I know some people who don't like dvd's like this because they take away some of the seriousness and sacredness of the Bible. I like things like this for children because it brings the truth from the Bible to a language they can understand and a fun way for them to learn. I approve of these for my kids. They are based on the Bible and have sound teaching in my opinion.
My kids love the songs as well and go around the house singing them! We love the singing cowboy and the pirate who never seems to fit in but always seems to get a part nevertheless. Oh and don't forget Sunday School lady. It's a great cast of characters(puppets) to go along with Phil Vischer himself. The puppets as him questions and he then tells them the Bible stories that go along and explains them. While he explains we see little clips of the puppets or flannelgrams or any number of cute sketches.
Okay so I told you it is two episodes on one dvd. The first episode is called God's Perfect Timing. It covers the 400 years between the Old and New Testament. It goes into how Jesus arrives as prophesied and how everything was the perfect timing for His coming.
The second episode is called The Messiah Has Come(pretty self explanatory there). It covers the life and ministry of Jesus.
If you're looking for a fun way to earn more about the Bible with your kids I would highly recommend getting the entire series for them. It's a great investment in something that your kids will love. My kids are ages 18 months up to 9 years and they ALL love these shows. Heck, I love them too! You're never too old to find something like this cute and funny.
Things I liked as the parent. Inside you'll find a coloring page for your kids. On the other side you have a discussion guide that you can use to discuss what they've learned with your kids. I love that! It helps to make sure they've learned what you want them to learn from this. We give this show a big ol yes please and five stars!