This week, the
Christian Fiction Blog Alliance
is introducing
Mist of Midnight
Howard Books (March 10, 2015)
by
Sandra Byrd
ABOUT THE AUTHOR:
After earning her first rejection at the age of thirteen, bestselling author Sandra Byrd has now published more than forty books. Her adult fiction debut, Let Them Eat Cake, was a Christy Award finalist, as was her first historical novel, To Die For: A Novel of Anne Boleyn. To Die For was also named by Library Journal as a Best Books Pick for 2011 and The Secret Keeper: A Novel of Kateryn Parr, was named a Library Journal Best Books Pick for 2012. The Tudor series' end cap, Roses Have Thorns: A Novel of Elizabeth I published in April, 2013.
A life-long lover of Victorian Gothic romances, Sandra's new series, Daughters of Hampshire, weaves elements of that mystical, traditional genre with inspirational and literary threads. Mist of Midnight, the series' first book, debuts in March, 2015.
Sandra has also published dozens of books for tweens and teens, and is passionate about helping new authors develop their talent and their work toward traditional or independent publication. As such, she has mentored and coached hundreds of new writers and continues to coach dozens to success each year.
ABOUT THE BOOK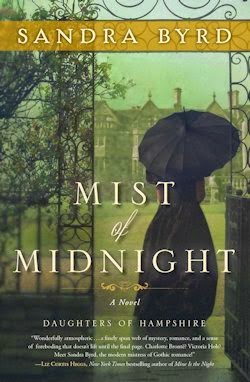 In the first of a brand-new series set in Victorian England, a young woman returns home from India after the death of her family to discover her identity and inheritance are challenged by the man who holds her future in his hands.
Rebecca Ravenshaw, daughter of missionaries, spent most of her life in India. Following the death of her family in the Indian Mutiny, Rebecca returns to claim her family estate in Hampshire, England. Upon her return, people are surprised to see her…and highly suspicious. Less than a year earlier, an imposter had arrived with an Indian servant and assumed not only Rebecca's name, but her home and incomes.
That pretender died within months of her arrival; the servant fled to London as the young woman was hastily buried at midnight. The locals believe that perhaps she, Rebecca, is the real imposter. Her home and her father's investments reverted to a distant relative, the darkly charming Captain Luke Whitfield, who quickly took over. Against her best intentions, Rebecca begins to fall in love with Luke, but she is forced to question his motives—does he love her or does he just want Headbourne House? If Luke is simply after the property, as everyone suspects, will she suffer a similar fate as the first "Rebecca"?
If you would like to read the first chapter of Mist of Midnight, go HERE.
My thoughts:
Mist of Midnight is a great read. It read quickly and really drew me in. I loved getting to know Rebecca Ravenshaw and learning with her who the person who was pretending to be her(and died) was. Very sad story going along in there. And then there is the charming Captain Luke who is the one who was supposed to inherit all her family's land and house if she did die. Now she must prove to everyone that she is indeed herself! Her parents and brother are dead and now she must defend who she is.
In this book you will find a French maid who takes more liberties than she should, a foreign speaking servant who just wants to protect herself from being thought a murderer, a girl who everyone thought to be dead(but is very much alive), an imposter, and a man who is looking for a home. He finally finds a home but now it is taken from him by a rightful heir(or is she really?) Oh my!
I really enjoyed learning about Rebecca and the time period she lives in. I love the missionary work and the talk of uprisings and the research that was done. The author also knows how to spin a tale so you are on the edge of your seat. And then we need some romance of course. Luke and Rebecca are drawn to each other and if she can just convince him she is herself and convince herself he's not just after her inherit love just may bloom!