If you are anything like me you love chocolate. Anything chocolate. So I knew that I needed to make a delicious moist gluten free chocolate cake recipe that we could enjoy. Let's face it, boxed cake mixes are nice, but they can't hold a candle to the from scratch goodness. At least not in my mind! I think you guys are going to love this recipe. There is a secret ingredient to keep it moist and the icing. … it's to die for! Seriously. So good!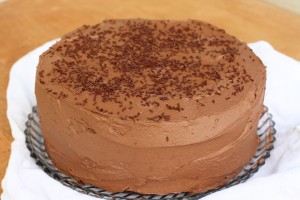 You will need two round cake pans to get this cake perfect. I used 9 inch rounds. You could probably use 8 inch rounds but might have to cut the tops off the cake.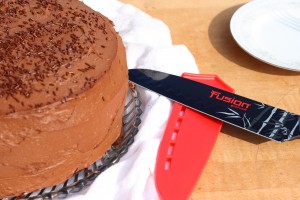 Of course you knew I was going to have to throw Good Cook in here somewhere. I love this knife. Yeah it's not first choice for slicing a cake, but it was clean and available! And well I LOVE it!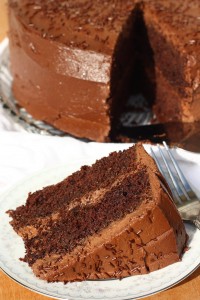 You're going to need my Artisan Gluten Free Flour Blend for this cake. You can probably use other flour blends, but it is the only one that I have had complete success with. I'd love to hear what other blends you've made work with it!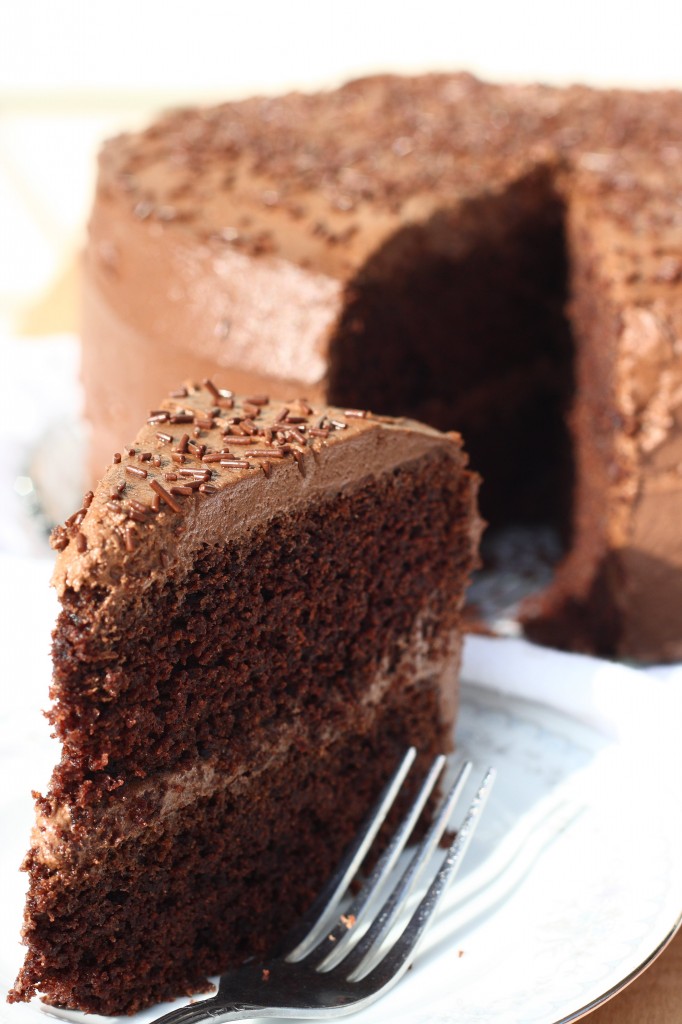 I really don't know what else to say about this cake other than you have to try it. It is so good. My family loved it. Our roofing crew loved it. It is definitely a must have at our house. I've made it for birthdays before as well. You're going to want to have it on hand for every occasion even those that aren't special!
And now, I am going to go work on perfecting my dairy free version of this cake to share with you too. This cake is so good. After dairy free I am working on a super yummy white cake and then maybe a strawberry. But somewhere in there has to land a yellow one with yellow icing for a special girl with a birthday this month. Yellow is her favorite color. I'm also in the mood for something adventurous. . . . tomato cake anyone!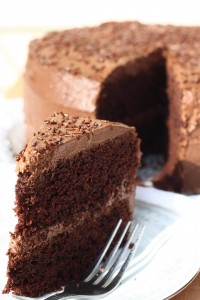 Gluten Free Chocolate Cake Recipe
2014-08-11 15:02:16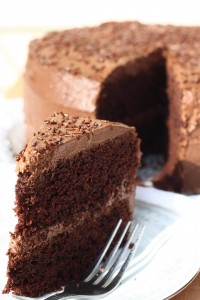 Here is the perfect moist cake for all your special occasion needs and even just those days when you're craving chocolate.
For the Cake
1 cup butter
1 cup water (can sub in milk here for an even more decadent cake)
1/2 cup dark cocoa powder
2 cups organic white sugar or ground demerara
2 eggs
1 cup sour cream
1 tsp vanilla (I have used other flavorings successfully, ie mint)
2-1/2 cups gluten free flour blend(I use my own blend--link in article)
2 tsp guar gum
1-1/2 tsp baking soda
1-1/2 tsp baking powder(heaping)
1/2 tsp salt
For the frosting
1 cup butter, softened
4 cups powdered sugar(I use organic as well)
1/4 cup heavy cream plus 2 Tbs
1/2 cup unsweetened dark cocoa powder
1-1/2 tsp vanilla
1/2 cup dark chocolate chips, melted
Instructions
Preheat oven to 350 degrees Fahrenheit.
Grease 2 round pans, 9 inch preferred.
For the Cake
Melt butter in saucepan.
Add in water and cocoa powder.
Bring to a boil.
Combine the cocoa mixture and sugar.
Mix to dissolve sugar and cool the mixture.
Add the eggs, sour cream, and vanilla.
Scrape sides of the bowl to make sure all incorporated fully.
In separate bowl combine the dry ingredients.
Add dry ingredients to mixing bowl.
Stir slowly or mix on medium low to incorporate.
Scrape down sides.
Mix on high or quickly for 5 seconds.
Pour half in each pan.
Bake for 40 minutes or until cake tester comes out clean.
Let cool in pan for 10 minutes.
Transfer to wire racks.
Let cool on wire racks.
For the Frosting
Beat all ingredients except the dark chocolate chips and 2 Tb of heavy cream in mixer bowl.
Melt the dark chocolate chips with the 2 Tb of heavy cream in a small saucepan.
Mix the melted mixture in slowly until all incorporated.
Add more cream if it is too thick.
Generously lather on the cake!
Notes
This makes a good deal of frosting and I have never been able to put it all on the cake.
It is delicious!
For Him and My Family http://forhimandmyfamily.com/
Shared on: Gluten Free Fridays, Real Food Recipe RoundUp, PinterestFoodie Linky Party, Try a New Recipe Tuesday, Tuesday Good Eatin Recipe Hop,