If you're like me, you love lemonade. In fact, strawberry lemonade is my favorite. So I'm super excited to be able to share my strawberry lemonade recipe with you! Get ready because this one packs a punch!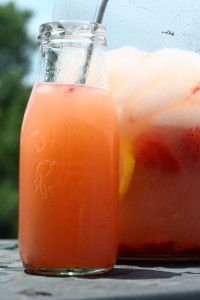 Now, let me tell you why I made this recipe up. I like to use apple cider vinegar with my children as a bit of a detox for them. But if you've ever tried the stuff it's a bit much! Most kids aren't going to like it and readily drink it. So this is how I have made the apple cider vinegar palatable for my children. And guess what!? They ask for this stuff. Can't get enough of it and constantly want me to make it.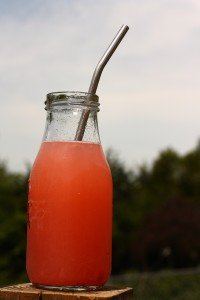 It's really very simple to make and I'm sure you'll think so too. Now, if you're following a Trim Healthy Mama diet you'll be happy to know that this is on plan. You can drink this, but it is not a sipper like the Good Girl Moonshine because of the strawberries in it. It's still a great drink though! I love to drink it with my snack time. Enjoy!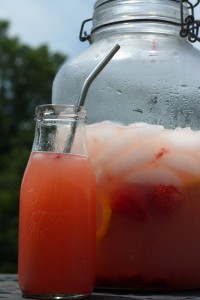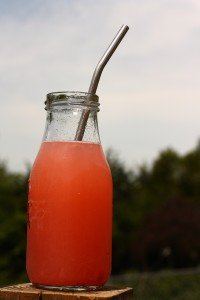 Homemade Strawberry Lemonade Recipe
2014-08-25 21:06:40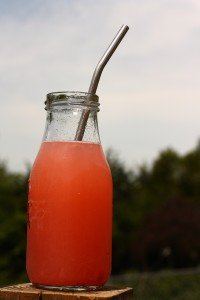 A delicious strawberry lemonade to serve also as a gentle detox.
Ingredients
one pound frozen strawberries
6 fresh lemons
just shy of one gallon of water
1/4 cup of apple cider vinegar
sugar or stevia to sweeten (I use liquid NuNaturals Stevia and probably about 6 droppers full)
1 Tb fresh grated ginger
Ice
Instructions
Squeeze out the juice of all but one lemon.
Slice remaining lemon into sections.
Fill a gallon glass jar half full with ice.
Place the frozen strawberries over the top of this.
Next you want to add the lemon juice and sliced lemon.
Add the fresh grated ginger.
Pour the apple cider vinegar over the top.
Finish filling the jar with water.
Now sweeten to taste!
Enjoy!
Notes
If you are not used to apple cider vinegar you might want to start with a smaller amount.
For Him and My Family http://forhimandmyfamily.com/
Shared on Read Food Recipe Round Up, Meet up Monday, Fat Tuesday, Clever Chicks Blog Hop, The Bouquet of Talent Linky, Inspiration Monday, Sweet and Savoury Sundays, The Hearth and Soul Hop, Twirl and Take a Bow, Do Tell Tuesday, Link Love, Tuesday's Table, Natural Living Monday, Two Cup Tuesday, Lou Lou Girls Fabulous Party, Let's Be Friends Blop Hop, Titus 2 Tuesdays, You're Gonna Love it Tuesday, Tweak it Tuesday, The Makers No. 32, The Gathering Spot,