Are you a natural decorator? I'm not! I love decorating but decorating on a budget can be interesting to say the least. Especially when that decorating on a budget also involves a super small house and 11 people!
How do you handle decorating? Our house is really small. I tend to have the rule that things have to be both functional and pretty because they are going to be out in the open and used a lot. I'm still working on de-cluttering things that we don't use and replacing them with more functional things for us. For instance, my utensils are now hanging on the wall. Things that don't hang are getting replaced with ones that do(spoons, spatulas, etc). My cutting boards(all wooden) are going on the wall as well.
I recently got a pot rack to go above our dishwasher. Best thing ever! Seriously! My pots and pans hang from the sides. My big bowls go on the top of the rack. And hanging from the center of the rack are baskets full of my loose teas, coffees, and such. Looks nice and totally functional!
With Christmas and Hanukkah just around the corner I find myself wanting to do a bit of decorating. But money is tight of course. That's why I'm super excited to share a sale from Family Christian with you! They are offering up to 40% off select kitchen and decorating items. I've been scoping them out and want to share some of my favorites with you! These are things that are on my wish list for when money provides itself! And the price is really not that bad at $14.99.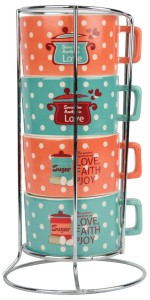 First is this cute little cup stack with cups. Now I have lots of random coffee cups and glass jars that my kids use, but none matching and they tend to take up quite a bit of cabinet space. I'd love to have this on my counter taking up less space than the cups would in my cabinet. And the bonus is that they are very pretty and I LOVE them! Oh did I mention they have a cute retro flare to them as well as cute sayings?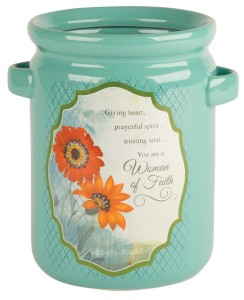 And an adorable crock! You can keep things in this! I personally like to put cookies or tea bags in mine! They're great for keeping on the counter and stashing things in. You could also keep your utensils in it as well or if you're hosting a party the plastic silverware will look quite wonderful in this!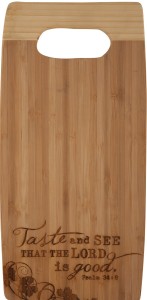 Another piece that I really would love to have is this cute wooden cutting board that happens to have the perfect hole for hanging on the wall! It has a verse on it as well. A verse pertaining to cooking! Well sort of. It says Taste and see that the Lord is Good. Great reminder to have hanging on your kitchen wall! This cutting board is one of my favorite pieces because it is both beautiful and functional. It's not just a pretty on the wall. Yes it looks nice, yes it has a verse on it, but it is also a functional working piece of kitchen equipment. For me it is worth $11.99. In fact, most wooden cutting boards are more expensive than that and they don't have verses or pre-made holes to hang them!
I love to have Scripture on my walls. It helps for the kids and I to be able to read verses when we're having a bad day. I especially like this little plaque that shares Be Still and Know that I am God. Something we all need to remember and reflect on throughout the day. Something else I like to do for decorating are the new wall vinyls that I seem to be finding online. I love having Bible verses on my walls! I'll be doing a post soon on how to use up wall space with wall vinyl where nothing else will work. Don't miss it! And don't miss these sales! They are good until December 24th so will make great Christmas gifts as well!
This post does contain affiliate links. If you use those links to make a purchase I will receive a small commission. This is also a sponsored post, meaning I am being compensated for the post in a monetary way. However, all thoughts and opinions are my own. I have not been coerced or told what to write. This content of this post is solely owned by me.