Okay, so I like doing unit studies with my kids. We get in more than just one subject with them and the kids LOVE them! I'm talking it's their favorite way to learn! So this week we've been working on one for Martin Luther King Jr Unit Study with a twist. You ask now what is that twist!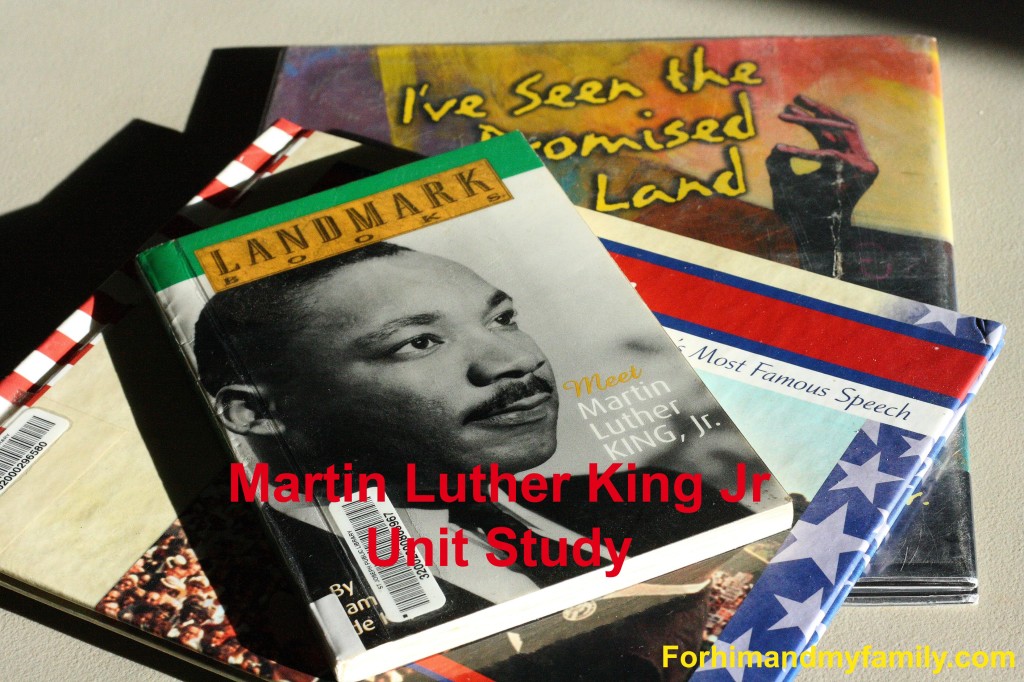 That twist is that we compared the plight of the black(African American) people of the time of Martin Luther King Jr with Ruth and then with Esther from the Bible.
I was challenged by Family Christian
to take and use items from their store to make this unit study. They provided me with a certificate to use to spend at their store to purchase said materials as well. Well, when I went to the local Family Christian store I was a bit shocked that this store actually had nothing on Martin Luther King Jr at all. They could order things for me, but that wouldn't give me enough time to plan up a study.
So instead I found some things to compliment the study I already had in my head. I got some Celebration printer paper at a local print shop. I found some cute little stickers with words on them like Joy and Faith. A sign for our wall that says Believe, a Bible study on Ruth and Esther, and lastly a CD with worship music.
Now how do all of these things relate to Martin Luther King Jr? Just how was I going to pull them into a study? Well the answer was simple to me!
Two words that I pulled from his famous speech I Have a Dream were joy and believe. He spoke of verses in the Bible that contained these words. In fact, he quoted Psalms 30:5 over six times!
5 For his anger endureth but a moment; in his favour is life: weeping may endure for a night, but joy cometh in the morning.
That verse is one that we hear a lot. It is also one that is in many worship songs(worship cd comes in here). We also know that Martin Luther King Jr was a Reverend and a Godly man. It stands to reason that he would have spent his days praising the Lord(we know he did). I thin he'd approve of us listening to praise and worship music while we work on our study.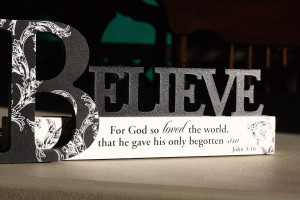 Believe. Do you think Martin Luther King Jr believed in anything? I think he did. I think he believed in an equal America for all. This is why we got the Believe plaque. We should all believe in something and be willing to support and work towards that goal. What we believe in could simply be believing in God and wanting to share him with everyone. But we all need something to believe in!
Okay so the stickers are pretty easy to tie in. They're full of words like believe, joy, faith, and are geared towards kids. I needed something that would tie this in for my littler kids. They love stickers. They also love coloring!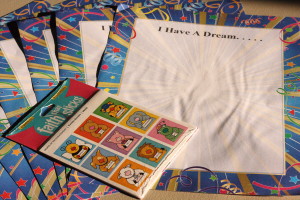 Coloring brings us to the printer paper. It has a celebration type theme around the outside. I used the printer to type I Have a Dream on the top of each page that we were going to use and then assigned my kids with the task of drawing me a picture of something they dream of. Now my kids didn't draw anything earth shattering. They're not dreaming of world peace, but they are dreaming dreams and drew them for me.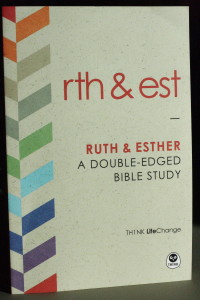 The last bit to incorporate was the Bible study on Ruth and Esther. This one was probably my favorite part. I liked everything else but I like bringing their attention to things in the Bible and how they can relate to what we're studying. I think both Ruth and Esther could relate to what Martin Luther King Jr wanted. He wanted equality for his people. He wanted all to be treated as the same.
Wasn't that what Esther wanted? She wanted to save her people from being killed. She wanted her people to be treated as equal to all the others. She risked her own life to save her people. I'd say she was a brave woman who also had a dream.
Ruth also was a brave woman. She was treated unfairly because she was an outsider in a country she followed her mother in law to. Maybe not quite as extreme as Esther's situation, but it has a happy ending!
As we were studying Ruth we also had to add in some fun! Here is another of our twists. Who knew that Veggie Tales would work with Martin Luther King Jr? Well we connected them! We watched Duke and the Great Pie War
which relates to the tale of Ruth in the Bible. Oh and we also watched Esther the Girl who Became Queen
to tie Esther in in a way that the littler children could relate to.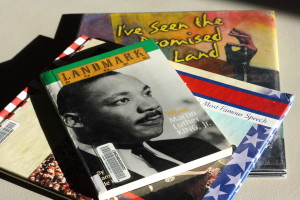 Now I know you're wondering where the actual information on Martin Luther King Jr came from by now. I checked out three books from the kids section of a local library to read with my children. We also listened to an audio recording of his famous I Have a Dream speech.
Last but not least. I asked them each what a special day would be for them. I placed those slips all in a jar and one will be drawn for what we're going to do on Monday in honor of Martin Luther King Jr day. (I've already peeked at a few of these and they're looking fun!) Things range from going to the zoo, baking cookies, going to the park, and some that just aren't things I can make happen like go visit such and such friend who happens to live a full day away!
Now here's the fun part! Look below for the pictures of their dreams that my children drew. They are all proudly displayed on my refrigerator until the next art work should be done and move them to the filing bin. I love having my fridge covered in my children's art work!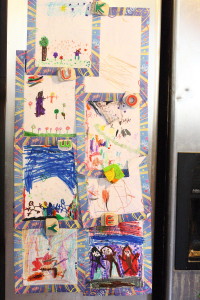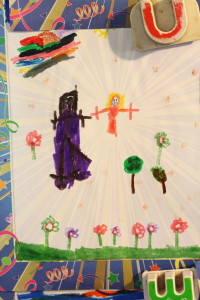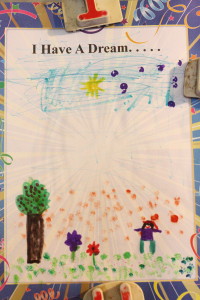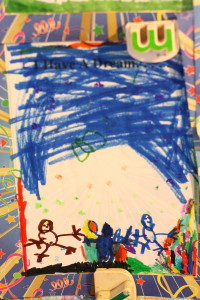 I was provided with a certificate to purchase some of the items in this post from Family Christian. All thoughts and ideas are my own and not influenced in anyway.