Holiday to-do lists often become longer and longer as we get closer to Christmas. From holiday parties to host, Christmas pajamas to coordinate, family pictures, gifts to buy, travel plans to finalize, and more, the joy of the season can often be lost in the midst of the hustle and bustle. Take over the holidays with OAC! Put them at the top of all the lists of things to buy for family and make sure to use them to help keep the kids occupied while you're completing your other to do lists!
Adventures in Odyssey and Odyssey Adventure Club have you covered. Karen Ehman and Glynnis Whitwer, authors of Everyday Confetti, share ideas and tips for simplifying and taking the stress out of the holidays. Pointing to the real reason for the season, they offer ideas to help you keep Christ at the center. Click here for a free broadcast download to learn how to simplify and de-stress your holiday season.
Speaking of de-stressing, let me help you out with your last-minute gift shopping. One of my top recommendations: the Odyssey Adventure Club (OAC) because it offers free content for everyone, including an Advent calendar, a broadcast download with tips to create a memorable Christmas, AIO cutouts and Christmas stocking stuffer cards. Membership to the OAC costs just $9.99 a month — or even less if parents make a six-month or one-year commitment. Enrollment provides more than enough content to keep kids engaged throughout the year:
Access to exclusive content and first looks at books and select Radio Theatre dramas.
24/7 streaming access to nearly 800 AIO episodes.
A new, members-only AIO episode every month.
A subscription to Adventures in Odyssey Clubhouse Magazine, and more.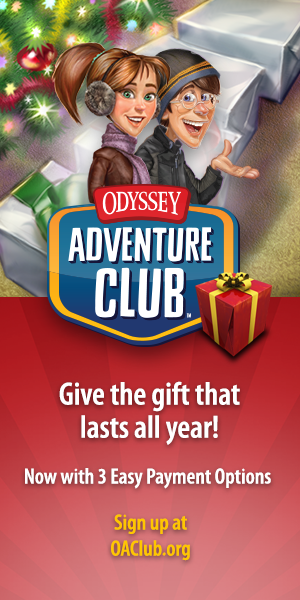 To learn more about the Odyssey Adventure Club, visit www.oaclub.org, Facebook, Twitter and Pinterest.
Check out these other gift ideas:
For our kids we try to always buy them something that will help them learn. This year we are giving them games to help them learn geography! You can find several good ones on Amazon. One that we purchased is Geography Bingo. We also got a Fifty States game to help them with our more local geography as well.
We also love to read in our family and each of the kids gets at least one book. What books or series depends on what age level our children are, but some we've loved are the I Can Read books that are (we adore Veggie Tales). They're great for the beginning reader and can double as school reading books as well since I know there is nothing controversial in them.
Don't forget about some good solid Bible teaching for kids too. Make sure that each child has an age appropriate Bible. Last year we also introduced devotionals for kids to our gang of kids!
Hope these have helped and I look forward to hearing what you decided to go with for gifts this year!