Creamy Chicken Casserole Recipe
Trim Healthy Mama S Meal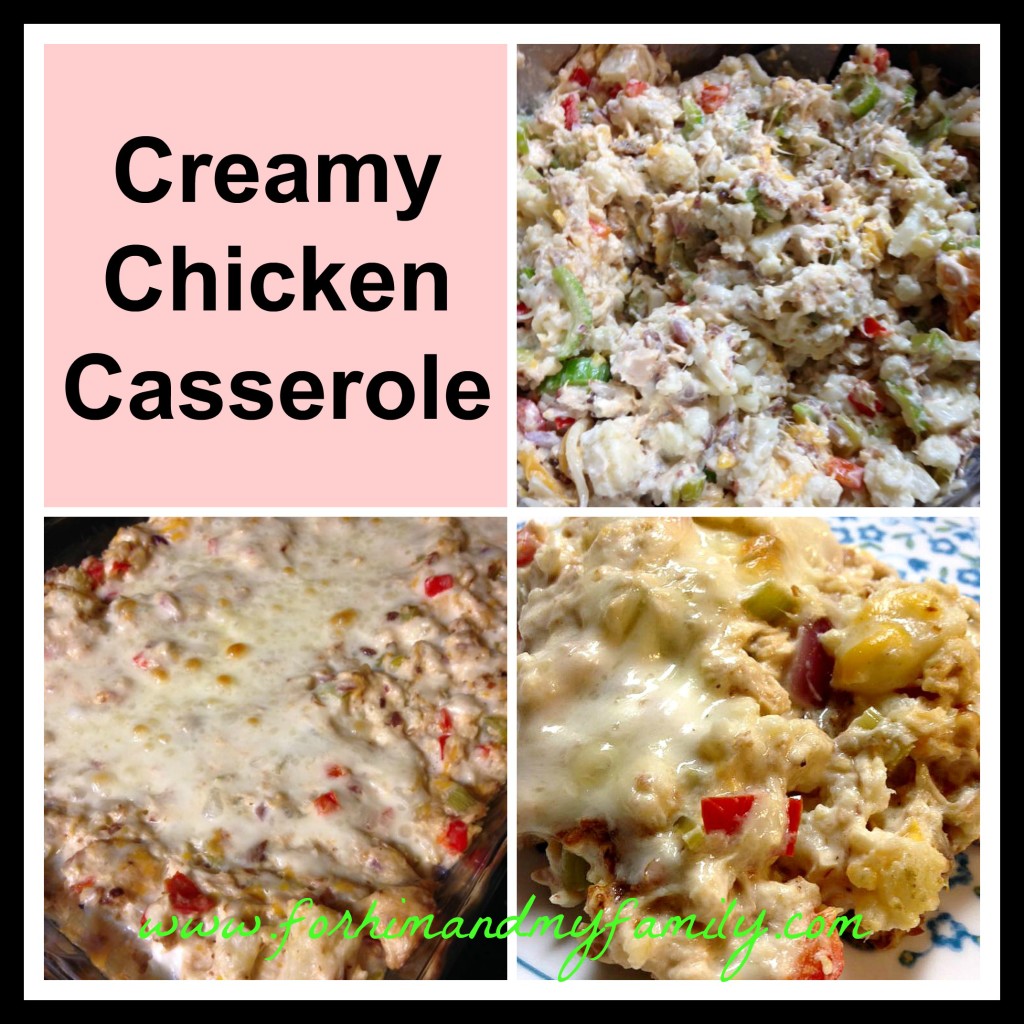 Last night I made a delicious new Trim Healthy Mama dish. I call it Creamy Chicken Casserole. It's a THM S meal as it's full of good for you fats.
I had some cauliflower in my fridge that was past it's prime and some leftover chicken that needed used up. So I decided to figure out something to put them both in. I thought about a soup but wasn't in the mood for a soup. My pregnant self was craving something filling and cheesey! So off I went in search of the cheeses I had available and the Creamy Chicken Casserole was born.
Let me tell you, this tasted like my old chicken tetrazzini recipe but without all the carbs that pasta brings with it. This creamy chicken casserole simply melted in the mouth and left me feeling full and totally satisfied. The family LOVED it too which is always a good thing.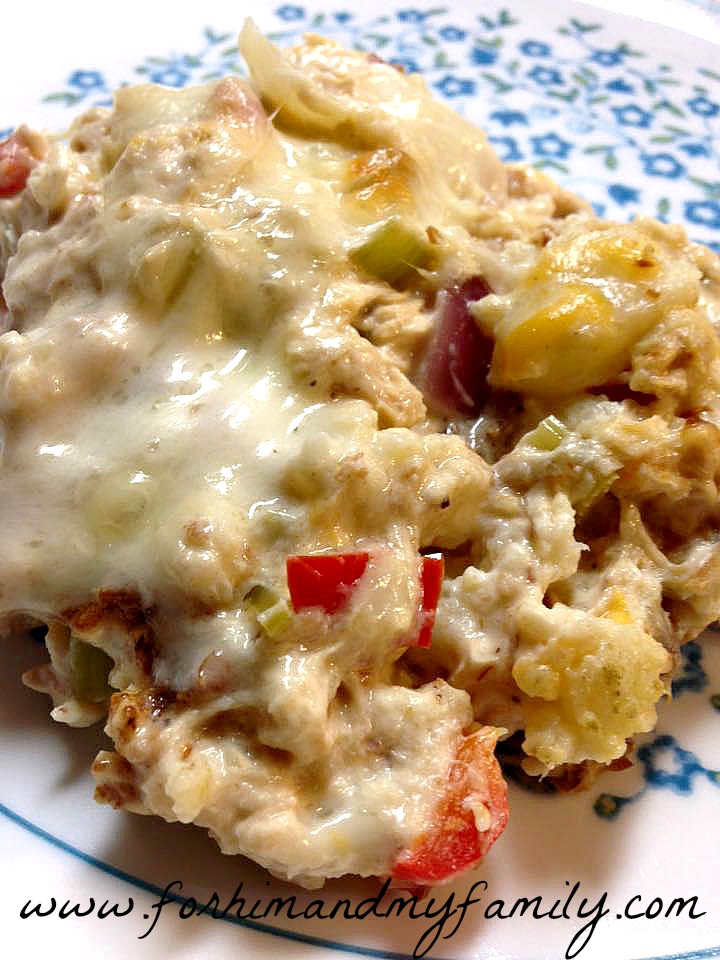 Now before I post the recipe, I did have to create a sub recipe to go with it that is dairy free. I did not have any dairy free yogurt or cream cheese so theirs was definitely not as creamy but still got rave reviews.
First things first. To make the creamy chicken casserole you're going to need either two chicken breast halves or a whole chicken breast. I used all of the breast off of one cooked chicken. Mine was precooked which shortened my prep time. So I'm going to assume yours is too. If not, get to cooking it before you start this recipe.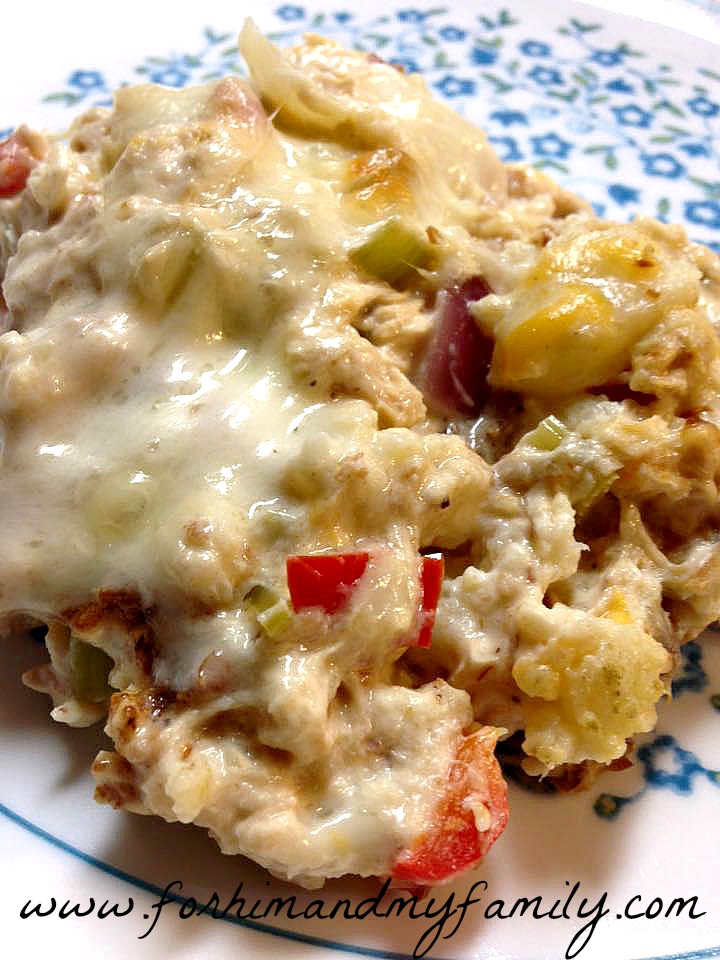 Creamy Chicken Casserole
2016-02-09 13:11:05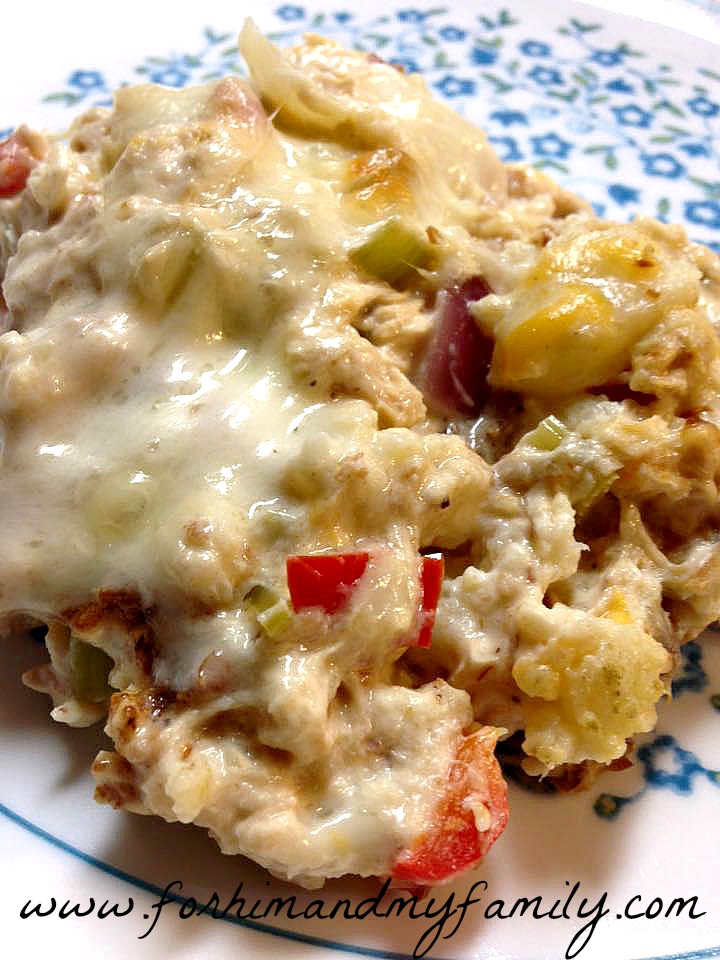 A wonderfully creamy chicken casserole that is an S for the Trim Healthy Mama way of eating.
Ingredients
1 chicken breast(both halves)
1 bell pepper
1 bunch green onions
1 garlic clove diced
1 bunch celery diced finely
1 cup bacon bits
2 heads cauliflower
8 oz cream cheese(softened)
1 cup sour cream
3 cups shredded cheese
salt and pepper to taste
Instructions
Start out by cutting the cauliflower heads up into bite sized pieces.
Place them in a pan with water and boil until soft.
Meanwhile, in a skillet saute your chicken and all the other veggies plus bacon bits.
Mix together the softened cream cheese, sour cream, and half the shredded cheese.
Add to this the cooked chicken and veggies.
Stir in the chicken mixture to the cheese mixture to help it get all dissolved together and creamy.
Drain the cooked cauliflower well.
Add the cauliflower to the chicken mixture.
Spread in a greased 13x9 pan.
Top with the remaining shredded cheese.
Bake for 30 minutes at 350 degrees F or until your cheese is fully melted.
Notes
This can be made in two 13x9 pans if you don't want this to be as thick of a dish.
To make dairy free simply sub dairy free ingredients such as dairy free cream cheese, dairy free yogurt for the sour cream, and dairy free cheese.
For Him and My Family http://forhimandmyfamily.com/