Home to Paradise
Litfuse Review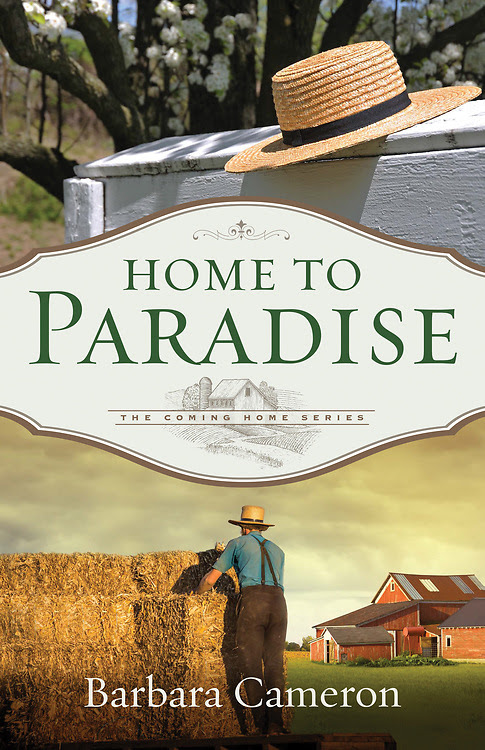 Home to Paradise is the highly anticipated final book in The Coming
Home
Series from best-selling Amish author Barbara Cameron.
Rose Anna Zook has watched her two older sisters marry two Stoltzfus men and has always thought she and John, the third Stoltzfus brother, would marry, make a
home
together, and have children. But John has other ideas. He's enjoying his Rumschpringe in the Englisch world a little too much and isn't interested in returning
to
the Amish community-especially
to
marry.
Rose Anna is determined
to
bring her man back into the Amish fold. John is equally determined
to
live his life free and unencumbered. Who will win this battle of wills? Will love prevail?
Barbara Cameron has a heart for writing about the spiritual values and simple joys of the Amish. She is the best-selling author of more than 40 fiction and nonfiction books, three nationally televised movies, and the winner of the first Romance Writers of America Golden Heart Award. Her books have been nominated for Carol Awards and the Inspirational Reader's Choice Award from RWA's Faith, Hope, and Love chapter. Barbara resides in Jacksonville, Florida.
My Thoughts:
I was a little left out feeling because I haven't read the first two in this series. But that didn't affect the overall story. Just made me wish I'd taken the time to track down those first books first! I loved getting to know our Amish, not so patient wants to rule her own life and destiny and wants it all to happen now, Rose Anna. And then there is John. He pretends he's loving his running around time, but he's really not.
After a few scrapes with the law and deciding the partying life isn't for him, John spends his hours at home. All alone and tired or being alone he helps out his brothers when he can. Then he lands his dream job of working with horses and befriends the elderly man who owns the farm. As he repairs his relationship with Rose Anna and learns about himself he grows closer to the farm owner and the horses.
Rose Anna is getting impatient with John to wise up and realize he wants to be Amish and wants her to be his wife. Will she take matters into her hands? Or will she allow God to have his way?
This is a great Amish fiction title and I loved watched the characters develop and grow. The story does have a few unexpected turns and twists though. Ever heard of an Amish horse breeder who is friends with an attorney?