This gluten free sourdough bread was the second sourdough recipe I tried. While the first was edible it was a very dense bread that did not embody what I think of when I think of sourdough.
Check out my post on how to get a great gluten free sourdough starter if you haven't already done so or don't have one of your own.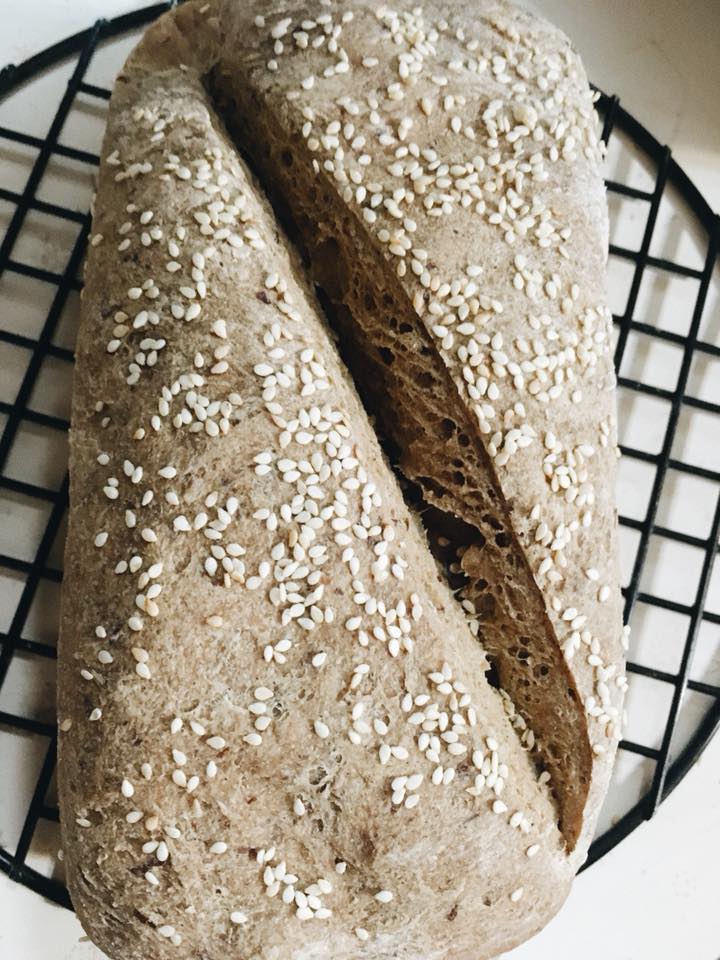 The original recipe is through Cultures for Health but I of course have made it my own.
First is the fact that I have also made it dairy free so that my whole family can enjoy the bread. Second is that I have experimented with it enough now that I'm adding goodies to the bread as well as experimenting with other flours than just the three that they mention.
I'll share the recipes for how I've changed it for other loaves, but for now here is how I make my gluten free sourdough bread loaf as either a boule or a traditional loaf.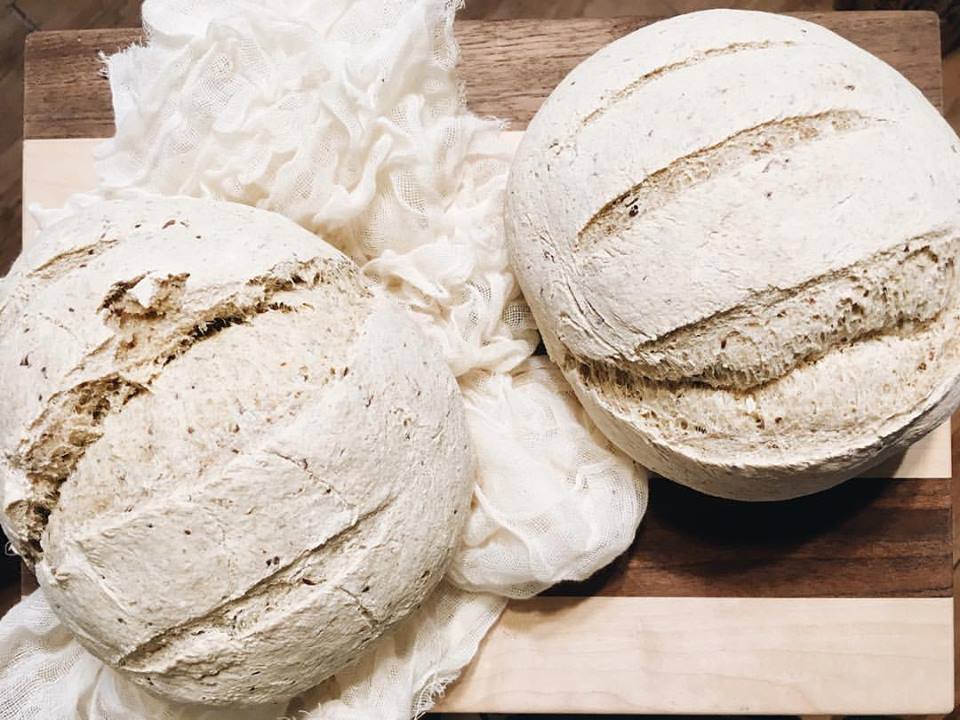 First, you want a great gluten free sourdough starter. I keep mine in the fridge and bring it out the day before making sure to feed it twice before I use it. Because we have a large family and use at least one if not two loaves of bread per meal I make this in bulk(surprised right?). This recipe will make six loaves in loaf pans of eight boule loaves.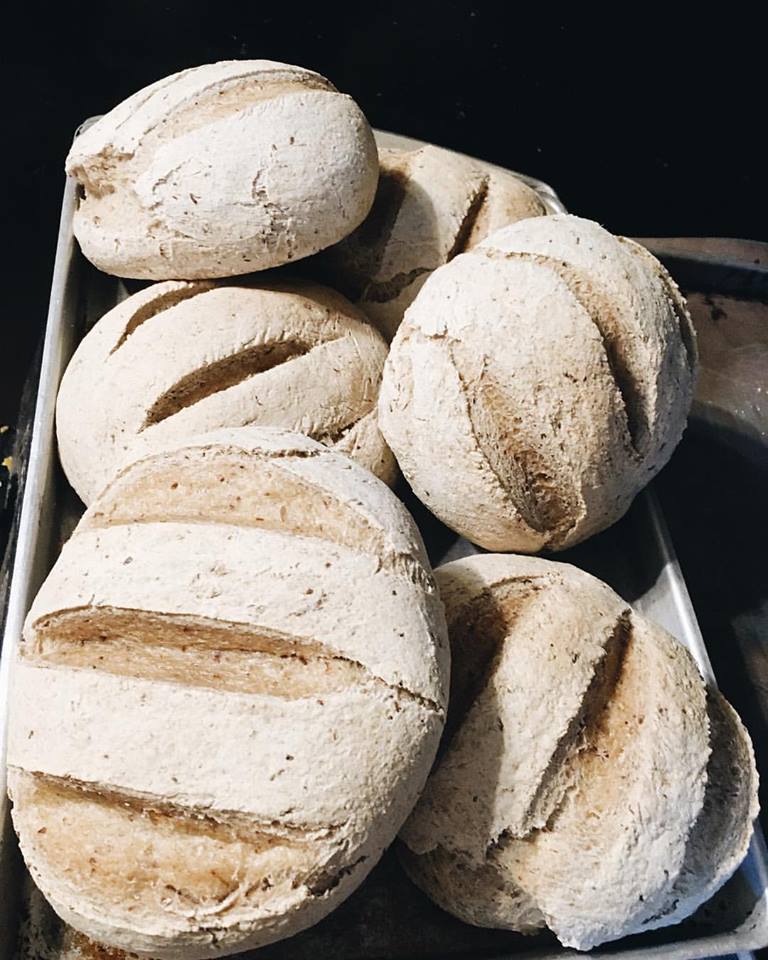 You will need:
sourdough starter
coconut oil(or butter if you're not dairy free)
honey
psyllium husk(I use the powder versus the flakes)
ground flaxseed
eggs
water
sorghum flour
buckwheat flour
tapioca starch
salt
I use a large stainless steel bowl to mix up my bread in. To find the amounts needed go to the site I linked to above. I multiply the recipe times four so you use a dozen eggs and four cups of starter.
First place the starter, water, melted coconut oil mixed with the honey, and the eggs in the bowl and whisk until well combined.
Next sprinkle the flaxseed and psyllium husk powder over the bowl. Whisk well. Now is a key point!! You need to let this sit for 3-4 minutes before doing anything else. This is what makes this bread the BEST! The original recipe says 2-3 minutes. But, I've found a little longer doesn't hurt. You want this to gel and set up.
Now sprinkle on the flours and salt and mix mix mix. If you let the psyllium and flaxseed set this is going to be amazing. You can mix this some with a Danish dough whisk but then you're going to want to knead the rest of that flour in with your hands. Just like REAL bread!
I pretty much always let mine rise for 18 hours covered in a corner of the kitchen.
When making the loaves I dump all the flour out onto a floured surface(tapioca starch). I knead this up a bit and then I cut the dough into six even pieces for the bread pans or eight even pieces for boule loaves. To make sure that all the loaves bake the same and need the same amount of bake time I weigh them. Normally my six bread pan loaves are 1.7-1.8 pounds each.
Knead those individual loaves until they're just slightly sticky. Put in a greased or parchment paper lined pan. Let them rise again for 2-4 hours. I like to do the longer rise unless I'm rushed for time. But never less than two hours.
Before baking you need to slash your bread. My favorite slash is a diagonal slash from a top corner to the opposite bottom corner. I also really like to wet the top of the bread loaf slightly with damp fingers and press on some sesame seeds. So yummy!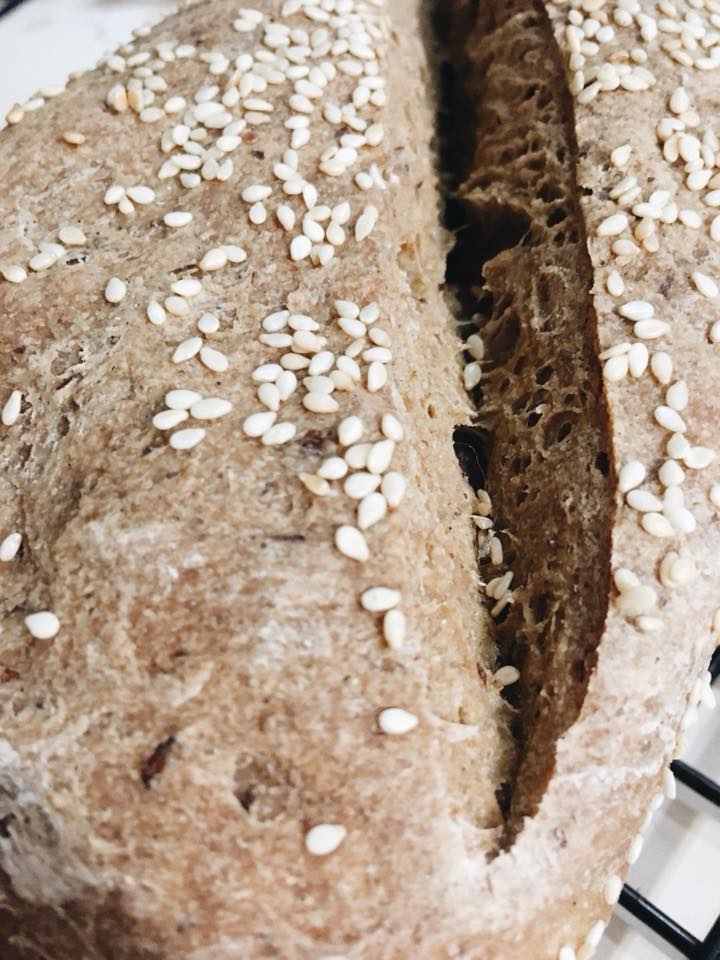 I bake in a 400 degree oven for 35-40 minutes. Remove and let the loaves cool for a few minutes and then put them on a cooling rack.
It's really hard to not cut into these immediately but they will slice better if you let them fully cool before slicing. Trust me that your gluten free sourdough bread will still be amazing if not even more amazing. If you can't resist and have to cut the gluten free sourdough bread while it's still warm just cut up and eat the whole loaf. Not that we've done that. . . many times. . . okay almost every time we sacrifice one loaf this way.
Enjoy!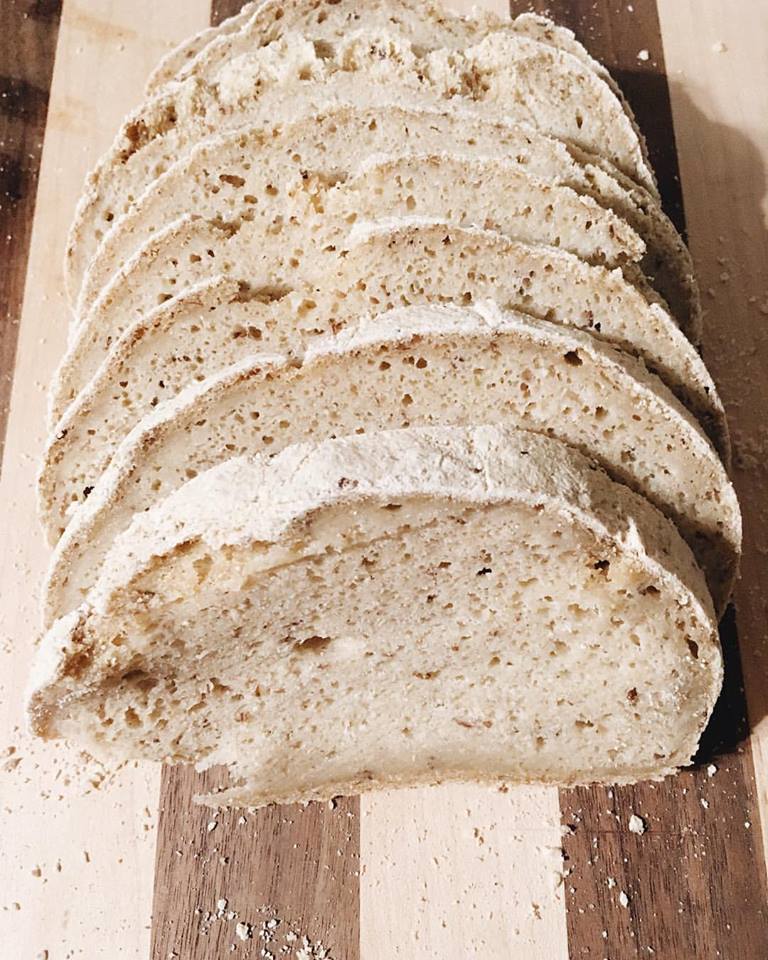 I have saved a tutorial where I go through the steps in video form on my instagram page if you want to see those! It's saved in the highlights as Gluten Free Sourdough Bread. You can find me on Instagram as ForHimandMyFamily.