Beric the Briton
Heirloom Audio Productions
Reading books is so important to our family, but listening to good literature is as well. That's why we love Heirloom Audio Productions. They produce wonderful pieces to listen to that captivate our whole family. Recently as part of the TOS Crew we received a copy of Beric the Briton on CD to listen to.
Beric the Briton takes you back in history to a time long ago. Journey back to pagan England where the Romans are attacking. It's a wonderful tale that is going to captivate you. Activate your imagination while listening to this wonderful tale of history and Bible all weaved together into a lesson on character as well.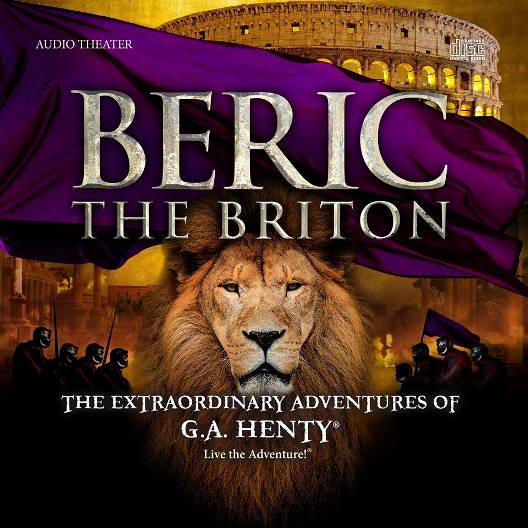 At least, that's what it does to our family when we listen to Beric the Briton. Like all the other G. A. Henty adventures, this audio drama focuses on one person in a difficult time making difficult decisions and actions. From that main character we can then learn a character trait or another great lesson. It's not just all fluff and fun. The G. A. Henty books are definitely not twaddle and neither are their audio dramas.
The CD we received is a physical 2 CD set. Our set also came with access to a digital downloadable study guide. While we have used the study guides for all the other audio dramas we've received, we did not get to use this one. I do plan on incorporating it into our school year as we study this period in history though. A little that you can expect with the study guide are wonderful discussion questions and comprehension questions. It also has helpful hints and fun activities to use to increase your learning as well as Bible studies. Using the study guide you can easily use the Beric the Briton CD as a unit study. We also received an MP3 soundtrack with our 2 CD set and a printable poster with a quote from Julius in the audio drama "I will gladly die for him who died for me".
Other fun things that we received to go with this review are a downloadable behind-the-scenes video, an e-book of the G. A. Henty novel(highly recommend that the novel be read with the audio drama—- we read the book first as any good reader would do), mp3 version of the audio drama production, and a cast poster. The cast of this audio drama included Brian Blessed, Brian Cox, Tom Baker, Honeysuckle Weeks, Cathy Sara, and John Rhys-Davies.
I have to share that my children saw the CD arrive in the mail. When I opened it they immediately though the lion on the cover was Aslan from The Chronicles of Narnia. That led to a wonderful discussion of how a lion has been used in crests and as a symbol throughout all of history and what the lion stands for. Great discussion and we hadn't even taken the plastic wrap off the CD yet!
The suggested age range for this audio drama is ages 6 and up. My three-year old and my five-year old listened to this with the rest of the family though they did not understand all that was happening and definitely were not as engaged as the rest of the family.
In this audio drama you're going to follow the life of Beric. Beric is from ancient Britannia but is captured by the Romans. He's trained as a gladiator and some great names are mentioned around him like Nero and Christus(Jesus Christ). This is a history lesson, a Bible lesson, and so much more. Our hero is young and must make tough choices and decisions that will not only affect him but his country as well.
G. A. Henty is the author of the book that the audio drama based off of. We here in our home love G. A. Henty books and I'm loving having some of them available as audio dramas through Heirloom Audio Productions now. We love to listen to them on long car rides or on those stormy rainy days that I don't want full of movies. You see, our house is small. My children love to go outside and play so the size of our home isn't much of an issue until it's nasty out and they can't go out and play. For those days we have games to play and books to read, or we have The Extraordinary Adventures of G. A. Henty to listen to!

If you're interested in how others used this CD and study guide and what they thought of Beric the Briton please head on over to the Main TOS Crew blog page where all the reviews are linked up. You can find Heirloom Audio Productions on facebook, twitter, google +, and instagram. Find The Extraordinary Adventures of G. A. Henty on facebook. Find Beric the Briton on facebook.