I have a three-year old and a just turned six-year-old who are learning their letter sounds and shapes. The six-year-old is behind developmentally and is close to the three-year old level so I decided to start them both doing preschool together this year. We were pleasantly surprised to learn that Talking Fingers Inc. was a vendor on the TOS Crew list this year. The product we are reviewing from them is a one year online subscription to Talking Shapes: A Supplemental Curriculum for Early Literacy.
Obviously, most wouldn't consider a six-year-old on the early literacy scale, but my three-year old fits in. Actually, Talking Shapes is written and recommended for preschool and kindergarten students. So even though my six-year-old is considered behind for her age she does fit into the recommended age range for this product. I also have a five-year old who fits into the age range, but she's already done a year of kindergarten and knows all her letter sounds and shapes. She in fact is reading small words and phrases on her own now.
While your child is learning letter sounds and shapes they are also having fun with Talking Shapes. They're learning to read but in a way that is fun and engaging. The program is all online. With one computer my two girls didn't get to use this as much as we would have liked. Instead of doing it individually we did it together. I would sit in the computer chair with a girl on each knee and we'd go through some of the program.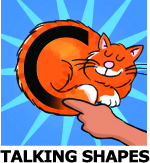 There are a total of seven stories to work through. Once done with the program all 40 phonograms have been learned and the beginning stages of reading met. The stories are engaging for the age level they're directed at and tell the story of how the alphabet was invented by two sisters a long long time ago.
What makes this program unique is that the letters aren't just written letters on a page. Instead, my children see the letters as pictures. The letters are inside of or embedded into the pictures which helps cement in their brains the letter sounds and shapes in correlation with where they are.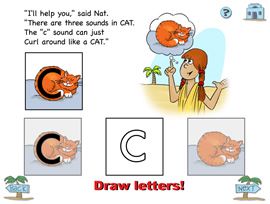 This would be a great program to use with a touch screen computer or tablet. Our computer is very old and is the only one we have in our house. Because of this I did have to do the entire program with my girls as neither of them can work the computer mouse correctly yet. While I didn't mind this, it did limit when they could be working on their program and for what length of time.
I have seen great improvements in both girls with letter sounds and shapes recognition. We were on a bit of a drive or road trip(we call them field trips) yesterday and my three-year old was able to tell me some of the highway names when they were letters. It's great to be able to see that our children are learning.
This is a four step program. First we listen. Then we draw. Next we play games. Finally we read. By doing all the steps the learning of the letter sounds and shapes is cemented. Each of the seven stories introduces at least six new phonemes. While learning children sound out and spell three-letter words while they are playing games. Not only is learning taking place but having fun as well. Learning should always be fun.
We approve of Talking Shapes and learning letter sounds and shapes with their program. My girls thought it was fun and were always begging to read the story on the computer. They're going to continue to have great fun and learn for the rest of our subscription. Here's hoping for more computers soon or a touch screen so they can do it all on their own!!
If you'd like to hear what other Crew members thought of the program hop on over to the Main TOS Crew blog and see all the reviews. You can also find Talking Fingers Inc. on facebook, youtube, and twitter to learn more about their company and products.