Pennsylvania Unit Study
Homeschool Review Crew
I love to do unit studies! We just finished a Pennsylvania Unit Study are based on a good book. We recently received Pennsylvania ~Here We Come to review through the Homeschool Review Crew. By the Way Book Series has several titles focusing on states and fun places that can be used for a great base of a unit study. I'm pretty excited for an Ireland book coming out this year(in 2017)! I think our next unit study will be focused on Ohio. My best friend just moved there which makes it a great choice!
Unit Studies From a Book
Do you enjoy unit studies and adding more to a book? Reading at our house is a favorite past-time. Everyday we sit and read books. Unfortunately, not all books are equal in the knowledge area. When I look for books most contain fluff, not facts. Being Charlotte Mason fans, fluff is bad. This recent book about Pennsylvania contains quite a bit of information. Because of all the information contained, it doesn't require much extra though I tend to over add and over teach!
Pennsylvania ~Here We Come focuses on two children who get to go around the state with the state mascot, Penny. They fly all over the state to fun places. They meet new people while also learning history and about nature. It's really a great way to teach all this to young readers. My younger kids have asked me to read it several times as it does engage them.
The book is 49 pages long. A great length for kids to read themselves. The length is perfect for breaking up into smaller chunks for reading to younger children as well. It's written in an engaging way that brings the history to life as the two characters are learning it. I loved adding bits and pieces to it to make it into a Pennsylvania Unit Study. We really love history which means we took a few days just to study the Civil War battles and what role the state played in the war.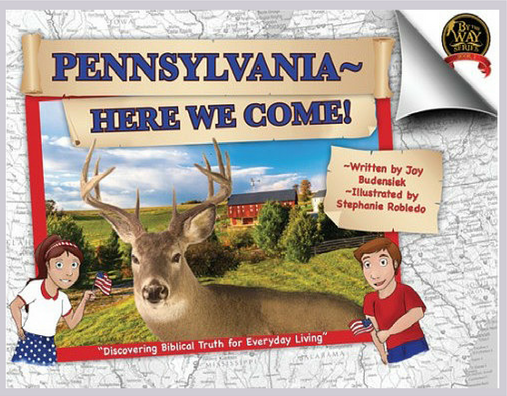 About the Books
Written by Joy Budensiek and Illustrated by Stephanie Robledo, this is a very colorful book that keeps kids focused on what they're learning and interested in what is to come next. I have to admit that I found this a very cute book myself. Fun facts pop up everywhere! I didn't know half of these neat facts that my kids can now spout off.
The By the Way Book Series is a nature book series with a Biblical worldview. You can definitely tell that these are a great Christian book series. I like to follow a Charlotte Mason type approach to homeschooling and this fits right in. It's a book I won't mind having on our bookshelf for years to come. That's how we judge books here. No fluff and stuff in this one! Just pure knowledge and information for the kids.
My Thoughts
As I've stated above a few times we really enjoyed this book. I could find my children off somewhere curled up with it over the course of the review on any given day. When I'd need the book to work on part of our Pennsylvania Unit Study I'd have to search the house to find what child had it hidden away.
Want to learn more about this book and the others in the By the Way Book Series? Go to the Main Blog Page for the Homeschool Review Crew and check out all the reviews. Also find them on facebook.