The 20th Century Lapbook
Homeschool Review Crew
Lapbooks. Have you ever used them? We don't often but when we do we love to use A Journey Through Learning Lapbooks. They have such fun and simple lapbooks. Recently we've been working through the 20th Century Lapbook. This lapbook titled An Overview of the 20th Century is geared towards grades second through seventh so it's a perfect fit for my crew.
About the Curriculum
This curriculum is a lapbook. Lapbooks are a fun hands on way of learning about a subject. You do a lot of fine motor work with lapbooking so this is great for anyone needing that practice.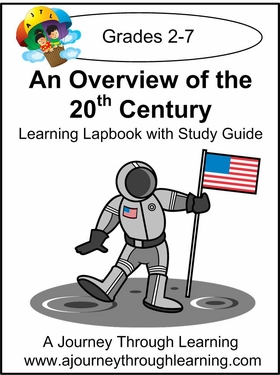 The main focus of this lapbook is the 20th century in an overview. It's a run through of all the main key topics that went on during the 20th century. It is a learning lapbook with a study guide included. There are pages included of reading for teaching about the events. Then you have the pieces to cut and color and glue to your folders. There are also recipes that are fun to make as a family from the depression era.
You can purchase the downloadable file for $8.00 currently while the print version is $18.00. We received the download. While I normally like print things this is a great way to do a lapbook. For us it's easier to print 9 pages of page 10 than it would be to try and make copies. I did print out the entire lapbook so that I have it in a binder for quick reference.
Our Thoughts
I love these lapbooks. They're so fun and engaging plus lots of hands on fine motor skill practice. Because this lapbook was the 20th Century Lapbook I feel it didn't really focus on any one issue that we faced and merely glanced over them. I'm an over-thinker and an over-teacher of things. So, you might have already guessed this but we added a lot of information to our lapbooks. Lots of extra reading and even some rabbit trails. The original lapbook was to be 3 folders big. Our is still going to be three folders big we're just mushing a few extra facts in there. Really and truly I have only printed about 5 extra things to stick in our folders. The rest is just information that we've learned and read about to add to what is already mentioned.
My oldest son is 10 and he wants to do an entire lapbook on just World War II. I told him we could definitely do that but first he would have to do an entire lapbook on World War I. So once we are finished with this lapbook look for a more indepth exploration of those events. There is really no way to do them justice in this lapbook. It hits the key points which is great but inquiring boy minds want to know about war!
This 20th Century lapbook is geared for grades 2-7. So, approximately ages 8-13. I used this with my older nine children. The baby at almost 15 months did not participate much except for having to do some coloring and trying to eat all the tiny scraps of paper. My age range for this was ages 4-12. Now, my four year old is in preschool and probably didn't understand and won't remember all that we talked about but she really enjoyed the cutting and pasting part of this and it gave her practice while also imparting knowledge to her.
Learn More
Want to learn more about A Journey Through Learning and the lapbooks they offer? You can check out all the reviews linked up on the main
Homeschool Review Crew blog
. Also make sure to check them out on social media on
facebook
,
twitter
,
google +
, and
instagram
. This round members of the crew reviewed two Classical Conversations lapbooks, different Apologia lapbooks, An Overview of the 20th Century, and The Greatest Inventors. Make sure to read over all the different reviews as I'm sure you'll find something that appeals to you.