Teach Me Some Greek
Homeschool Review Crew
Have you ever wanted to learn a new language? We've always thought languages are a key component in our homeschool. Recently we added in some Greek through a great company called Greek 'n' Stuff. We received their Hey, Andrew! Teach Me Some Greek! – Level 2 Set to help facilitate our review.

This level 2 set is geared towards grades 2-4 who have no previous Greek knowledge. Level 3 would be where you wanted to start with older children. They do recommend fourth grade and up start on Level 3 as it does teach the alphabet in a fast paced way at the beginning. Because my key student for this review is a bit delayed for her age and at a level below fourth grade I did make the choice to use level 2 with her.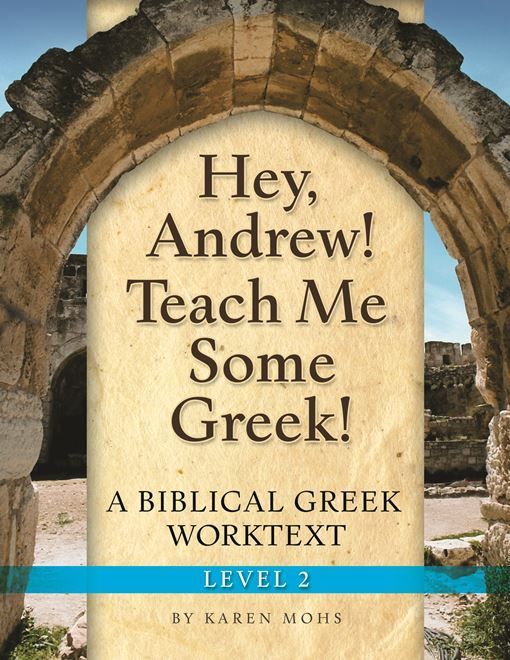 A detailed lesson plan is included in the set. This gives us 5 daily lessons per week. We are doing a four day school week this year but found that doing this on our off day did not take up a lot of time and was very easy to incorporate into our life.
About the Curriculum
This curriculum. Teach Me Some Greek. But guys it's not the Greek you'll hear spoken in Greece today. This is common Greek, or the Greek used during Bible times. To me this is amazing and definitly the Greek we want to learn as we'll probably never need to speak it with someone in Greece. It would be awesome of course to go to Greece, but that's not our key reason for wanting to learn Greek. Greek and Hebrew are on our list primarily so we can learn them and then use that knowledge to understand our Bible better.
The curriculum set we received is for one student only. Now, we all know I have way more than one student! My plan was to have one child use this for the review period so we could get an understanding for how we like it. Said child has done so! Now for our new school year we are purchasing the Level 3 for my two older students and more Level 2 books for my other children. I have yet to decide if I want to do the primary level 1 with my preschooler/kindergarten kiddos or just wait until they're ready for level 2. Oh the decisions we homeschool moms face!
With our set we received a pronunciation CD, a student workbook, and an "answers only" answer book. Because I don't speak any form of Greek I was very grateful for the pronunciation CD. There is only so much you can teach your child if you're not sure you're saying the words correctly.
Our Thoughts
As I mentioned I'm planning on using this with all my kids I would say you might already have my opinion. Yes, we love this curriculum. It's simple to understand and use. Great curriculum that kids and adults can love. If you're an adult and want to learn common Greek definitely think about using Level 3 for yourself. I'm ordering an extra workbook for me! The big debate in our house is whether I should buy one for daddy too or not. What do you think? Should daddy be made to do his own workbook or should he just have the kids teach him their lesson from that day?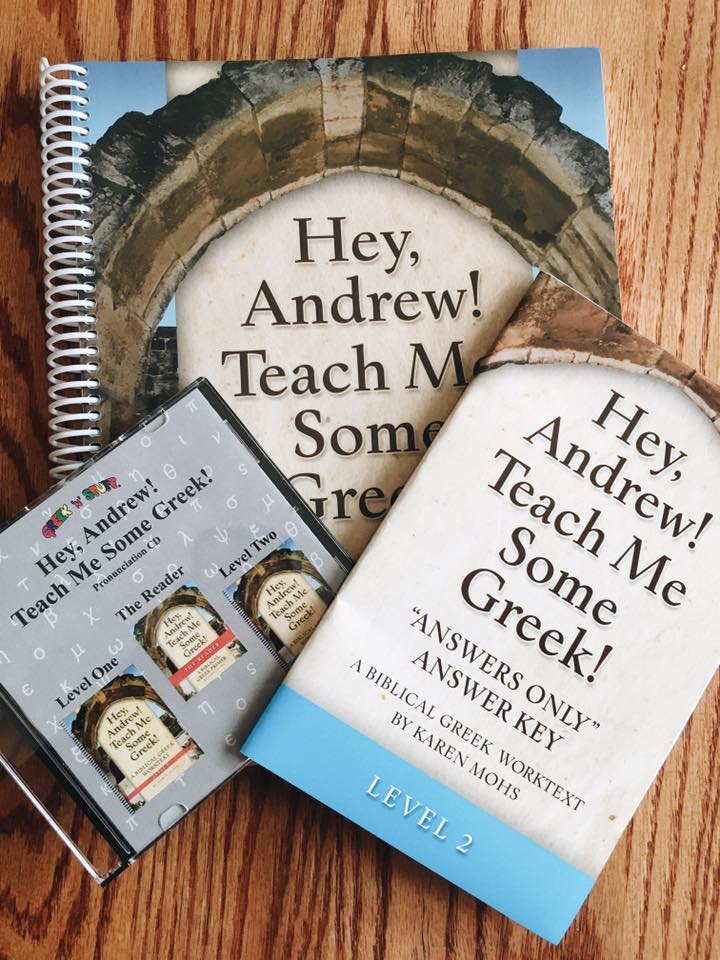 Learn More
Learn more about all the products offered up for review through Greek 'n' Stuff on the main Homeschool Review Crew blog. Besides Level 2 and Level 3 of the Hey, Andrew! Teach Me Some Greek! courses reviewers also got a choice of several Bible Studies. These titles were I Can Study Jonah and Ruth Alone with God Bible Study(13 week study) in NIV or KJV, I Can Study Ruth Alone with God Bible Study(13 week study) in NIV or KJV, I Can Study First Samuel Alone with God Bible Study(39 week study) in NIV or KJV, and I Can Study Acts Alone with God Bible Study(53 week study) in KJV or NIV. I love that all the Bible studies are offered in both translations as we're a KJV family ourselves and sometimes it's hard to find things using that version for children.
You can also find Greek 'n' Stuff by following them on Facebook, Pinterest, Twitter, and Instagram. Hey, Andrew! Teach me Some Greek can also be found on facebook.