Seasonal Skirt Wearing -Spring Edition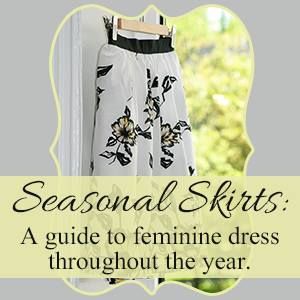 I don't know about you, but I think that wearing a skirt makes me feel more feminine and like a lady. Now, I'm not saying you can't be feminine or ladylike in a pair of jeans or slacks. You can. But for me, I get that special feeling from skirts. I didn't have a lot of time to take pictures of myself this past week so I'm sharing a picture a friend (photographer friend) of mine did for me last year this time while I was pregnant with our youngest who is now 10 months old.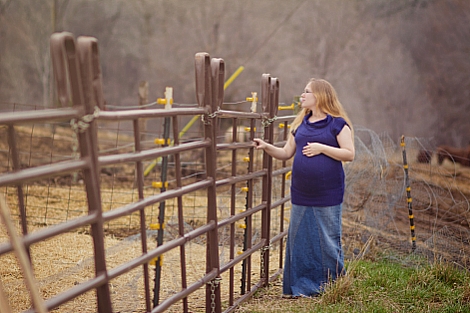 I live on a farm and I love a good long skirt. This can be a bit problematic at times and requires me to have a free hand to hold up my skirt when I'm walking around the farm due to all our wonderful animals. Yes those are our free range chickens. I'll show you how the look can change through the seasons, but today on seasonal skirt wearing it's the spring edition!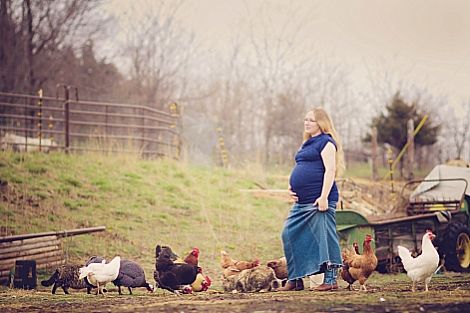 This shows how I hold up the skirt to walk around. See the little bucket behind me. That's the scrap bucket we feed to the chickens. Gotta love it! This is actually a super simple denim skirt I made out of some maternity jeans. I'll be showing you how to make this type of skirt in my summer post so make sure to pop back over for that one in a few months!
A big thing about wearing skirts in spring or even jeans to me is layering. I layer my tops. I love to wear a camisole on bottom. Now if you're breastfeeding I recommend the Undercover Mama tops. They are great and modest. Otherwise I buy regular camis and make them into my own nursing tanks(yeap coming to a blog post near you soon). If you are not nursing then a normal cami top will do. Then a short sleeve top comes next for me. I like the cami under because then I don't have to spend as much time looking for a modest neckline. On top of that I like to pair a sweater. I'm a sweater lover. I love big bulky sweaters that keep you good and warm.
Now, I'm not pregnant anymore so let me talk about what skirts I like to wear. I'm a denim lover. 90% of my skirts are denim. I have a few soft jersey type material skirts that I use when I'm working out or just hanging at home with the kids. I also have a few cotton skirts that I use when I'm going out on a date with my husband or church. I have 2 dresses. Only 2 dresses, and neither of them are ones I can wear currently because they are not breastfeeding friendly.
Let's talk length now. I have to have my knees covered up. My knees I don't like to show. That really isn't that hard for me to do because I'm so short! The problem I have is the one shown above by everything being too long. So the easiest solution is to make my own. That's not always the best though because of the time factor. I rarely have time for sewing these days with 9 kids! So, the next thing I do is go to thrift stores because I can't afford to buy brand new. I also go to places like ThredUp and Twice for clothing for myself and my kids.
I had to bring in a few pictures of my girls in dresses. This time it's the baby. Here she is in a super cute little GAP dress(they are adorable) that I got at a thrift store for 25 cents. Yeap one quarter. Because it was a chillier day I layered it with a long sleeved loose t shirt. She is in cloth diapers so I try not to do onesies as they require more fastening and unfastening and I like to make diaper changes fast.
I know some people often tell me that they can't believe or don't think that little girls can crawl or learn to walk in dresses and I shouldn't put mine in them until they are older. Well let me see Kierrah is 10 months old. Kierrah loves wearing her dresses and skirts and she was crawling at 5.5 months and walking at 7.5 months. Now, she is running everywhere and her dresses do not slow her down!
Okay so this was too adorable not to share. Here is my little enjoying some sun on our deck. She has on just a tshirt and a homemade skirt. This is another design I'll be sharing about in a coming post. Super simple to make and super cute to wear! Oh and don't forget the cute little Flip diaper peeking out! She hates shoes though so we put little gripper booties on over her socks when we go outside as an extra protection on her feet.
I know this post is shorter than I wanted it to be as life happens and I didn't get pictures taken. Keep looking for the summer post which will contain links to at least two different skirts that I'm hoping to teach you how to make plus more on what my daughters and I wear when we're gardening, hiking, and just plain having fun! And some on how to stay cool, because everyone knows that summers in MO are hot and humid.
Make sure to visit the other blogs that are participating in this link up and see what they have to say about their Seasonal Skirt Wearing for Spring. If you have a post about wearing skirts or what you do for spring fashion feel free to link it up below as well! Please share around with all your friends!

Dusty at To the Moon and Back
Erin
at
For Him and My Family
Laura at Raising Soldiers 4 Christ
Kyndra at Sticks, Stones, and Chicken Bones
Selena at Look! We're Learning!
Mrs Warde at Sceleratus Classical Academy
Cynthia at Cynce's Place
Melissa at Life Off the Paved Road
Dawnita at Fogleman Forerunner
Hilary at Our Homeschool Studio
Annette at In All You Do