The Beginner's Bible
Homeschool Review Crew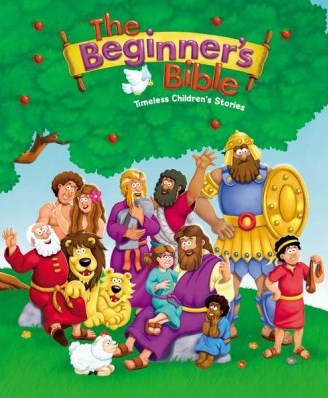 Do you use a Bible with your youngest children? We love The Beginner's Bible from Zonderkidz and recently received a copy of their new and improved version through the Homeschool Review Crew. This Bible is geared towards ages 4-8. It's to be used as a read aloud with ages 4-6 and children ages 6-8 can read it independently.
Why a redo of a great classic? Well, it's the 25th anniversary of The Beginner's Bible so they redid it to include new three dimensional artwork. How cool is that? My girls are loving this new Bible. It's great for our read aloud time. The girls I have using this are ages three, six, and six. One of my six year olds is able to do some beginning reading on her own. She's been reading us some of the stories with a bit of help while the other two just listen and enjoy the new art work.

So, how are we using this new Bible? I find that The Beginner's Bible is amazing added to our school day. As we start our day I do a devotional with the kids after breakfast. While the younger girls can sit and listen they rarely take away any of the big picture that the older children get from the devotional. I wanted something that they could understand and also glean something from. Something that was going to stick with them.
Enter The Beginner's Bible. We read one story a day as we start their school. I use one curriculum for my older kids and one for my younger girls. There are just the three younger girls in their curriculum so I work with them first. We read a story from our new Bible and talk about what the story means and how we can apply it to our lives. Next, it's easy to step right into our school lesson. I particularly enjoy it when I can match a Bible story with what we're learning that day.
My older kids even like our new Bible! They had the original edition as part of their school curriculum when they were little and are loving comparing the artwork in the two editions as well as reading it straight through like a chapter book. I'm blessed with kids who love to read so I'm not going to discourage them from grabbing this Bible geared to younger kids and reading it quickly in a sitting. Who knows what they might pick out from a story that they didn't understand all over when they were younger?
I personally recommend this Bible and think that The Beginner's Bible makes a great gift for the young children on your gift list. Whether it be for Christmas or a birthday or a just because they're going to enjoy this book. Definitely a book I feel should be on every homeschool library shelf and every little kid Sunday school shelf.
Want to learn more about this new Zonderkidz edition of The Beginner's Bible? Check out the main Blog Post where everyone has linked up their reviews. You can also find them on facebook, twitter, pinterest, YouTube, and Instagram.