Riding the Range
Homeschool Review Crew
Riding the range is something that captivates most young children. They play cowboys and Indians and ride imaginary ponies across the yard. My kids are no different. They love to pretend and play like they're on a big ranch. Part of this play lately comes from reading the newest Andi books from Kregel Publications and Susan K Marlow. These newest titles in the Circle C Stepping Stones series are Andi Saddles Up and Andi Under the Big Top. We received both of them through the Homeschool Review Crew so we could read and review!
My children love to read! Several of my kids have already devoured these two books and are ready for more. Since we aren't buying any new books right now they've gone back to read the other Andi book we have. And any other horse and farm related books they can find!
We've read some of the older chapter books about Andi and now these two books. My kids love Andi and her adventures riding the range. They're great read alouds or for kids to read on their own and discuss. We highly recommend the Circle C books.
About the Books
The new series is intended to go between the beginner series and the longer chapter books for older children. So the age range for this new series is 7-10. At present there are six titles that are going to be in this series. Your kids will love riding the range with Andi and her horse Taffy.
Andi has a pretty Palomino horse that she loves to ride named Taffy. Her older brother Justin is a lawyer. Chad(another older brother) runs the ranch while her older sister Melinda cares more for her appearance than the ranch or her younger sister. Mitch is another older brother who has a horse named Chase. A Spanish cook completes the household. Andi's mother is described as being "very nice" while unfortunately her father has passed away.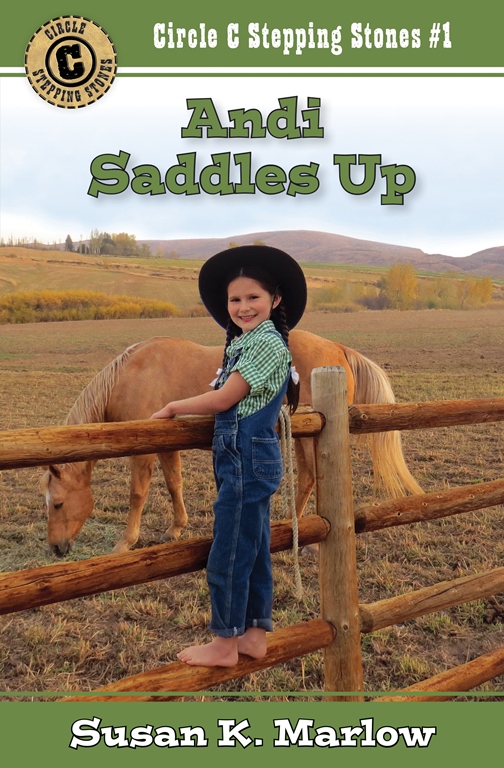 Andi Saddles Up
In Andi Saddles Up we find her celebrating her ninth birthday with a new saddle and bridle for Taffy. It's the first book in this new series. Andi wants to learn to be a trick rider but her brother does not approve of that plan! Instead she finds a new friend. But this new friend is on the wrong side of a feud between her father and Andi's brother Chad. Can they still be friends? What about this feud? Can Sadie and Andi find a way to stop the feud? 104 pages of fun and excitement will help you find out! At the end of the book there are two pages of fun history facts that relate to the story within.
Andi Under the Big Top
Andi Under the Big Top has a circus coming to town! While you might get that from the title you won't know that Andi again finds a new friend! This young man is named Henry Jackson and he works for the circus selling treats. As Andi gets to know Henry she finds out some sad news. Henry ran away from home to join the circus. He'd like to go home now but he can't. He's trapped. Andi wants to help him but how? As Andi comes up with a plan will she be able to save Henry without suffering any losses of her own? Great story line that not only helps your children have a fun read but opens up doors to talk about strangers and what to do if they ever get lost. This book is 105 pages long.

Learn More
If you're interested in learning more about Susan K Marlow and Kregel Publications plus their newest Circle C Stepping Stones titles please check out the main Homeschool Review Crew blog where all the reviews are linked up. You can also find Kregel Publications on twitter and facebook as well as Susan K Marlow on twitter and facebook.