Classical Education Latin Curriculum
Homeschool Review Crew
As a nurse I know quite a bit of the do's and don'ts of Latin. But I am not even close to fluent. And I don't consider myself knowledgeable enough to teach. Enter a great classical education Latin curriculum to take the pressure off me and do the teaching. Memoria Press has just that for us in their Latina Christiana Complete Set which we have been reviewing through the Homeschool Review Crew.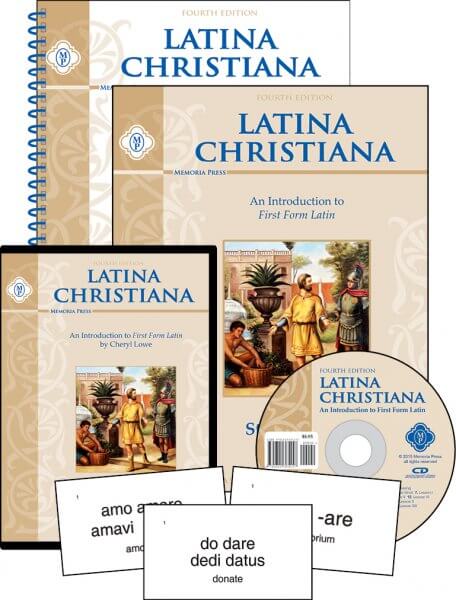 About the Curriculum
The Latina Christiana Complete Set includes a student book(each student will need their own), teacher's manual, pronunciation disc, DVD, and flash cards. Within this are 25 lessons plus five review lessons. Review worksheets are also available for purchase separately. Currently this set retails for $98.90 on the Memoria Press website. This particular classical education Latin curriculum is recommended for grades 3-6. It can be used after the Prima Latina complete set or it can be used on it's own with a student who has no Latin background as well.
This whole curriculum has been redone recently. It now corresponds quite well with the Famous Men of Rome set so that they can be used together for history and Latin. We unfortunately have not been able to use them together but I can see how they would fit together well. I'm big into history and we do a lot of History in our homeschool so this would be a great addition. Once this curriculum is finished your student can move onto the First Form Latin curriculum.
The student book contains all the necessary information for your student to complete it. The teacher manual also contains the student information with overlaid answers. So grading is super easy. I appreciate this as a busy homeschool/farm mom. Another aspect that I love is the pronunciation disc and dvd's. I don't always have time to learn for myself to pronounce things and then teach them to my children.
Let's chat about the DVD quickly. This to me is one of the biggest assets to the program. There are three discs adding up to 5.5 hours. Each lesson has about a 15 minute lesson on the dvd to listen to and watch. I don't have to do all the teaching work. That to me is amazing. I can just let my kids watch the DVD and answer any questions they have. The CD for pronunciation works well and is easy to listen to and understand.

Our Thoughts
My oldest daughter was our tester for this curriculum though I do have to admit that my other children listened to the CD and watched the DVD as well. Mainly because they always want to be included in things. She really has enjoyed learning Latin. Part of her plans for the future include being a vet so this will be great for her to have in her knowledge data-banks. We had previously done some Latin though not enough to make me qualify her as having a firm basis to build upon.
So according to my daughter gets a positive rating. She likes doing it and is eager to do her lesson daily. I follow more of a Charlotte Mason approach to learning but have to admit we're enjoying this classical education Latin curriculum more than I thought we would. I think it would definitely be a good addition to our school year to give us Latin understanding.
Learn More
Learn more about Memoria Press and their classical education Latin curriculum plus the other products offered up for review by visiting the Main Homeschool Review Crew blog page. Crew members reviewed different products and they are all linked up there. Check out Prima Latina(comes before the set we received), First through Fourth Form Latin, The Book of Trees, and Nature's Beautiful Order. You can also find Memoria Press on facebook, twitter, pinterest, youtube, instagram, google +, and LinkedIn.