The Gospels Homeschool Curriculum
Homeschool Review Crew
Are you looking for a new Bible curriculum to use in your homeschool? Check out what we're using! We're using Drive Thru History® – "The Gospels" from Drive Thru History®. The Gospels Homeschool Curriculum is DVD based.
We're not huge into using DVDs or computers in our homeschool. But this course is amazing and we're loving using it. In our homeschool we use Bible in all things. It's not a subject all it's own but a part of all the subjects as well. By using the Gospels homeschool curriculum I'm enjoying learning more about the gospels with my children.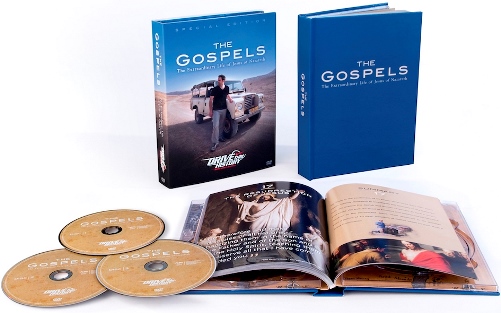 About the Program
This gospels homeschool curriculum is geared towards ages 5th grade and up through adult. It's a Bible study geared at Christian families on a whole. My children ages 6-12 watched and enjoyed these. My older children got more from the curriculum than the younger ones obviously but they all did get something from it. To go with the DVD series is a study guide.
There are nine hours of viewing on the DVD series. Plus the study guide. As you go through the program you'll meet the guide. Dave Stotts is your guide through the series as you journey through the gospels. He's engaging and fun as he brings the Bible and history alive.
Within the nine hours are 18 thirty minute episodes. You can use this as a weekly Bible study or simply go through it at your own pace as a gospels homeschool curriculum on a more daily basis.
But what are we studying? In this series you're going to be studying the places and locations that are visited by Jesus in the Gospels(Matthew, Mark, Luke, and John). You travel and learn and wish you could walk on those spots yourself! Or at least I did.
Episodes
Episode 1: The Historical Landscape
Episode 2: The Announcements
Episode 3: Jesus is Born
Episode 4: Jesus Grows Up
Episode 5: Jesus Starts His Ministry
Episode 6: Jesus Returns to Galilee
Episode 7: Jesus Begins His Miracles
Episode 8: Jesus Teaches with Authority
Episode 9: The Sermon on the Mount
Episode 10: Jesus Travels the Sea of Galilee
Episode 11: Jesus Travels North
Episode 12: A Final Trip to Jerusalem
Episode 13: Jesus Arrives in Jerusalem
Episode 14: The Last Supper
Episode 15: The Trial of Jesus
Episode 16: The Crucifixion of Jesus
Episode 17: The Resurrection of Jesus
Episode 18: Who is Jesus?
On top of these episodes is the study guide. It gives you extra Scripture passages to read and study as well as a brief summary of the episode. Plus there are questions. The questions are thought provoking but not so difficult that the kids can't understand and come up with good answers. Sometimes I find myself amazed at what my kids are able of comprehending and how they view things.
Our Thoughts
We loved this. I decided to use this as a full course. Because it does cover Bible, archaeology, history, and so much more it is very easy to use this as more than just a Bible curriculum. The study guide that comes with it is amazing as well so I haven't had to add much to it. There are over 50 places to visit and learn about. To me it's amazing all the places that can still be visited today that Jesus stood and lived.
We love this! I highly recommend this to anyone who wants to learn more about the Bible and history at the same time.
Our use of this program was mainly doing two episodes a week plus working through the study guide. So on Monday we'd watch an episode, Tuesday we'd work through the study guide for episode one, Wednesday would bring us episode two, and Thursday we'd work through study guide for episode two.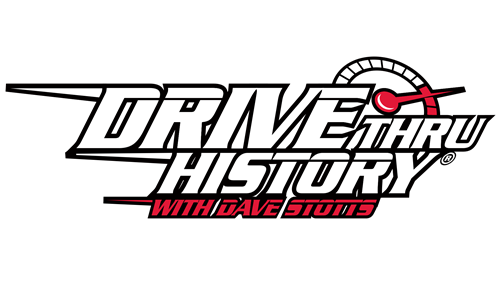 Learn More
If you'd like to learn more about the Gospels homeschool curriculum and Drive Thru History® please visit the Main Homeschool Review Crew blog. There you will find all the reviews linked up. Feel free to read what all the different reviewers are saying about this curriculum. You can also find Drive Thru History® on facebook, YouTube, and Instagram.
We're excited to check out the other programs offered by Drive Thru History. The American History and Ancient History sound like they'd be right up our alley. Also offered is a series on The Holy Land.